5. December 2023
Curve GXR Kevin – Fabian
With Fabian we planed a very special project based on the Curve Cycling GXR titanium frameset that actually shows how versatile it is. The setup includes two wheelsets. 1st: fast with carbon Duke World Runner 50 SLS2 rims and Teravail Rampart tyres, 2nd: offroad with Newmen Evolution SL A.30 rims with wide Maxxis Ikon tyres. Both sets of rims combined with Erase rear hub and dynamo in front for use with lights. For shifting Shimano GRX 810 combined with Garbaruk cage and cassette. In front a Rotor 2INpower Powermeter crank and matching Q-Ring. Orange seatclamp and headset from Hope Tech are a perfect match to the orange Garabruk details. PRO carbon seatpost, Discover stem and handlbar with ENVE bar finish the bike nicely!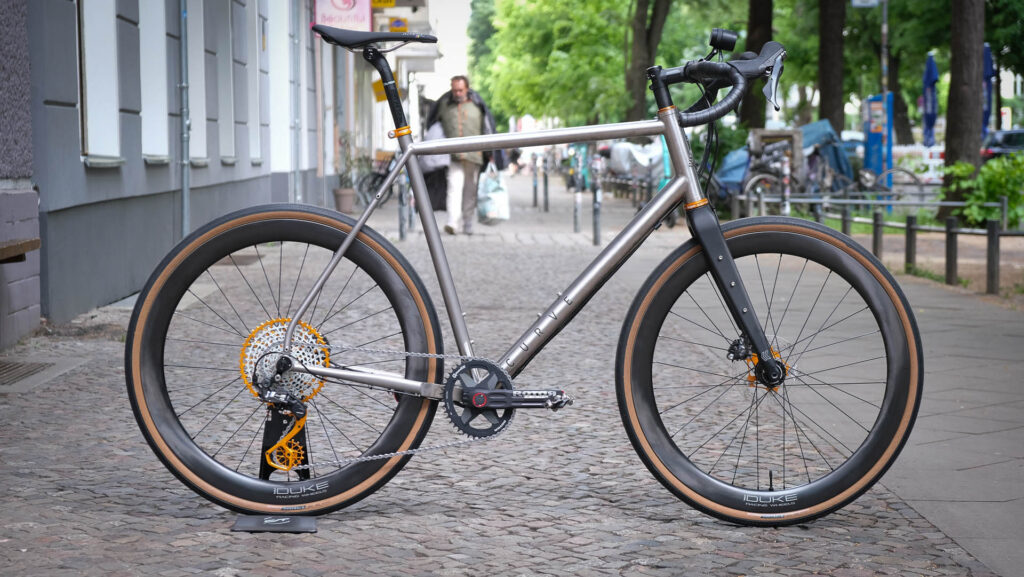 8. September 2023
Curve Cycling GXR Ti – Ingo
Ingo orderd his bike in the middle of the Corona crisis and had to wait incredible long for his bike to be completed. We think it was worth the wait! Curve Cycling GXR Kevin frameset build with Campagnolo EKAR 1×13 group, SON dynamo front and Carbon-Ti straightpull hub rear laced (with orange nipples!) to Newmen Advanced SL carbon rims with 650b WTB Horizon tyres. Cockpit with ergonomical Ritchey Venture Max handlebar with matching stem and seatpost.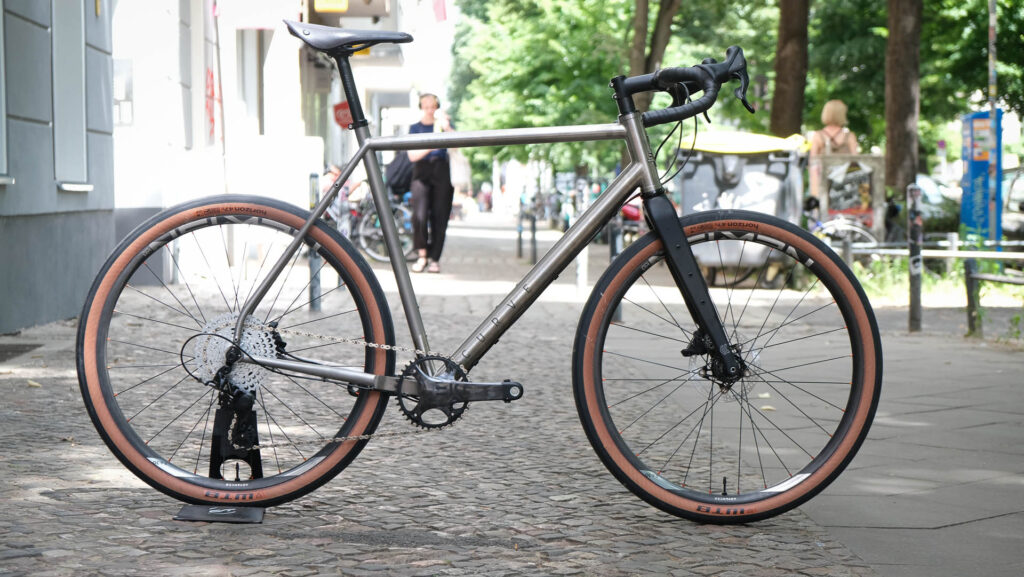 1. June 2023
Curve Cycling GXR Ti – Tom
Custom Curve GXR Kevin build for Tom with SRAM Mullet drivetrain with Force AXS / GX Eagle AXS. Wheels made with Curve Dirt Hoops carbon rims and SON dynamo front and DT Swiss 240 hub rear. Finishing kit consists of Ritchey WCS stem/seatpost and WCS Venture Max handelbar with comfy Wolf Tooth bar tape and Fizik Argo saddle. Teravail Sparwood 27,5" x 2.1 tyres will have enough grip on every surface for sure.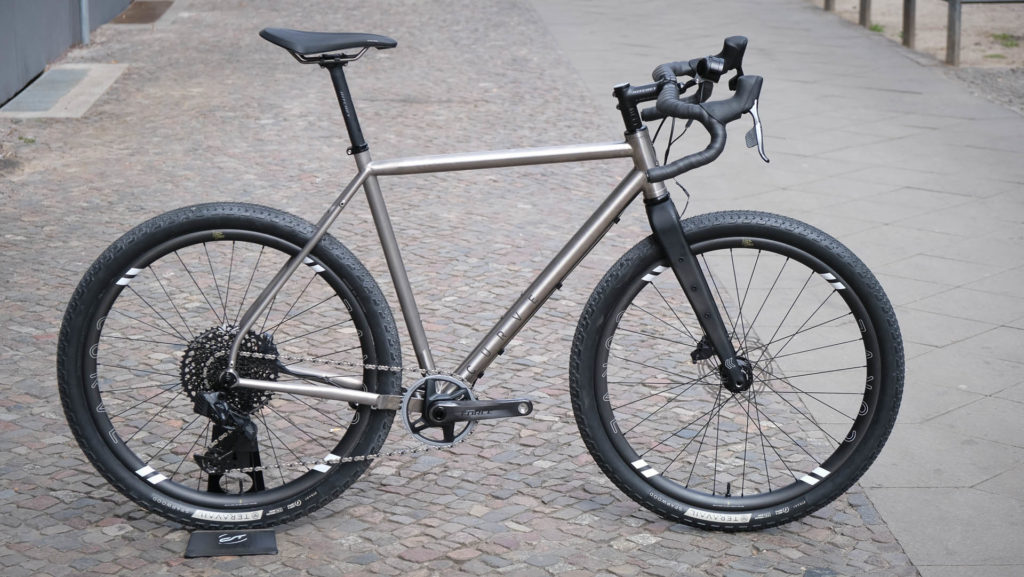 23. February 2023
Curve Cycling GXR X Velociao – Pedro
Titanium bikes always look the same? Not if you work with Velociao like we did on this Curve Cycling GXR for Pedro. An amazing paintjob that definitely stick outs in the titanium world was combined with high end parts: Shimano GRX 800 1×11 upgraded with Garabaruk Cage, pulleys and 10-50t cassette for wider range, Erase road/gravel hubs with Newmen SL X.A aluminium rims, ZIPP Service Course XPLR handlebar and matching SL stem and carbon seatpost, Maxxis IKON and well proven Brooks Cambium saddle.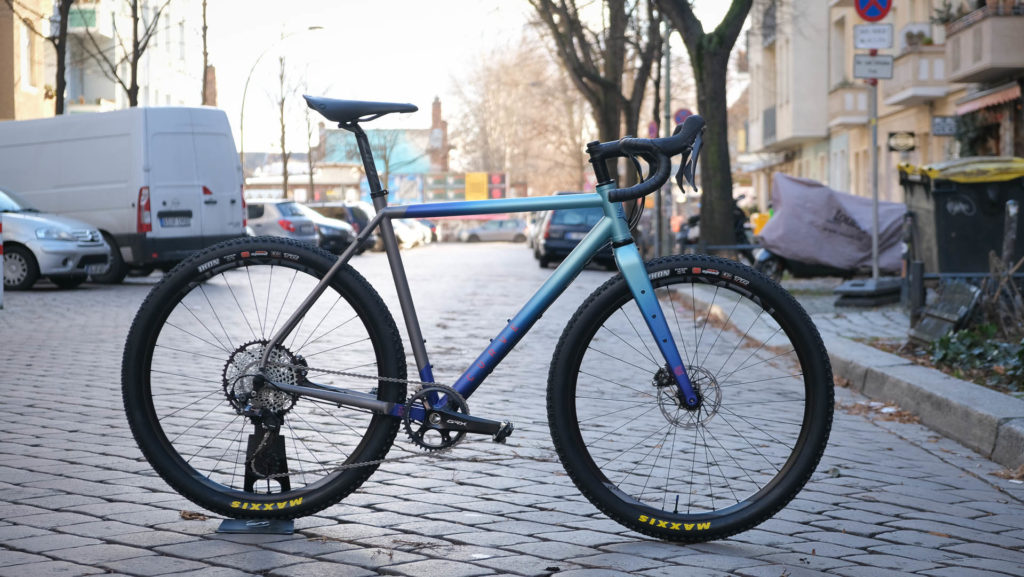 10. February 2023
Curve Cycling GMX+ – Sylvio
Time for some titan again: Overlander adventure bike we build for Sylvio. Based on the offroad proven Curve GMX+ titanium frameset it was build with Shimano GRX 810 1×11 upgraded with Garbaruk cage and pulleys for use with lightweight Garbaruk 10-50t cassette and combined with Shimano XT crank / Garabaruk chainring. Wide Curve Walmer handlebar for control in every situation with RItchey WCS trail stem, WCS seatpost and Brooks Cambium saddle. Syntace W33i wheelset with WTB Ranger 3.0″ tyres keep the bike rolling on every terrain…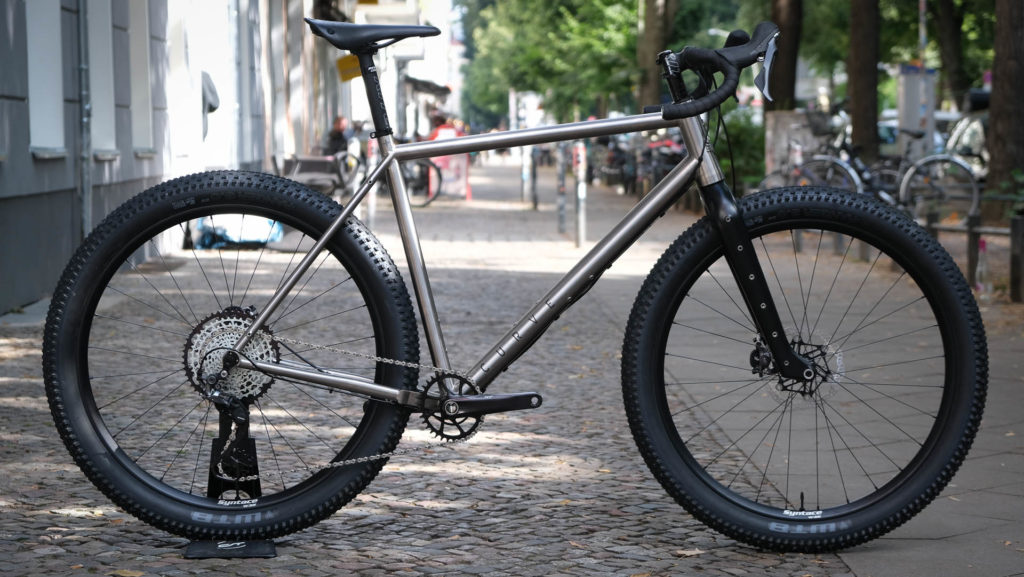 7. October 2022
Moots Routt 45 – Ernest
Yes, we do like titanium custom bikes. Especially if we have the opportunity to configure a beautiful MOOTS Routt 45 like we did for Ernest! This custom was build with Shimano GRX Di2 2×11 groupset, Chris King R45D rear and SON 28 dynamo front hub laced to stealthy Newmen Advanced SL XR 25 carbon rims, matching MOOTS stem and seatpost, ZIPP XPLR SL-70 handlebar and Pirelli Cinturato tyres. Dreaming of a MOOTS yourself? Get in contact and lets plan a beautiful custom bike!