Author Archives: Alexander Ingendorf
8. September 2023
Curve Cycling GXR Ti – Ingo
Ingo orderd his bike in the middle of the Corona crisis and had to wait incredible long for his bike to be completed. We think it was worth the wait! Curve Cycling GXR Kevin frameset build with Campagnolo EKAR 1×13 group, SON dynamo front and Carbon-Ti straightpull hub rear laced (with orange nipples!) to Newmen Advanced SL carbon rims with 650b WTB Horizon tyres. Cockpit with ergonomical Ritchey Venture Max handlebar with matching stem and seatpost.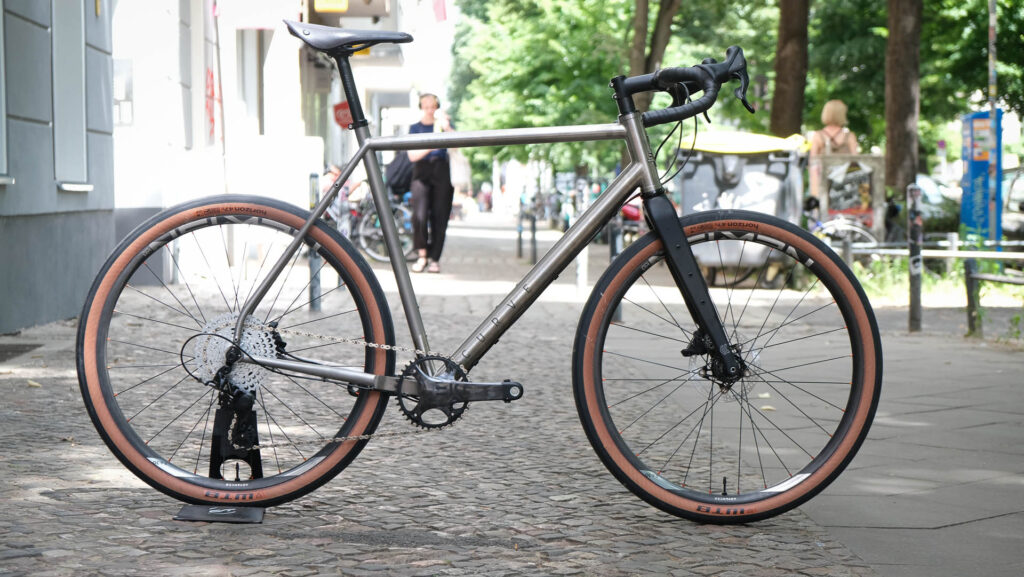 4. August 2023
Salsa Cutthroat – Marc
The Salsa Cutthroat is Salsa's ultra-endurance mixed surface bike inspired by the Tour Divide. It's designed and built to cover long distances with speed and comfort. Marcs custom Cutthroat is not different! We build the bike with Shimano GRX 2x drivertrain combined with a Rotor Vegast crankset. Hope Pro 4 rear hub and SON dynamo hub front laced to e*thirteen rims with puple nippls for just the right amount of colour. Superb Ritchey WCS finishing kit and Venture Max handlebar fit nicely and the Maxxis IKON tyres are well proven.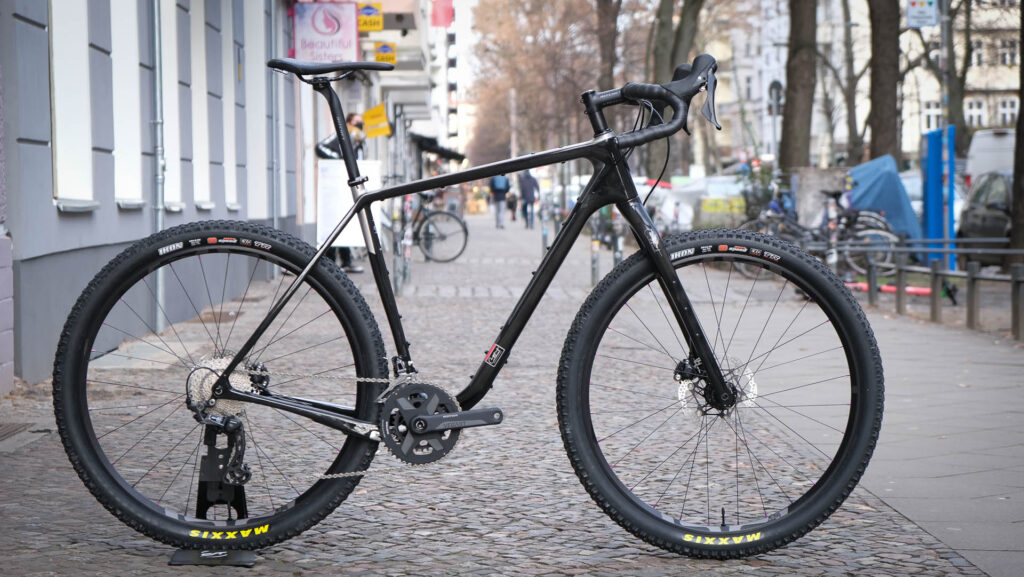 24. July 2023
Tumbleweed Stargazer – Dylan
Building a Tumbleweed Stargazer with Jones Bar? Hell yeah! For Dylan we build this versatile offroad touring rig based on a Tumblewee Stagazer frameset. Wheels handbuild with DT Swiss 240 hubs and unbreakable 27,5" DT Swiss HX581 hybrid rims combined with Maxxis Rekon tyres with 2.8" width. A SRAM GX groupset with 10-52t cassette delivers a wide range for every terrain. Jones H-Bar with matching grips for an upride touring position combined with comfy Ergon saddle make it an awesome adventure/touring bike.
28. June 2023
Velo Orange Pass Hunter – Michael
The Velo Orange Pass Hunter is a speedy mile eater for lightweight bikepacking adventures, sport touring and long distance riding. For Michael we build this burgundy beauty with Shimano GRX 600 1×11 group, handbuild wheels with Hope Tech RS4 hubs laced to H+SON hydra rim with gravelish WTB Byway tyres. Shiny Ritchey Classic Venture Max combined with silver Thomsonstem and seatpost give this modern build a classy touch after all. Brooks saddle and Wolf Tooth supple bar tape for comfy contact points.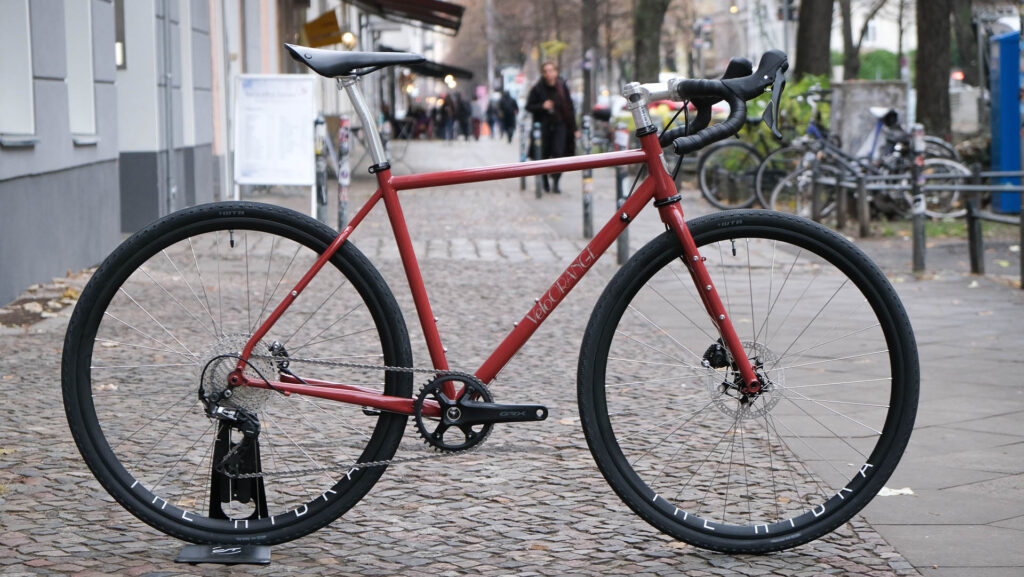 1. June 2023
Curve Cycling GXR Ti – Tom
Custom Curve GXR Kevin build for Tom with SRAM Mullet drivetrain with Force AXS / GX Eagle AXS. Wheels made with Curve Dirt Hoops carbon rims and SON dynamo front and DT Swiss 240 hub rear. Finishing kit consists of Ritchey WCS stem/seatpost and WCS Venture Max handelbar with comfy Wolf Tooth bar tape and Fizik Argo saddle. Teravail Sparwood 27,5" x 2.1 tyres will have enough grip on every surface for sure.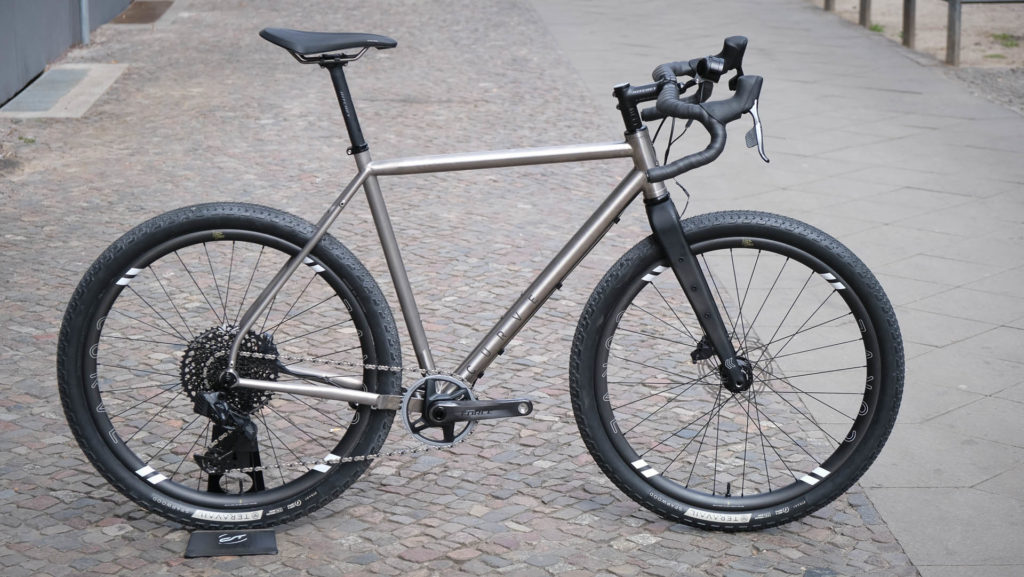 26. April 2023
Veloci Jimmy V2 – Basia
The Veloci Jimmy V2 is one of the most underestimated framesets on the market. The highly versatile frameset is extremly well made and especially good fitting for smaller persons. The bike for Basia was build with economical GRX 400 2×10 groupset, 650b Veloci GRA21 wheelset with Teravail Washburn tyres and budget friendly BBB and Contec finishing kit without making compromis on function.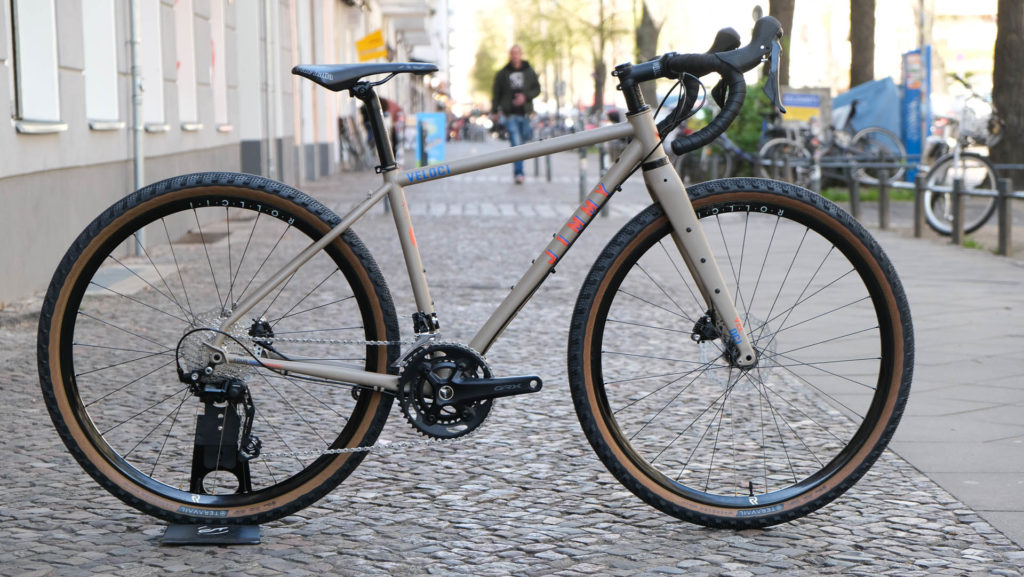 28. March 2023
Soma Buena Vista – Matthias
A fun project started with the NITTO moustache handlebar Matthias already had: Together we planed a out of the ordinary Every Day- / Touring bike an basis of the Soma Fabrication Buena Vista Mixte frameset. Goal was a classical look with a highlight, that in the end was done by using hammered copper fender besides all the shiny polished parts. The simple but highly versatile 3×10 speed drivetrain was realized with Microshift rear dearailleur combined with a beautiful Velo Orange Grand Cru 110 triple crankset and Dia Compe shift levers on the frame. Handbuild wheels with SON dynamo and Velo Orange hub rear combined with shiny H+SON Archetype rims and the manifestation of a classical touring tyre: Panaracer Pasela with tanwall sides. Berthoud leather saddle and honey Brooks Microfbre bar tape and polished Pelago rack are good match as well. You want to realize a fun and unique project like that too? Get in contact!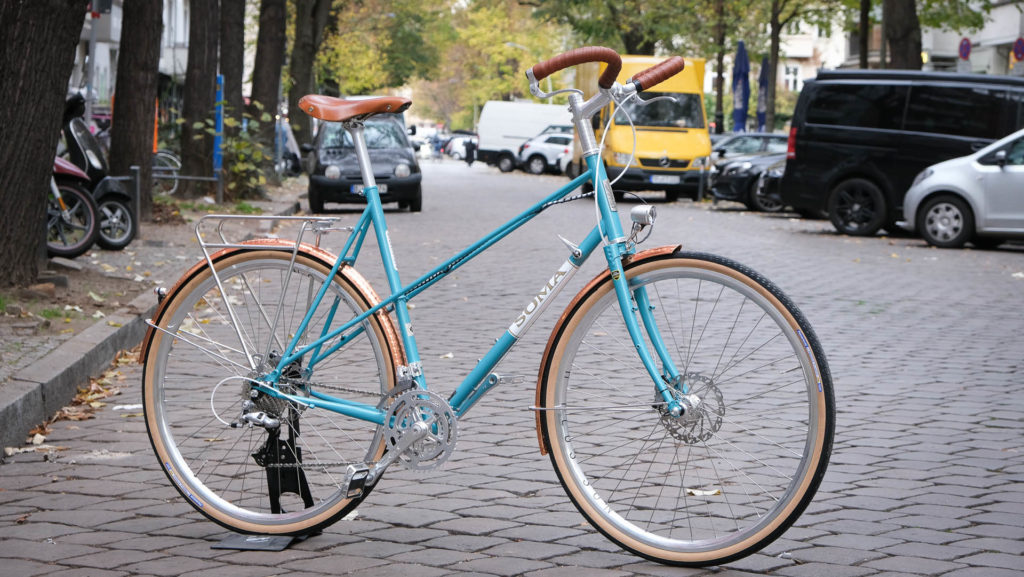 23. February 2023
Curve Cycling GXR X Velociao – Pedro
Titanium bikes always look the same? Not if you work with Velociao like we did on this Curve Cycling GXR for Pedro. An amazing paintjob that definitely stick outs in the titanium world was combined with high end parts: Shimano GRX 800 1×11 upgraded with Garabaruk Cage, pulleys and 10-50t cassette for wider range, Erase road/gravel hubs with Newmen SL X.A aluminium rims, ZIPP Service Course XPLR handlebar and matching SL stem and carbon seatpost, Maxxis IKON and well proven Brooks Cambium saddle.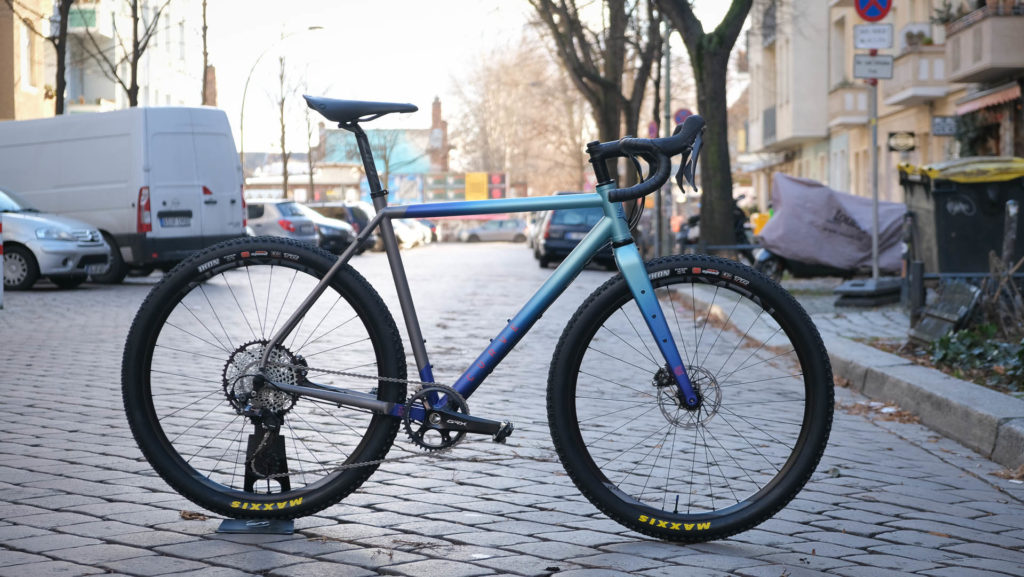 12. February 2023
Brother Cycles Kepler – Gregor
In addition to his carbon gravel bike Gregor asked us to build a sportive every day bike for daily commutes and bad weather use. What better basis than a Brother Cycles Kepler for this task? The beautiful and modern steel frame was build up with Shimano GRX 600 1×11 drivetrain, DT Swiss wheels, ergonomic Zipp Service Course 70 handlebar and matching cockpit and carbon SL seatpost, Velo Orange hammered fenders for full coverage and Tubus Logo Evo rear carrier for hauling groceries. Need a fine all weather bike like this yourself? Get in touch!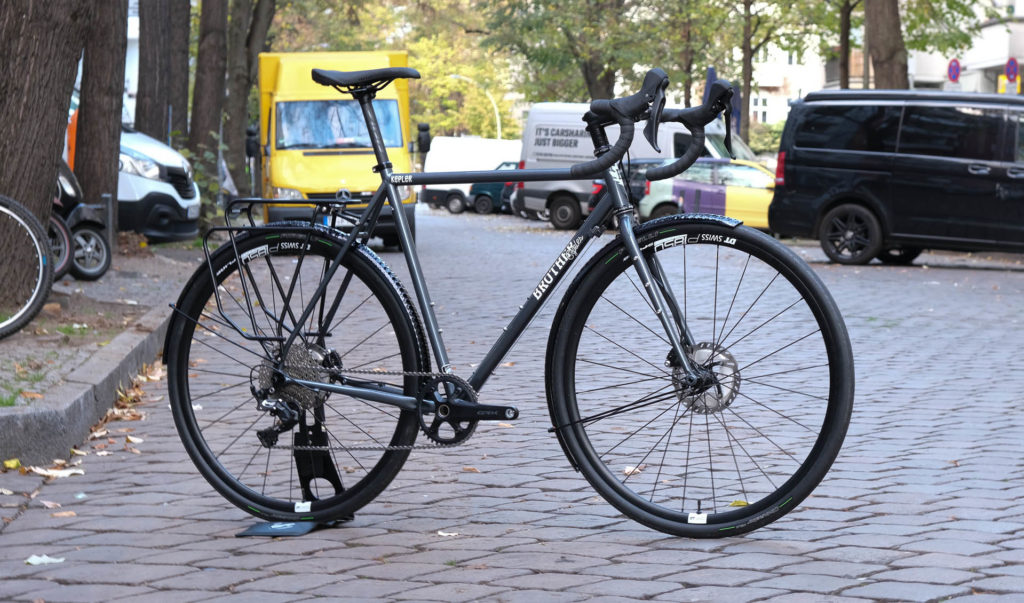 10. February 2023
Curve Cycling GMX+ – Sylvio
Time for some titan again: Overlander adventure bike we build for Sylvio. Based on the offroad proven Curve GMX+ titanium frameset it was build with Shimano GRX 810 1×11 upgraded with Garbaruk cage and pulleys for use with lightweight Garbaruk 10-50t cassette and combined with Shimano XT crank / Garabaruk chainring. Wide Curve Walmer handlebar for control in every situation with RItchey WCS trail stem, WCS seatpost and Brooks Cambium saddle. Syntace W33i wheelset with WTB Ranger 3.0″ tyres keep the bike rolling on every terrain…