Author Archives: Alexander Ingendorf
11. January 2019
Salsa Fargo Ti – Jan
The Sasla Cycles Fargo Ti is a breathtaking beautiful and well made titanium frame that we build into a no nonsense bike for Jan. With that one he will get everywhere, on the road and especially off the beaten paths. Build with SRAM GX groupset, mechanical TRP, disc brakes, Hope Pro 4 rear hub, SON dynamo hub front laced to H+Son Hydra rims, Brooks Cambium saddle and Salsa Woodchipper handlebar for control in every situation.

20. December 2018
Soma Double Cross Disc – Eva
You are very tall or maybe not as tall and have problems finding the right bike? No problem, Soma Fabrications got you covered in any case. Here is an older 42 cm Double Cross Disc we build for Eva with 650b hweels, Shimano-Road 105 groupset. mechanical TRP Spyre brakes, RitcheyLogic Classic parts and Panaracer Pasela tyres.
18. December 2018
TGJ Custom Gravel / All-Road Bike – Ralf
Ralfs sportive Gravel / All-Road bike was built on basis of our TGJ frame and combined with a Fyxation Sparta carbon fork, Shutter Precision Dynamo and Hope Technology Ltd Pro 4 rear hub laced to H+SON Archetype rims, SRAM road RIval 1 groupset with hydraulic disc brakes, Salsa Cycles Cowbell and a Sinewave Reactor USB chraging unit integrated into the steerer

5. December 2018
Soma Pescadero – Jordan
Jordan wanted something classy and comfy with a lot of style! Thats what he got: a Soma Fabrications Pescadero build with Halo Wheels Retro 6D rear and Shutter Precision dynamo front hub laced to shiny H+SON Archetype rims, a Dajia Far Bar connected to a Velo Orange Cigne stem making it upright, an awesome White Industries crankset with Velo Orange Sabot pedals, PELAGO BICYCLES Commuter front rack, Shimano Bar End shifter and rear derailleur, B&M lightning and Panaracer Pasela tyres
1. December 2018
Surly – Midnight Philipp
Philipps Surly Midnight Special was one of the few framesets that made their way to Germany this year. That one was build with Hope technology rear and Shutter dynamo front hub laced to H+Son Archetype rims, SRAM Rival 1×11 group with hydraulic brakes, Panarcaer Gravelking tyres, Supernova lights front and rear, Brooks Cambium saddle and bartape and the Surly 24 pack front rack.
19. November 2018
Elements
Hope Technology: Elements from hopetech on Vimeo.
The short film by our friends at Hope Technology follows three friends as they set off into the depths of Iceland to explore the finest gravel the country has to offer.
7. September 2018
Josh's All City Space Horse Disc
Josh is not only a nice guy, but also a good photographer who made these nice pics of his All City Space Horse build he finished a while ago. Check out his FlickR for non bike related stuff as well.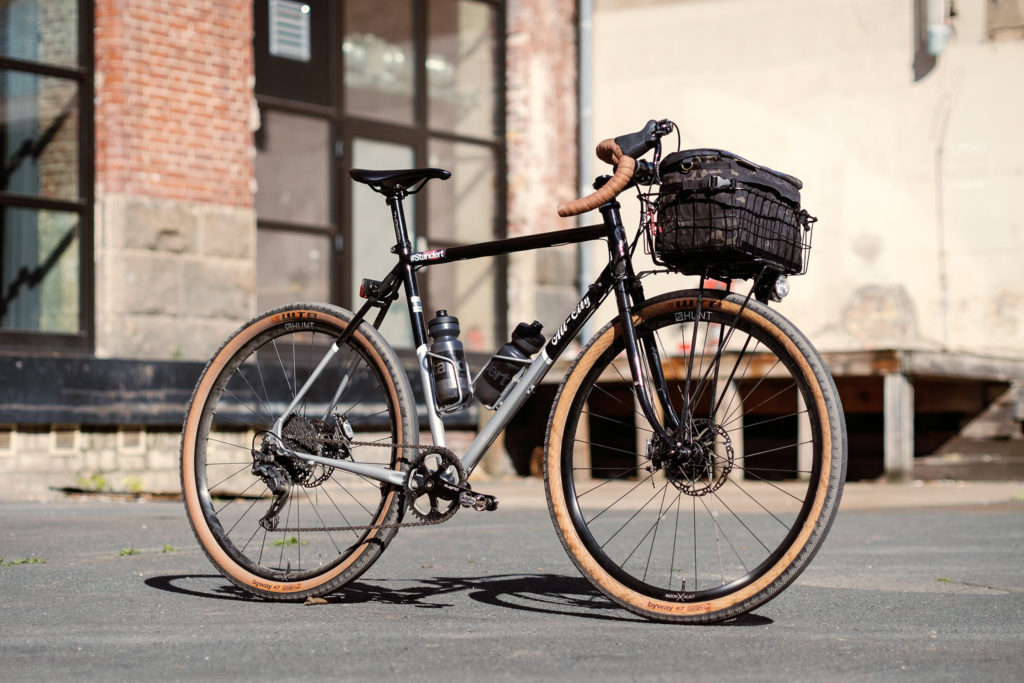 27. August 2018
A Jouney Beyond II
Our friend Marc Maurer did it again and finally A Jouney Beyond II was released by Bombtrack showing his trip from Tian Shan Mountains in Kyrgyzstan over the Pamir Highway in Osh and finally to Dushanbe, Tajikistan. Be aware, these are most impressive pictures that will make you want to leave for a trip instantly. Enjoy!
25. August 2018
POG All Road Henri
A while ago we build this beautiful, custom powder coated POG All Road custom bike for Henri. Based on solid White Line Disc Halo Wheels and equipped with Shimano Tiagra groupset, Juin Tech Taiwan semi hydraulic brakes, fast rolling Panaracer Ribmo tyres and Brooks  Cambium all weather saddle.
13. July 2018
All City – Cosmic Stalion – Tobias
Another piece of bike art we build recently. The sportive All-City Cycles Cosmic Stallion frameset with White Industries hubs laced to H+Son Hyrda rim with smooth rolling Compass tyres, SRAM Force drivetrain and brakes, Thomson Bike Products seatpost amd stem and Brooks England Cambium All Weather saddle.