Author Archives: Alexander Ingendorf
15. November 2019
Soma Double Cross – Kathrin
One of the last all black Soma Fabrication Double Cross frames we build for Kathrin who was in need of a smaller frame. The 48 cm size did just right! The no nosense Gravel- and Commuter bike was build with matching Soma lugged fork, handbuild wheels made of Novatec 4in1 and Shutter Dynamo laced to H+Son Hydra rims with WTB Riddler 700x 37c tyres, a SRAM Apex 2×10 group combined with a Praxis Works Zayante crankset,  Juin Tech semi hydraulic brakes, Supernova front and rear light, Pelago fenders, Brooks Cambium saddle and a Ritchey Ergo Max handlebar for a comfy position.
8. November 2019
Sour Purple Haze – Markus
We still think this shiny purple is one of the best macthing colours for the Sour Purple Haze frame. This gravel grinder was build with Fyxation Sparta carbon fork, Hope Tech Pro 4 rear hub and SON 28 12 disc dynamo hub laced to Halo Vapour rims in stealth black, combined with WTB Horzion tyres 650b x 47, SRAM Rival 1×11 group with hydraulic brakes, Hope headset, Velo Orange handlebar with Goldsprint Ultimate stem and VO seatpost and not to miss the iconic evergreen Selle Italia Flite Titanium saddle!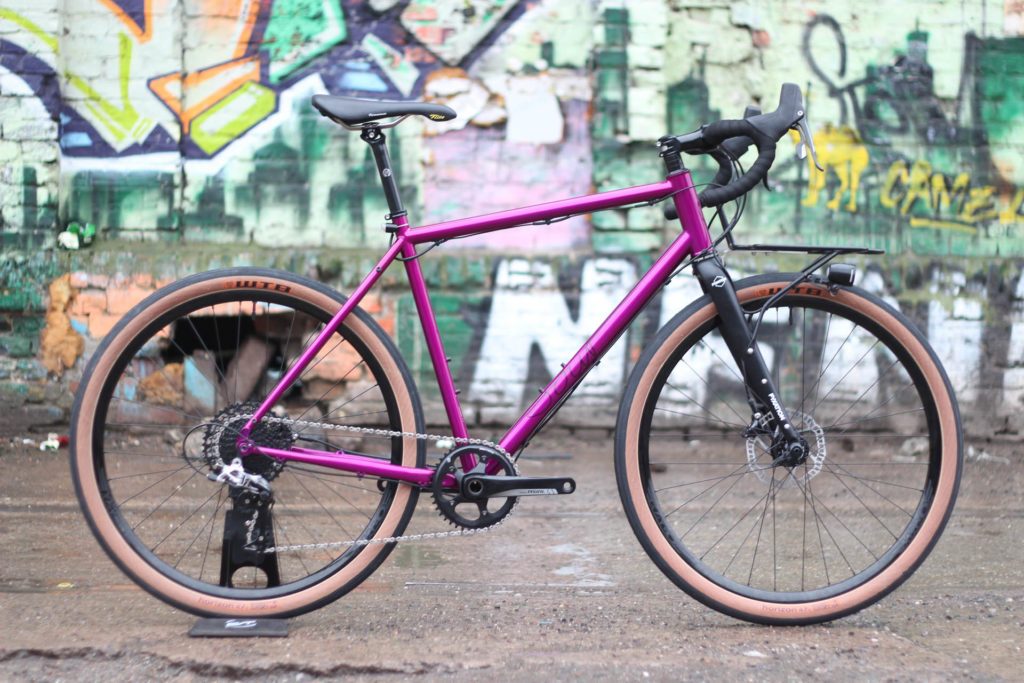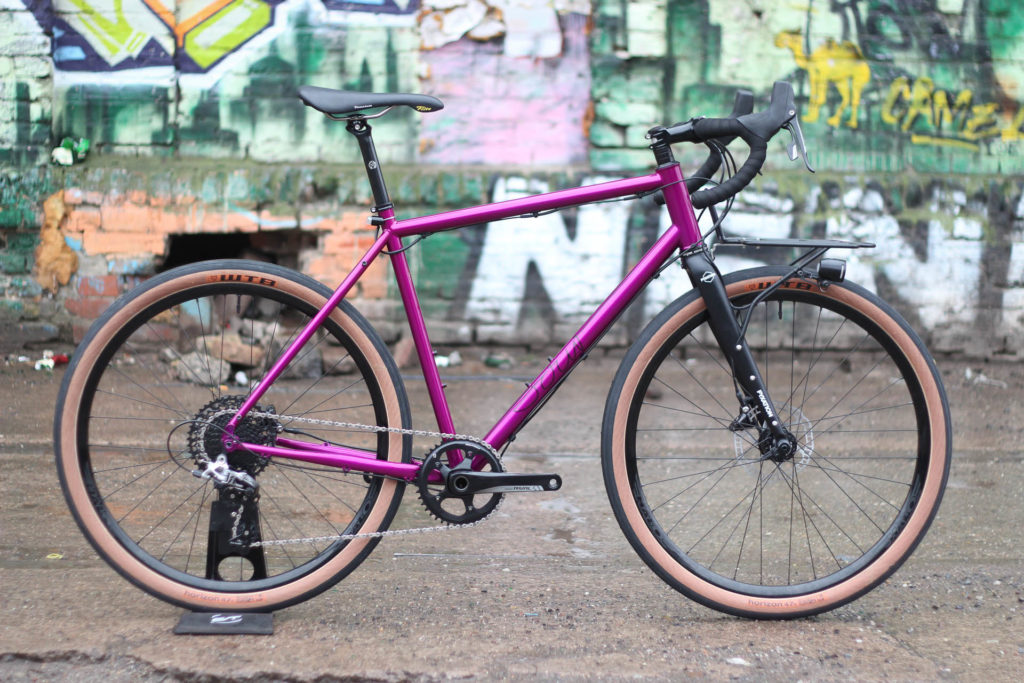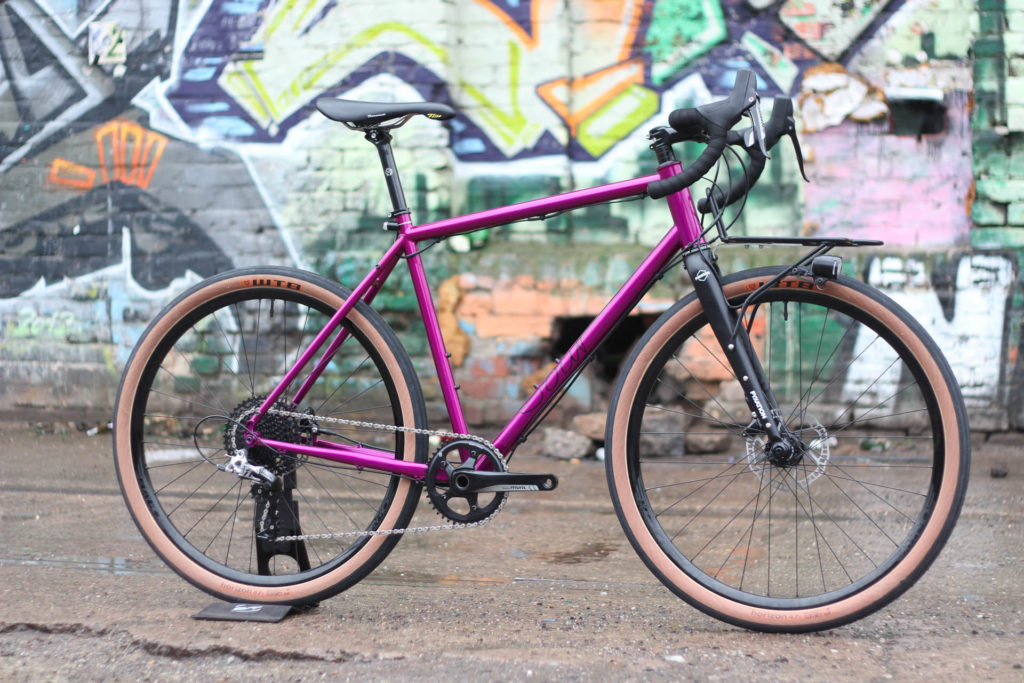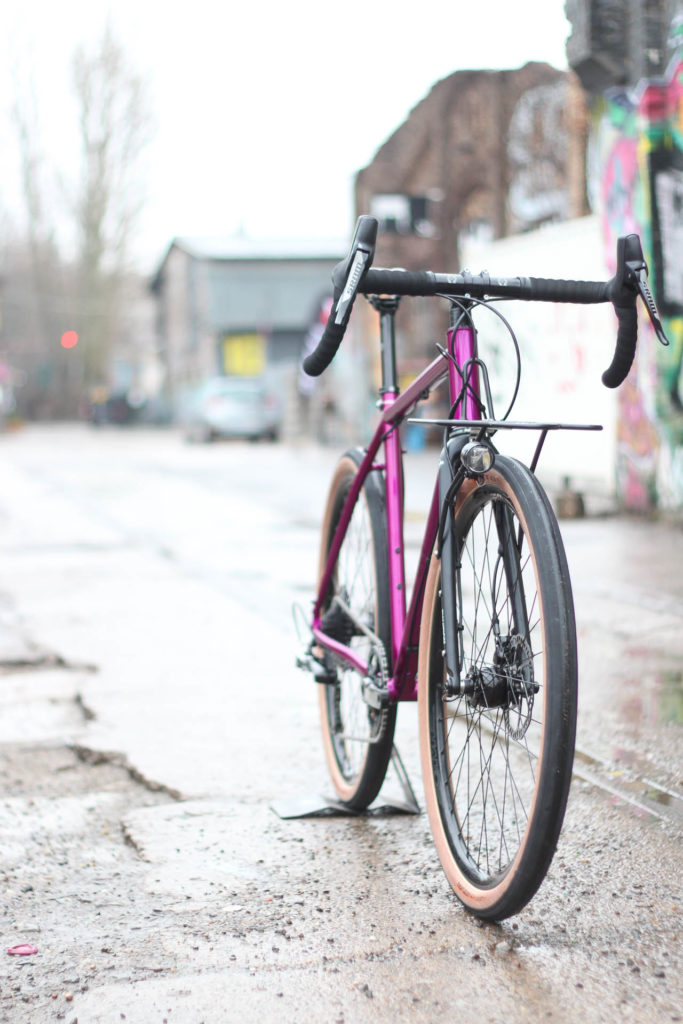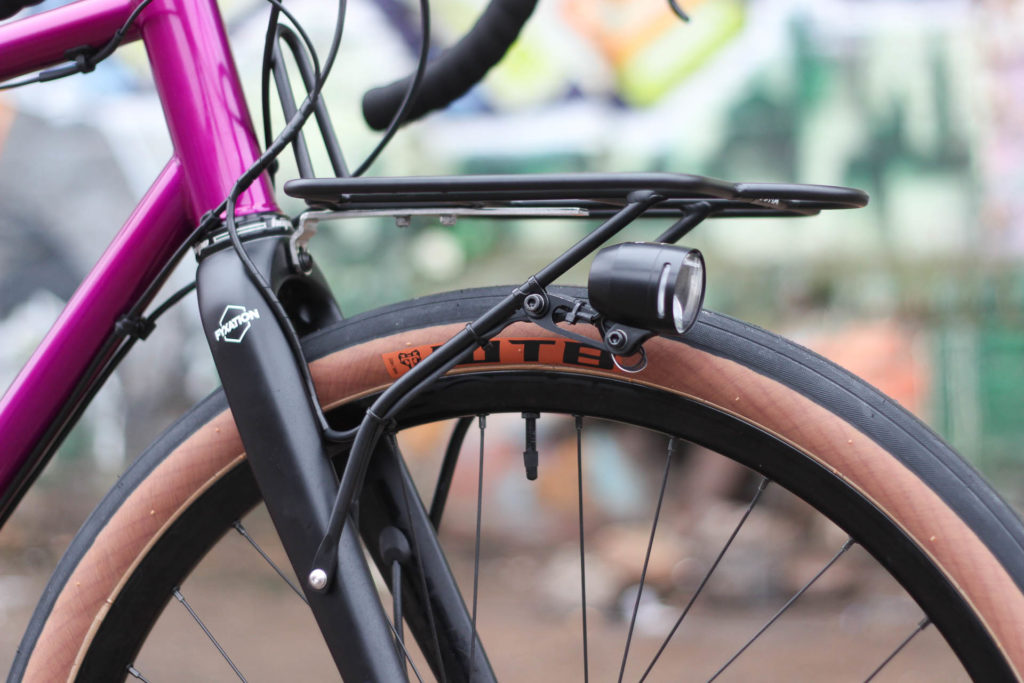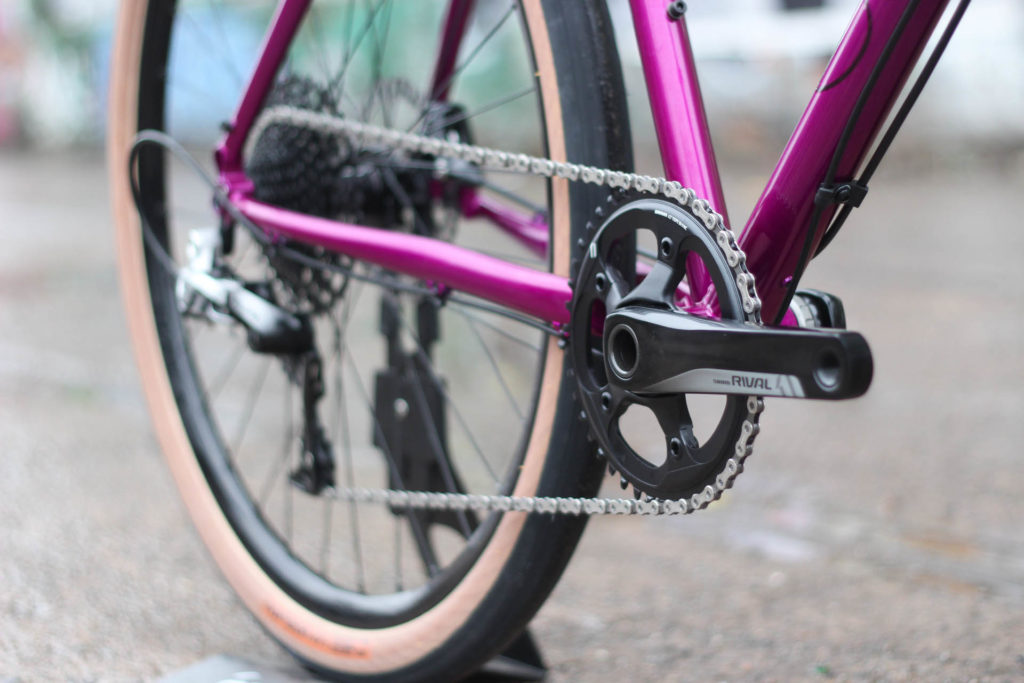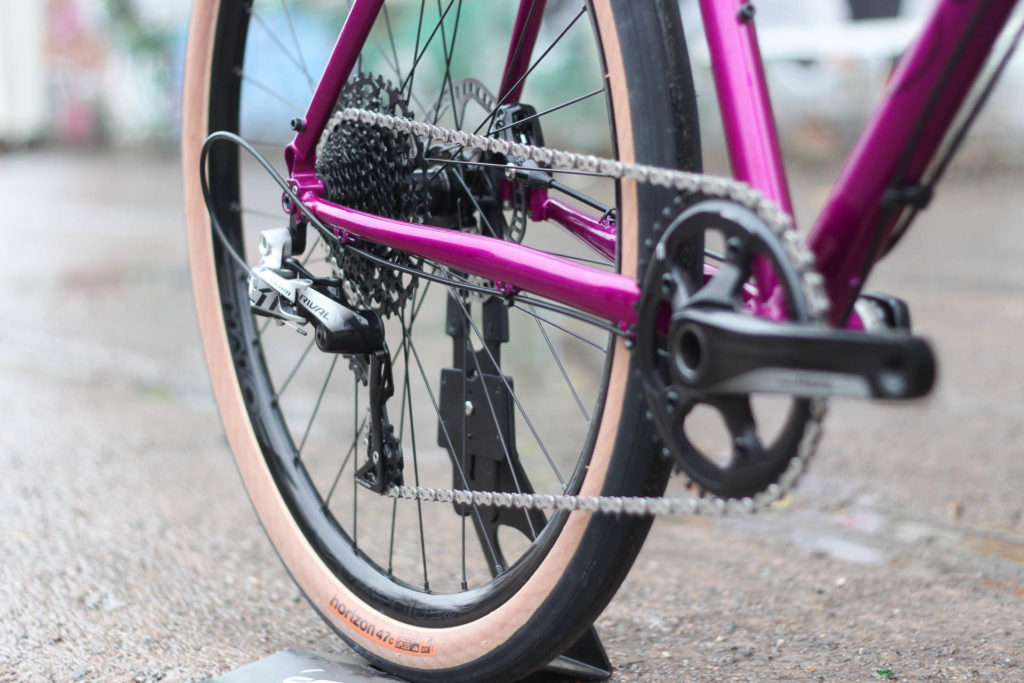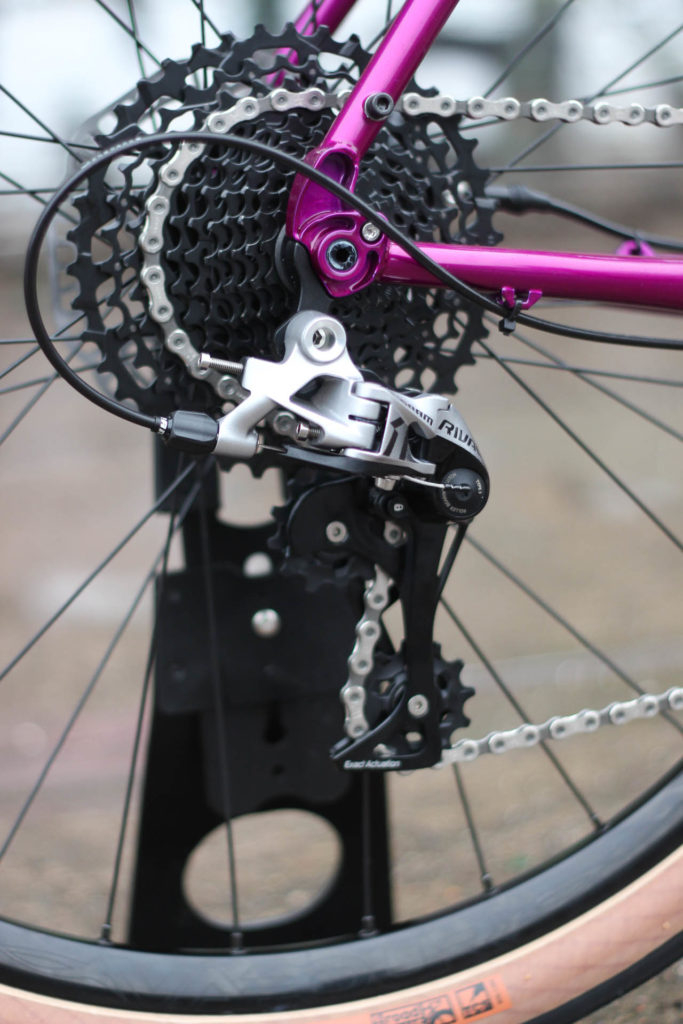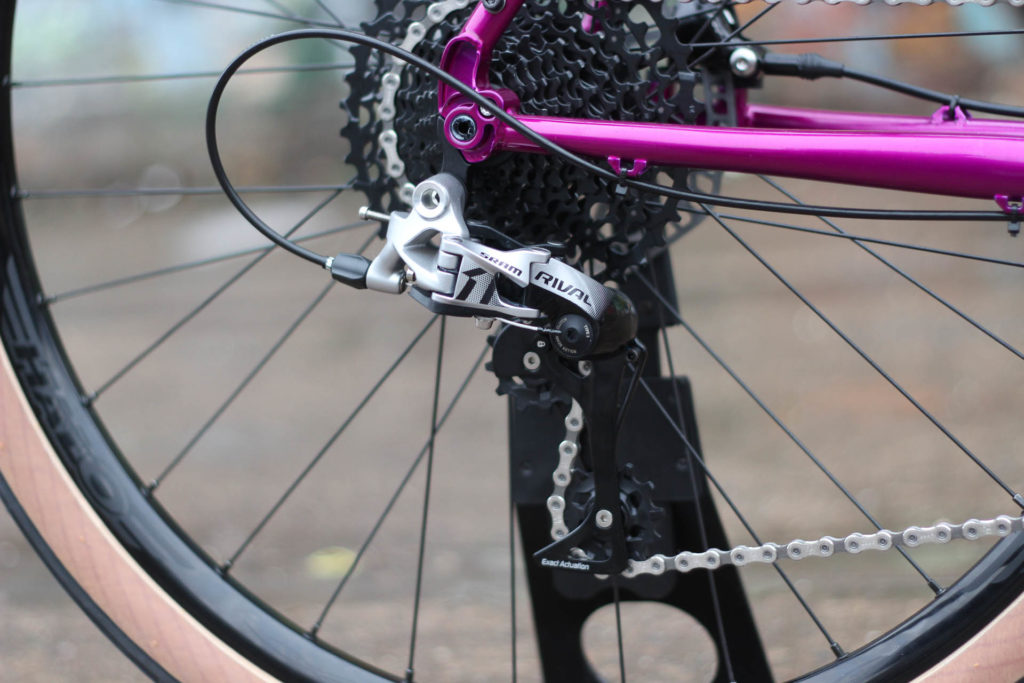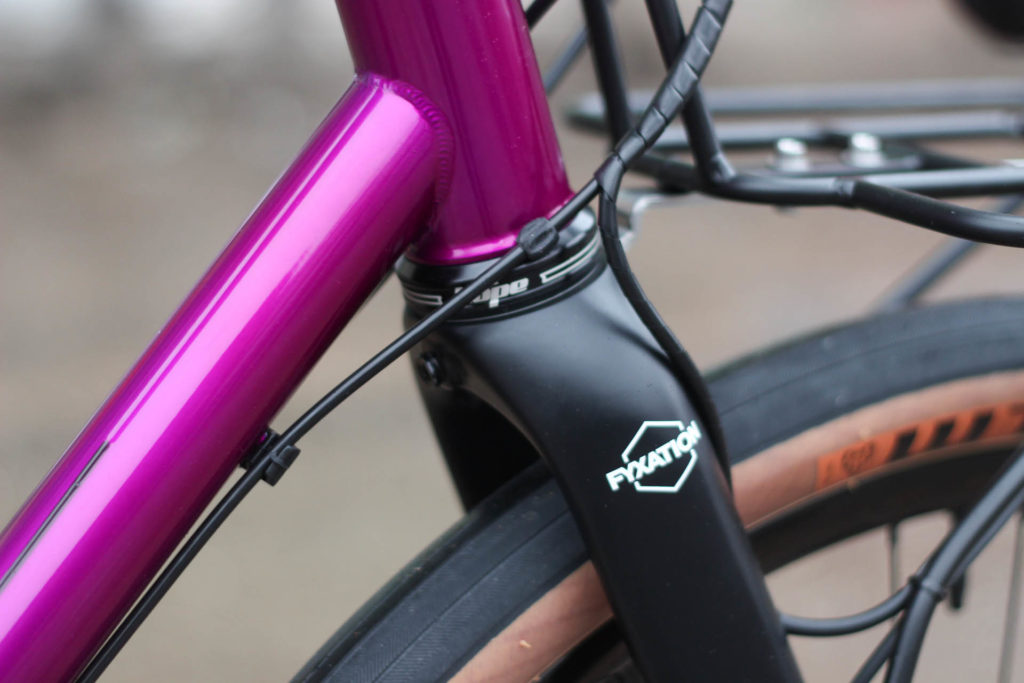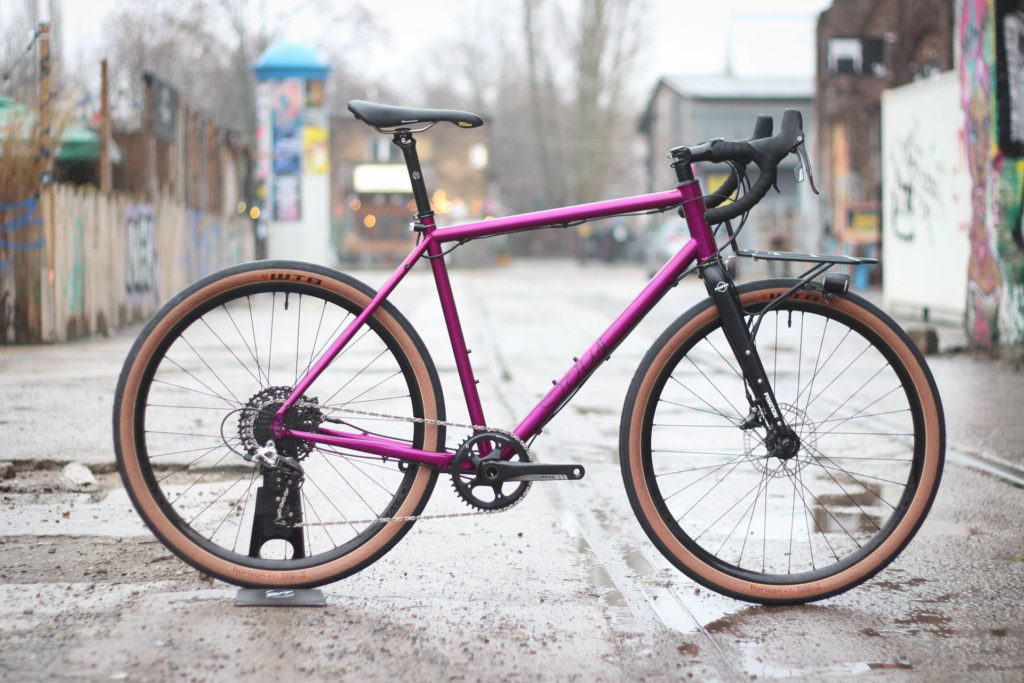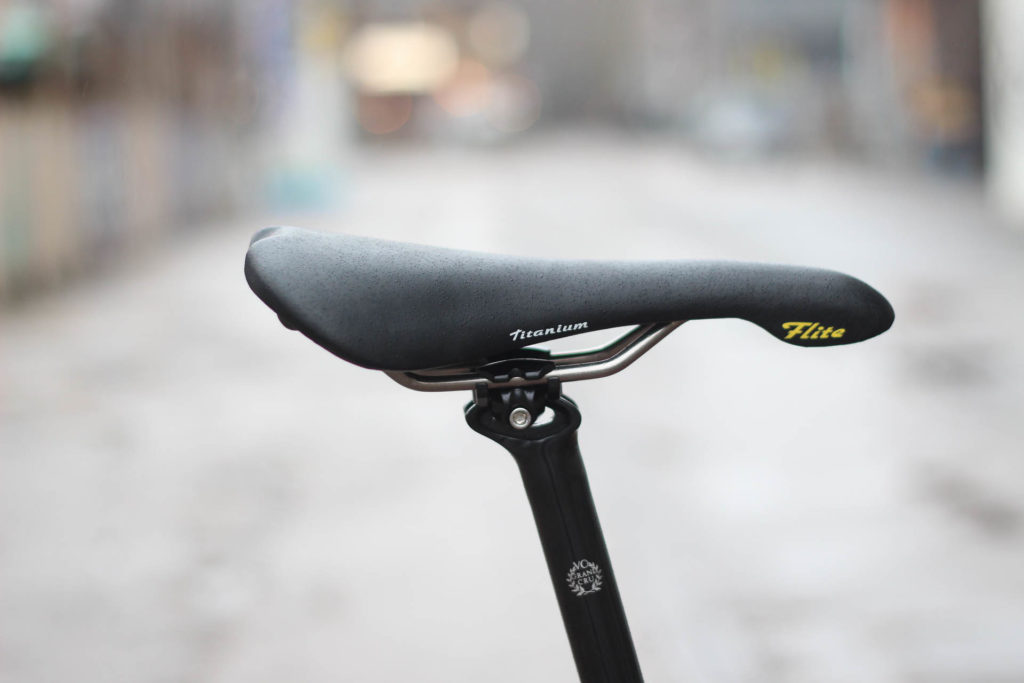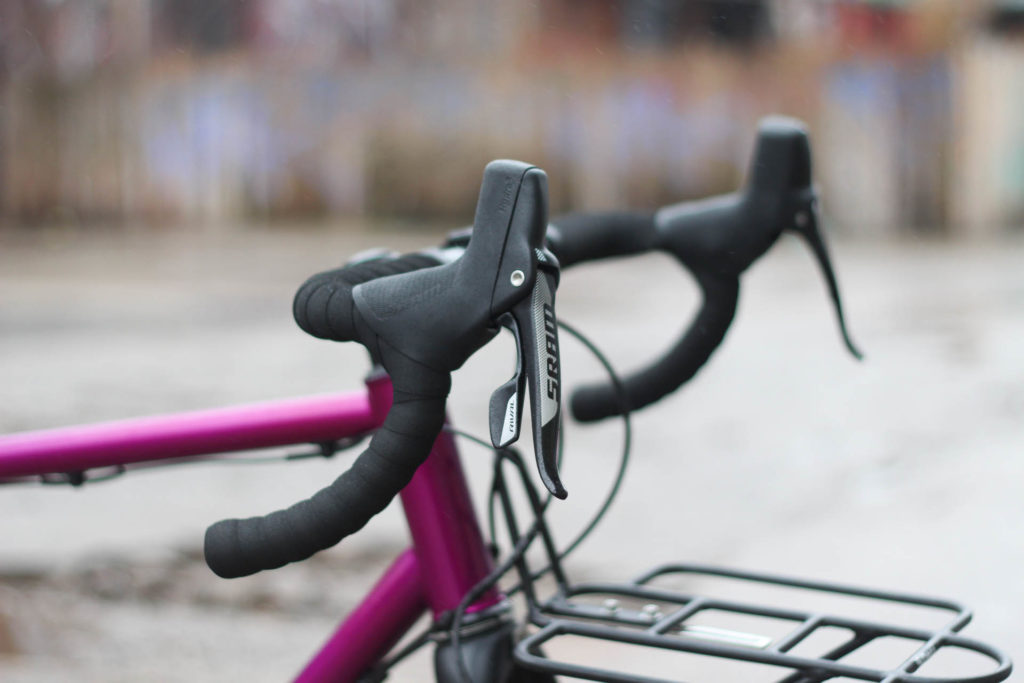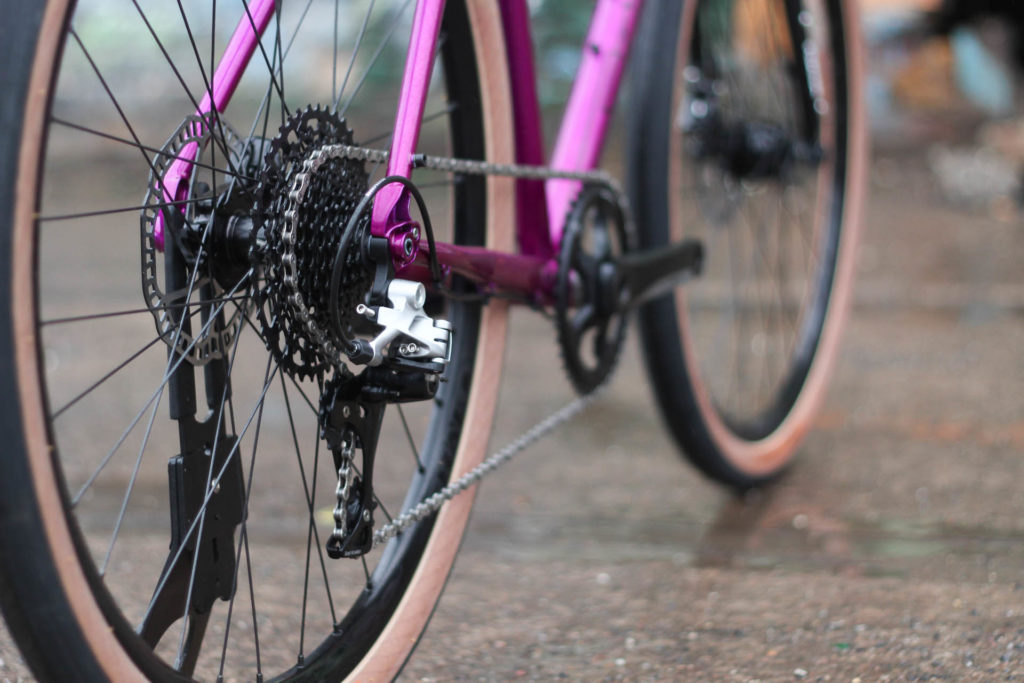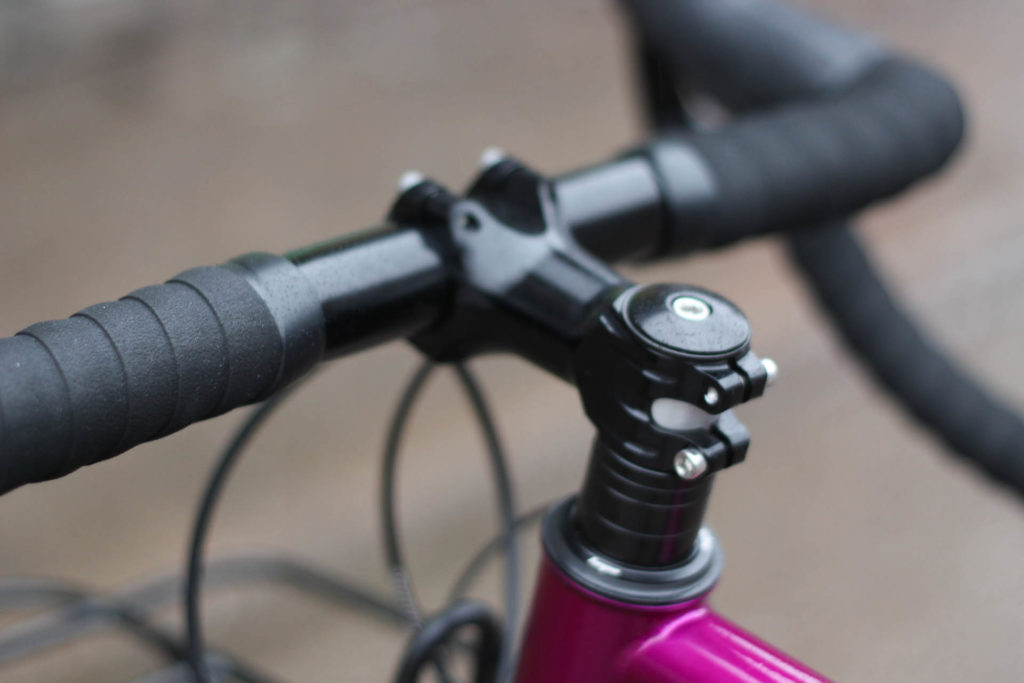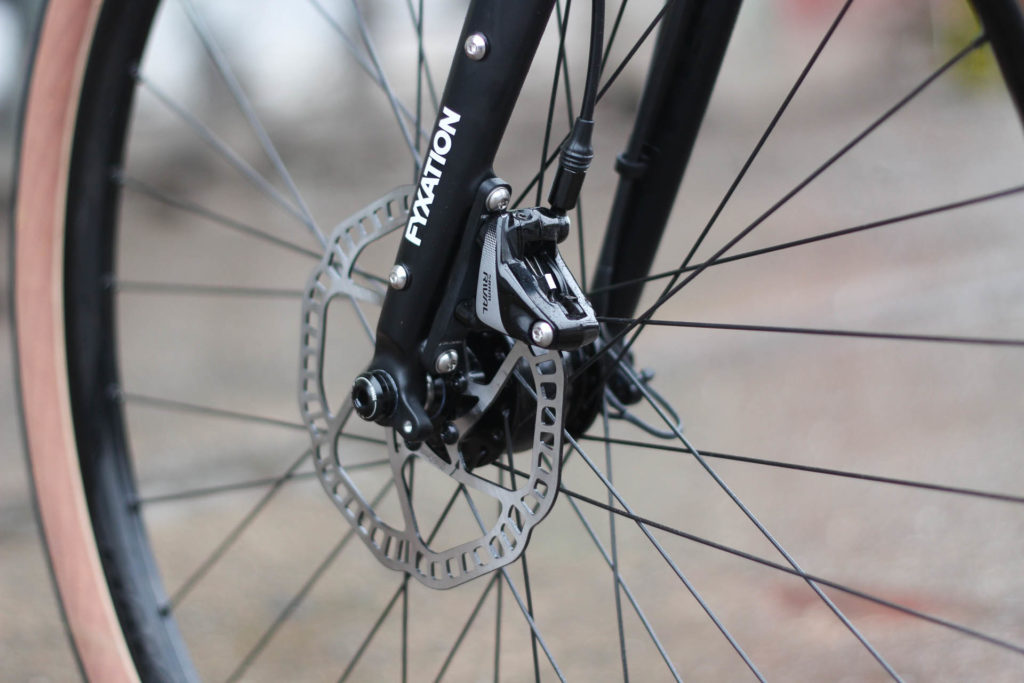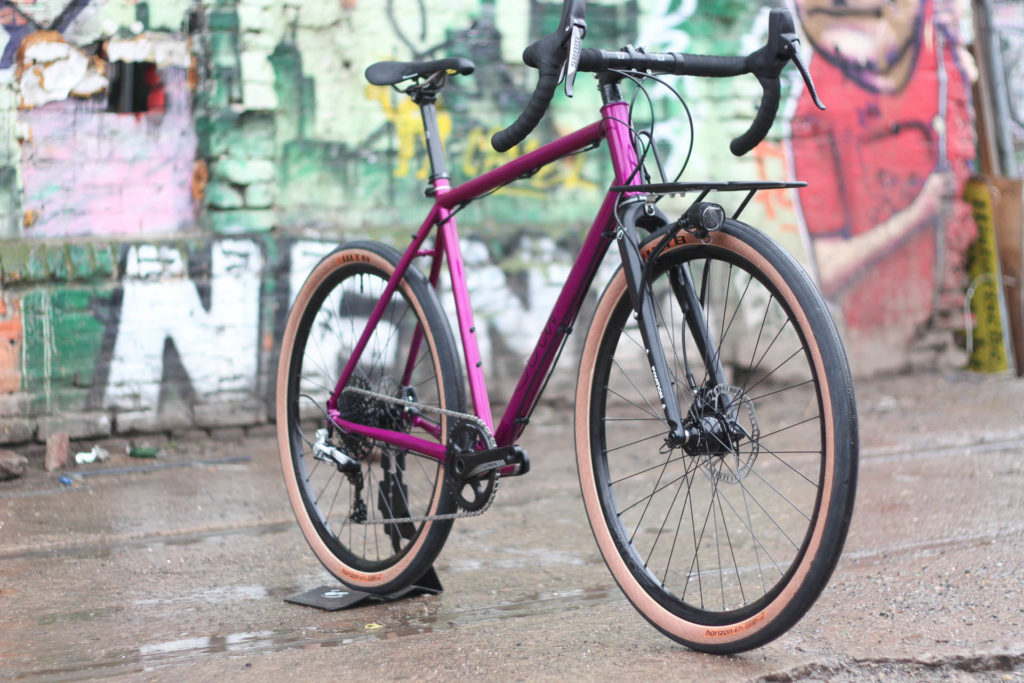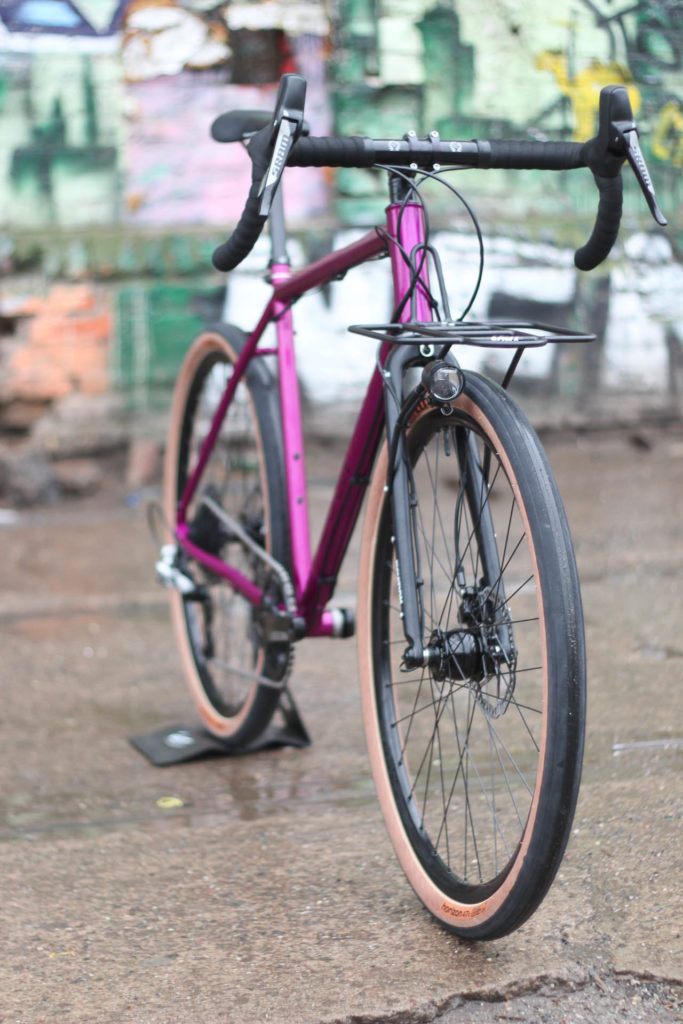 30. October 2019
Surly Midnight Special – Josephine
Thats what a smaller Surly Midnight Special can look like. For Josephine we build this awesome gravel bike with Hope rear hub, SON dynamo front hub laced to Halo Vapour 650b rims with WTB Horizon tyres, SRAM Rival groupset with hydraulic disc brakes and Ritchey Comp EvoMax handlebar.
22. October 2019
Veloci – Jimmy
We already introduced the Veloci Jimmy frameset at another time, here is an example by our freinds at Veloci of what you can do with this highly versatile frameset. gevenalle Shifter with Shimano GRX rear derailleur, White Industries crankset, Dropper seatpost and width 27,5″ tyres for fun offraod. Get in contact if you are thinking about a custom Jimmy!
8. October 2019
CURVE GXR (aka Kevin) – Lucas
Some might heared already: We are official dealer for CURVE Cycling now and can supply you with the full range in the near future. So have a look on this GXR titanium we build for our friend Lucas: Mason x Hunt 650b Adventure dynamo wheelset with SON dynamo hub front and smooth rolling Teravail Rampart tyres, White Industries G30 crank with TSR chainring and matching bottom bracket, SRAM Rival 1×11 combined with hydraulic Hope RX 4 flat mount brakes, Thomson Elite seatpost and stem with a Salsa Cowchipper Carbon handlebar and Brooks Cambium saddle and bar tape. if you are interested drop by and have look at this beauty as long it is on display in the shop!
29. August 2019
Shop closed on Saturday 31.08.2019
Sorry for the short notice, but we are low on staff right now and will have to close our shop on Saturday, 31.08.2019 due to the Brother in The Wild Berlin Event! We hope to see a lot of you at the Event ! Sorry for any inconvenience caused!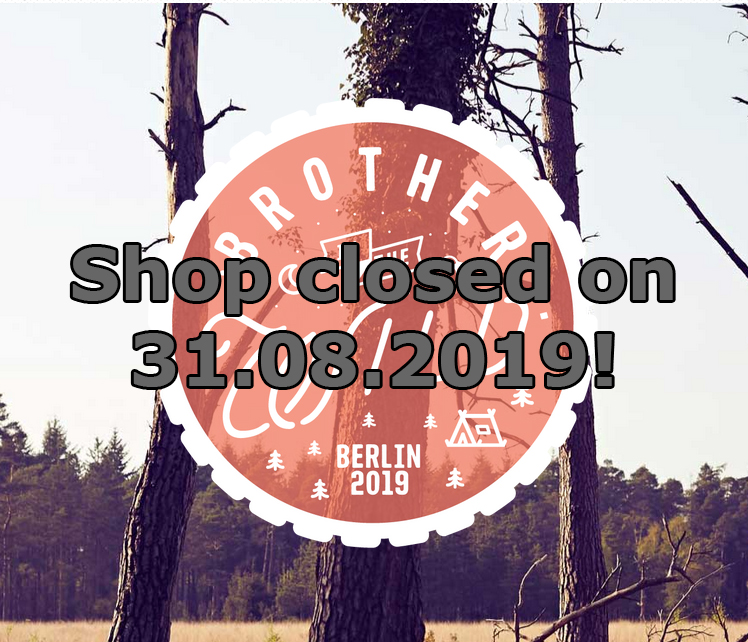 23. August 2019
TGJ / Big Forest Collab
Our shops anodizing feng shui expert Basti had a very special custom bike in mind for while. This year he could make his dream come true. Together with Konstantin from Big Forest bikes he planed on his very own custom frame according to his needs and wishes. In the end the frame came out as expected, a highly agile and comfortable long distance Gravel Bike with a lot of mounting options and some pretty and clever details. A good friend made the paintjob and the bike was build with Fyxation Sparta FCR full carbon fork, SON dyno hub front and Chris King hub rear laced to Stans Crest rims with 650b WTB Horizon tyres, SRAM Rival 1×11 groupset, Hope RX4 hydraulic disc calipers, aawesome Chris King headset and bottom bracket, Rotor crankset with elliptical chainring, lightweight Goldsprint Ultimate seatpost and stem and a Brooks Cambium All Weather Saddle.
24. July 2019
Brother In The Wild Berlin – 31.8 -1.9.2019
We're very excited to announce a new European Brother in the Wild date – this time partnering with the good guys at Brother Cycles
The event will be a 2 day ride and 1 night campout starting and finishing at the Gentle Jaunt shop in Friedrichhain, Berlin. The route will take you South East out of the city where the terrain consists mostly of fire roads, gravel trails and single-track that winds through a stunning forest landscape.
The ride will finish at a private campsite on the banks of the River Spree where you can swim and cool off after a day on the bike! That evening we'll provide a BBQ dinner and some beers for you to enjoy as you kick back and relax around the campfire.
On the second day, after breakfast, you will embark on a new loop heading back into Berlin – including more of the region's finest gravel tracks and quiet country roads. Those not wanting to ride today have the option of taking a local train back into the city.
The route will be approximately 70km each day on mostly gravel roads – we therefore recommend an off-road capable bike with 33c tyres or larger.
Tickets cost £35 per person and include the following:
– Entry to the ride including gpx files for the suggested routes
– A pitch at the campsite for 1 night on the 31st August
– A welcome beer at the campsite
– A BBQ dinner and breakfast at the campsite – meat and vegetarian options available
We will also host a launch party at the Gentle Jaunt shop on the Friday before the ride – come and make some final adjustments to your bike, have a beer and meet some other riders.
23. July 2019
Surly Straggler – Veronica
One of our custom bike we made for Veronica recently. Based on a small Surly Straggler 650b frameset in awesome salmon colour we got some nice red details with a red Dia Compe headset, red Shutter Precision dynamo, red Hope Pro 4 rear hub and red SAPIM aluminium nipples laced to light and durable Halo Vapour rims. The build was completed with a SRAM Apex 1×11 drivetrain with hydraulic disc brakes, subtle no logo Goldsprint seatpost and stem, compact Cinelli Vai handlebar, WTB Horizon tyres (tubeless) and a Brooks Cambium All Weather saddle. For everyday use we added Velo Orange Zeppelin fenders, a Pelago Commuter front rack and B+M IQ-XS front light and a SON rear light. In the end the bike is as versatile as it is beautiful!
28. June 2019
Velo Orange Piolet – Andreas
Andreas wanted a bikepacking bike capable of doing rough terrain without any problems. The beautiful Velo Orange Piolet seemed to be a natural choice. The double butted CroMo steel frame is a very capable, touring orientated frame with tons of eyelets for whatever you want to mount. The fork is triple butted for weight savings and comes with mount options for cages, racks etc. We build the bike with mostly existing parts from Andreas, a new SRAM NX 1x 11 groupset and a nice multi-postion Velo Orange Crazy bar!. The Maxxis IKON tyres are just perfect for bikepacking use (and the frame will allow up to 29 x 2,4 or 27,5″ x 3,0!)