Author Archives: Alexander Ingendorf
10. January 2020
Surly Straggler Max
We hope you all had a wonderful start into 2020 and are excited as we are about the year to come. For now we start the year with this Surly Straggler complete build we made a while ago for Max. The nice and durable wheelset was build with Hope Tech Pro 4 hubs and the well proven H+Son Hydra rims. Panaracer Gravelking tyres keep you rolling, no matter what terrain. A full SRAM Rival groupset with hydraulic disc brakes is also a good choice, as the Hope headset and the Thomson parts are too!
2. January 2020
Marin Bikes – Made For Fun
Here is an beautiful insight in the company MARIN and their rich history. Yo may get an idea why we love MARIN.
19. December 2019
Holiday Opening Times
The year comes to its end and want to thank you for your ongoing support. We wish everyone a beautiful christmas, some nice holidays and a good start into the new year! Our shop will be closed from 23.12 .2019 to 01.01.2019 and we will be back for you on 02.01.2019!
30. November 2019
Team Rider Raphael
We proudly announce our first team rider. 6 months ago, @cyclingrapha went in our shop and told us his participation on the second edition of the @silkroadmountainrace. He hadn´t had a lot of experiences so far and just scratched from the Italy Divide, which was his first ultra distance race. Over time a great friendship arose and we are more than happy to help @cyclingrapha not only with mechanical issues but also talk about his set ups for the races. He is a great adventures and cycled through Morocco, Spain, Portugal, Italy, Germany, Kazakhstan, Kyrgyzstan, Mexico, Belize and Guatemala in 2019. Not to mention his finish at the @silkroadmountainrace as 28th of 145 participants. His next race will be @atlasmountainrace in February 2020. Also, we are planning some new projects with him in 2020. Stay tuned.
New The Gentle Jaunt Team Rider Raphael from Goldsprint Berlin on Vimeo.
20. November 2019
OPEN Cycle – U.P. blue 650b
With parts we had laying around we build this awesome demo bike for everyone interested in OPEN Cycle. This U.P was build with Hunt Adventure Sport Wheels combined with Rene Herse 650b tyres, full SRAM Rival 1×11 drivetrain with nice narrow wide Veloci chainring, SRAM Rival hydraulic disc brakes, Goldsprint Ultimate stem and seatpost, Salsa Cowbell Deluxe handlebar. This size L bike is availabe in store for testrides or can be rented for longer test rides via our List N Ride.
15. November 2019
Soma Double Cross – Kathrin
One of the last all black Soma Fabrication Double Cross frames we build for Kathrin who was in need of a smaller frame. The 48 cm size did just right! The no nosense Gravel- and Commuter bike was build with matching Soma lugged fork, handbuild wheels made of Novatec 4in1 and Shutter Dynamo laced to H+Son Hydra rims with WTB Riddler 700x 37c tyres, a SRAM Apex 2×10 group combined with a Praxis Works Zayante crankset,  Juin Tech semi hydraulic brakes, Supernova front and rear light, Pelago fenders, Brooks Cambium saddle and a Ritchey Ergo Max handlebar for a comfy position.
8. November 2019
Sour Purple Haze – Markus
We still think this shiny purple is one of the best macthing colours for the Sour Purple Haze frame. This gravel grinder was build with Fyxation Sparta carbon fork, Hope Tech Pro 4 rear hub and SON 28 12 disc dynamo hub laced to Halo Vapour rims in stealth black, combined with WTB Horzion tyres 650b x 47, SRAM Rival 1×11 group with hydraulic brakes, Hope headset, Velo Orange handlebar with Goldsprint Ultimate stem and VO seatpost and not to miss the iconic evergreen Selle Italia Flite Titanium saddle!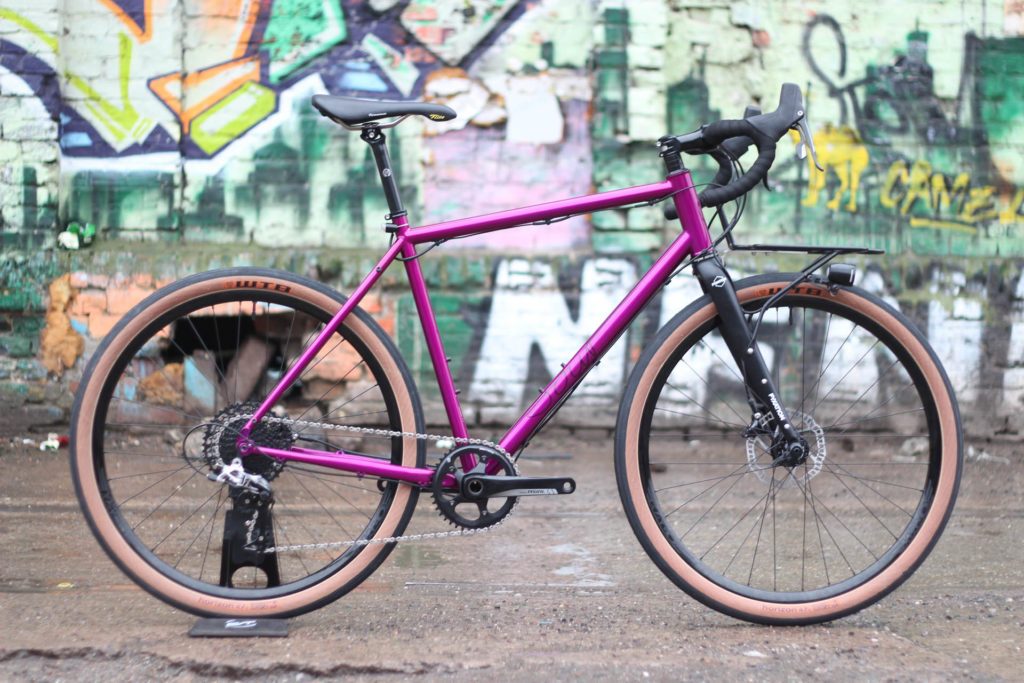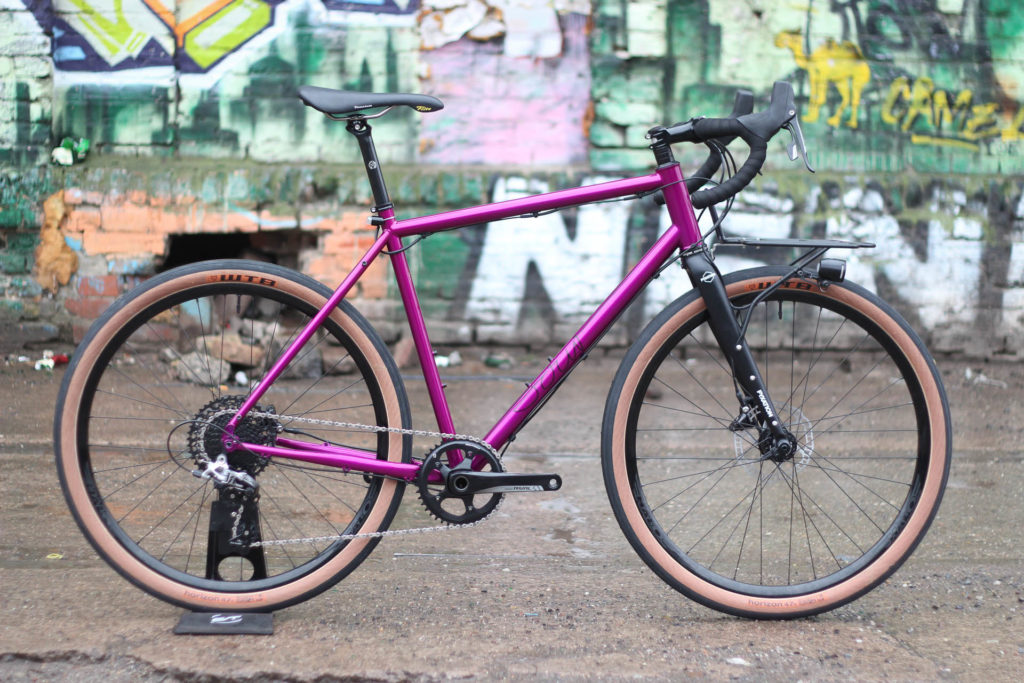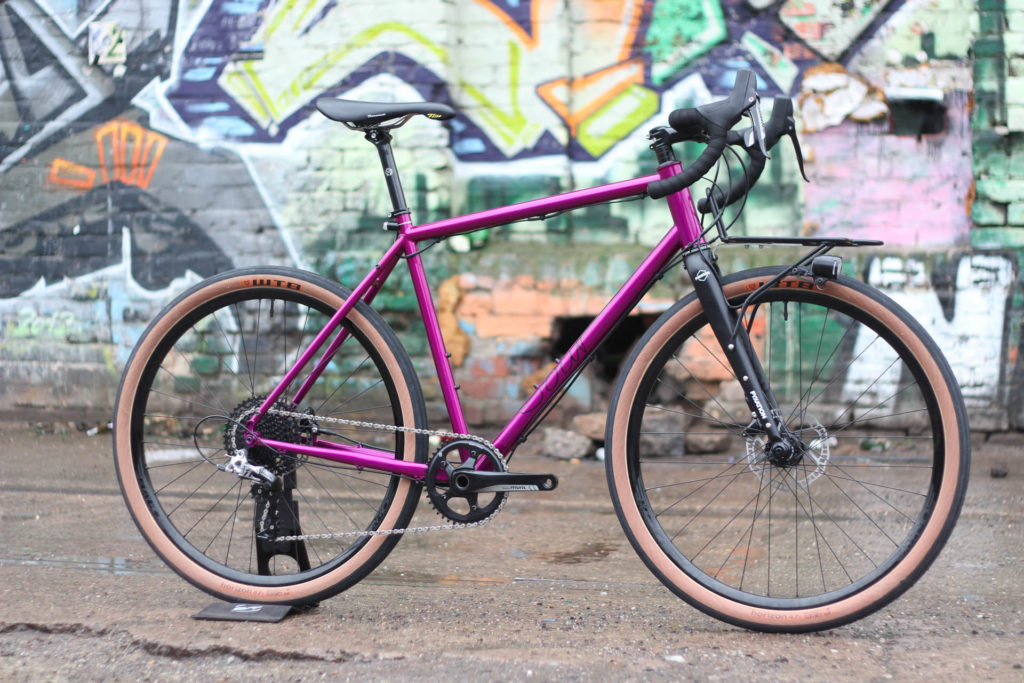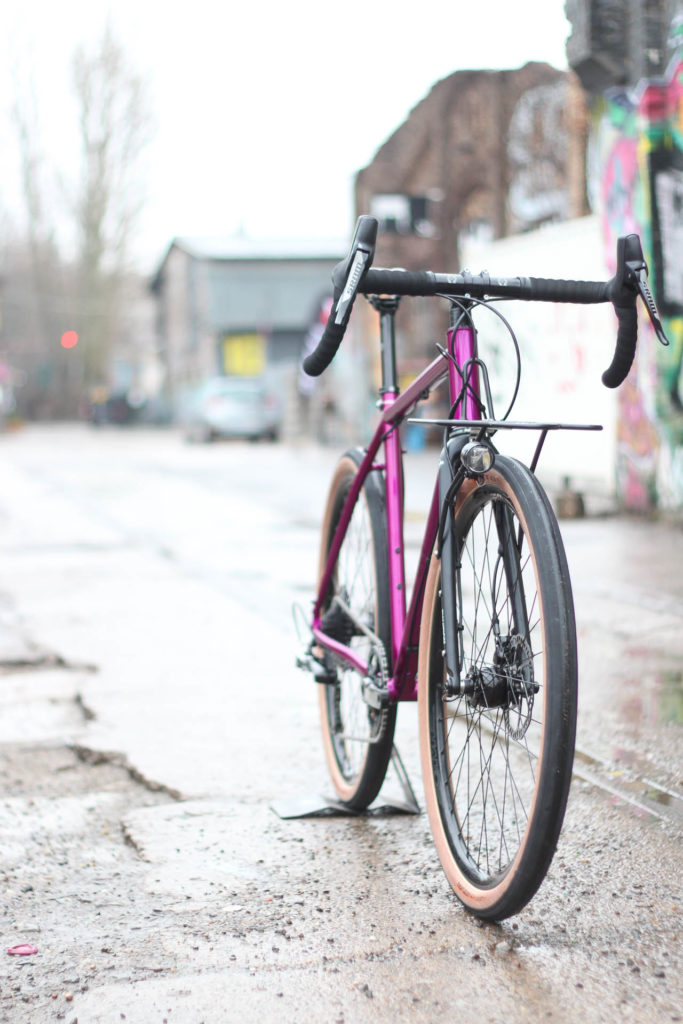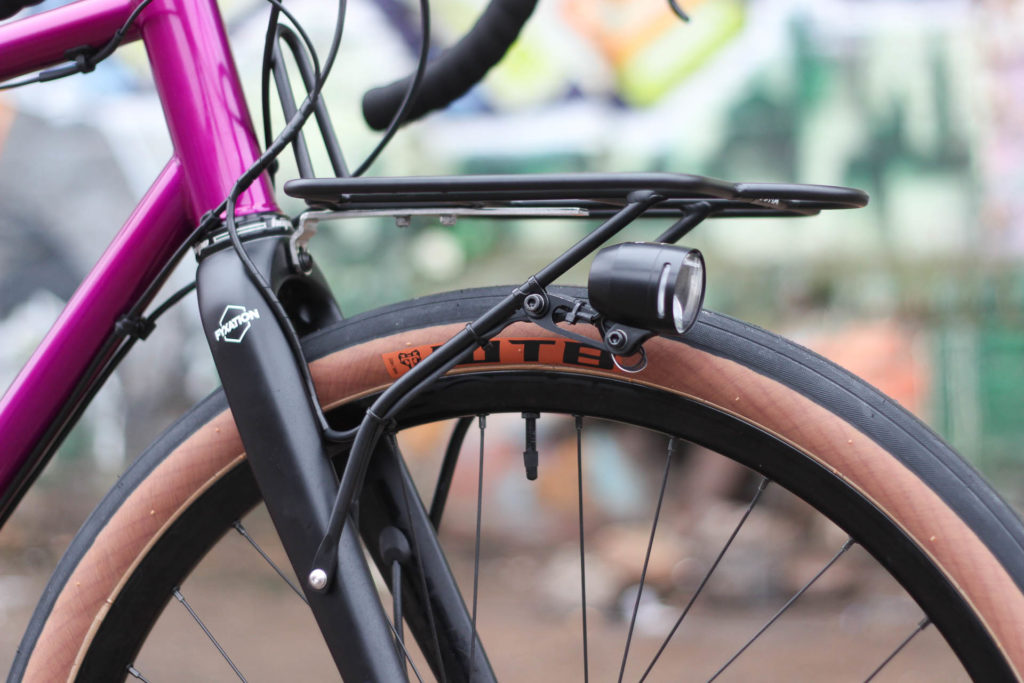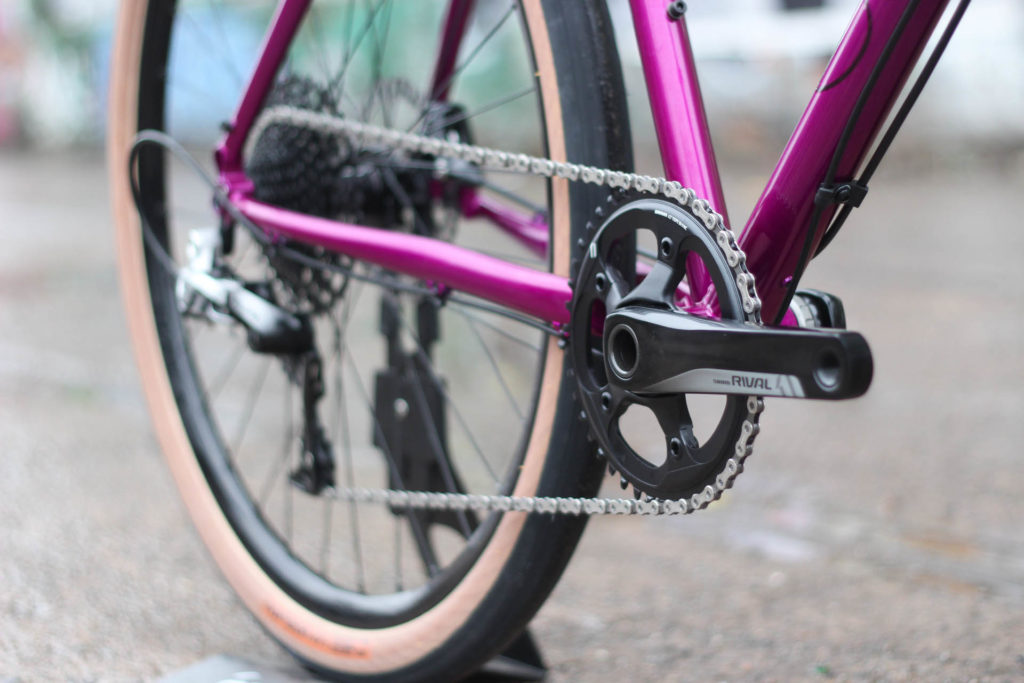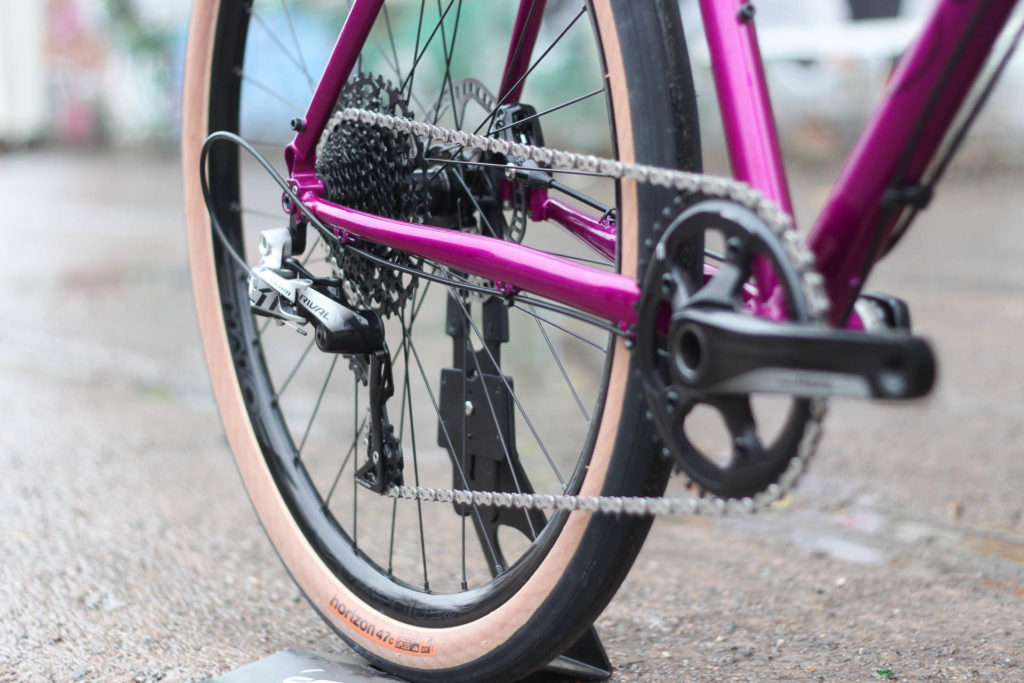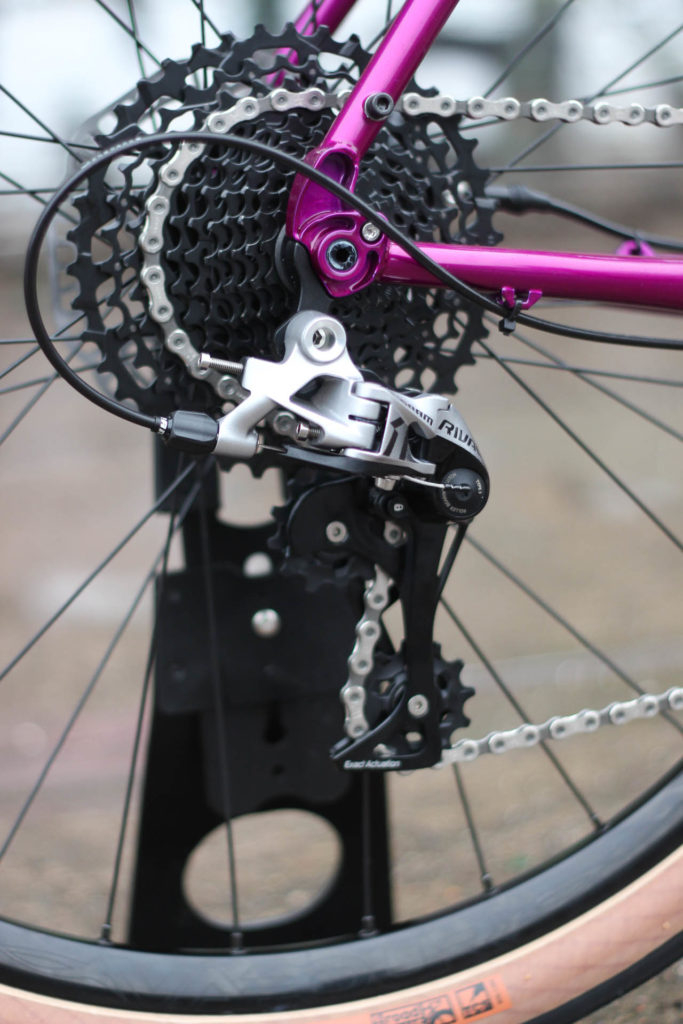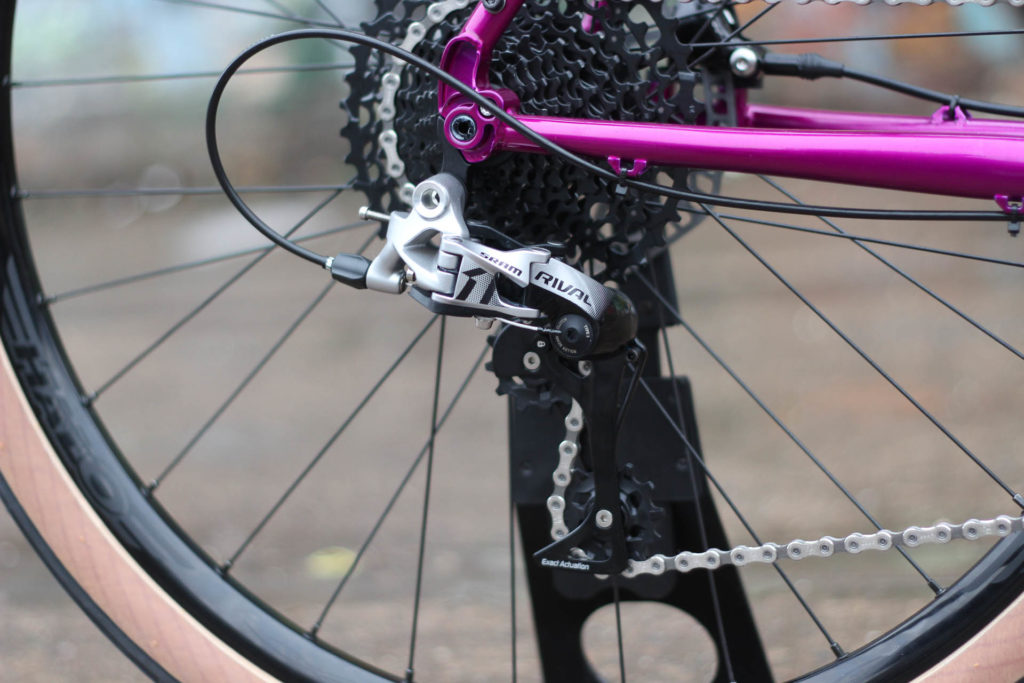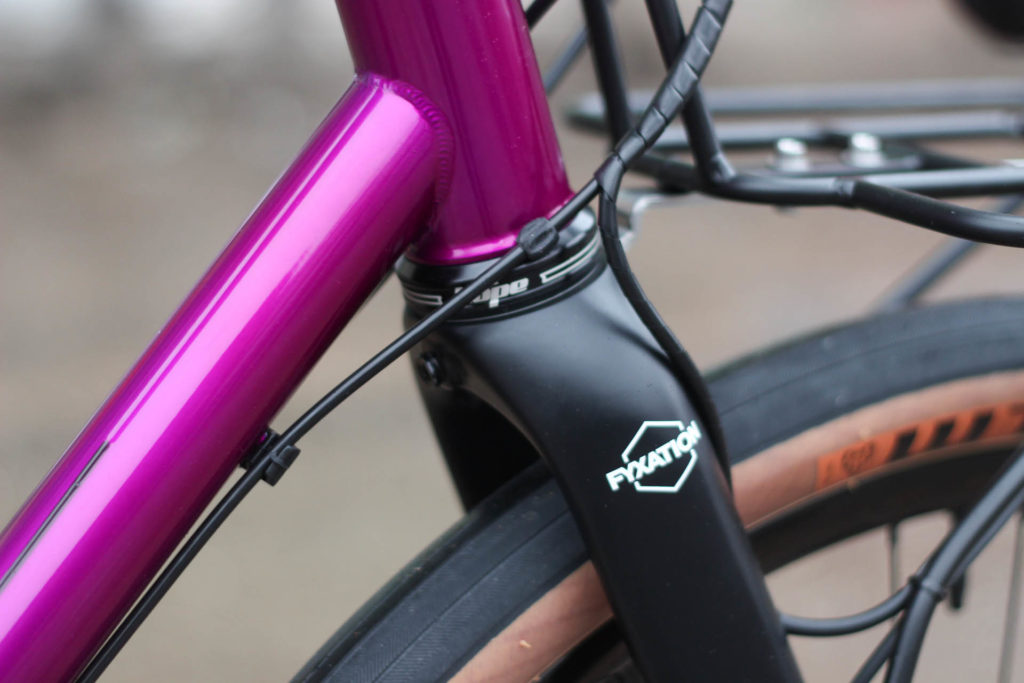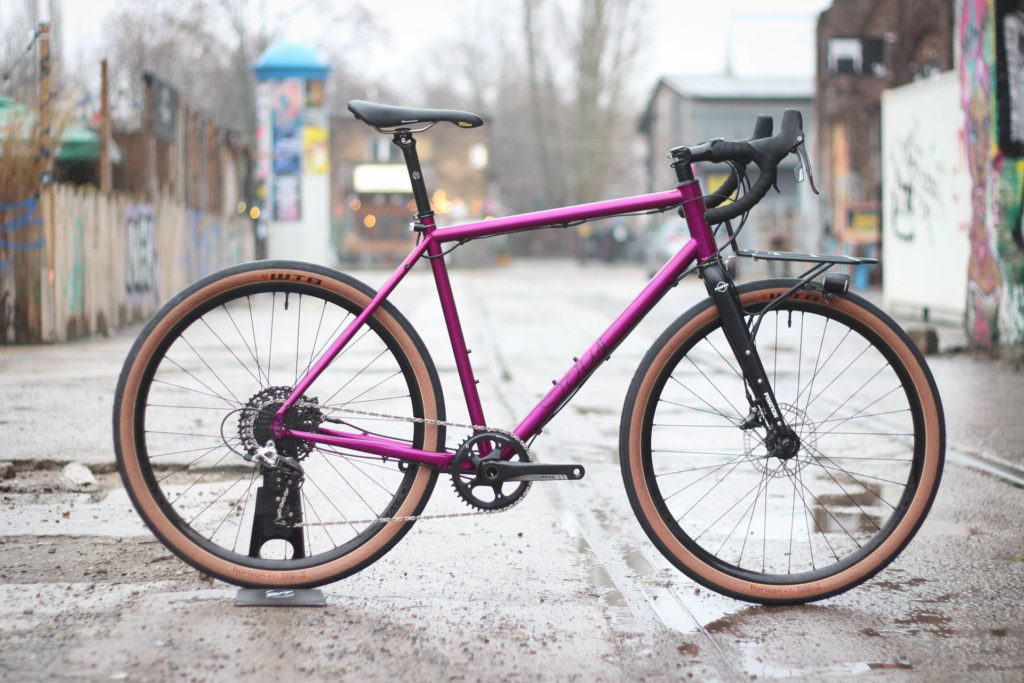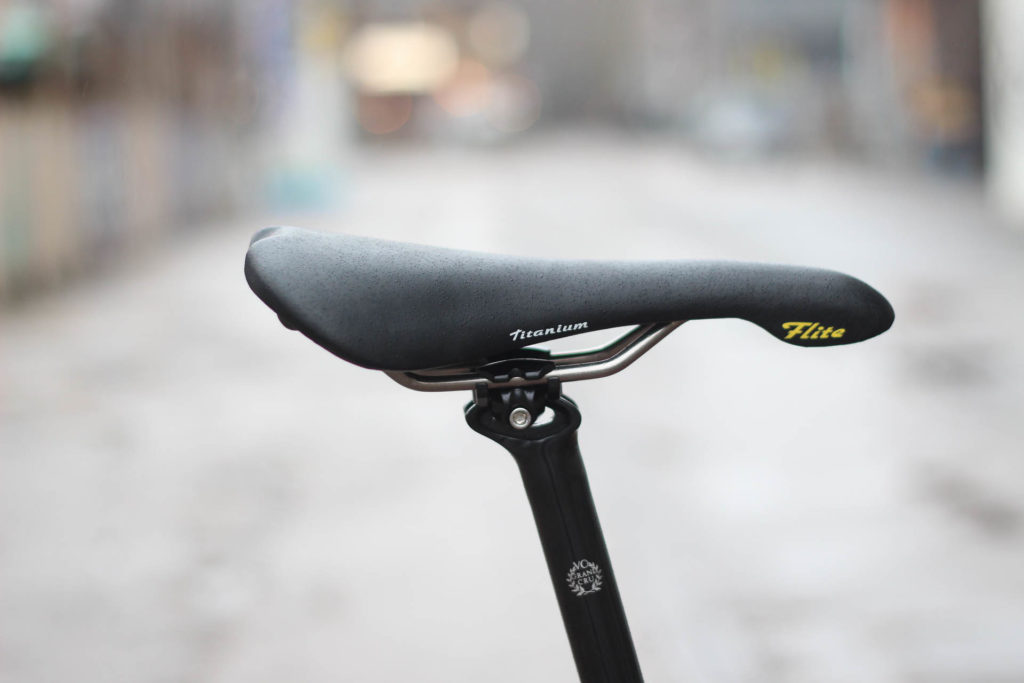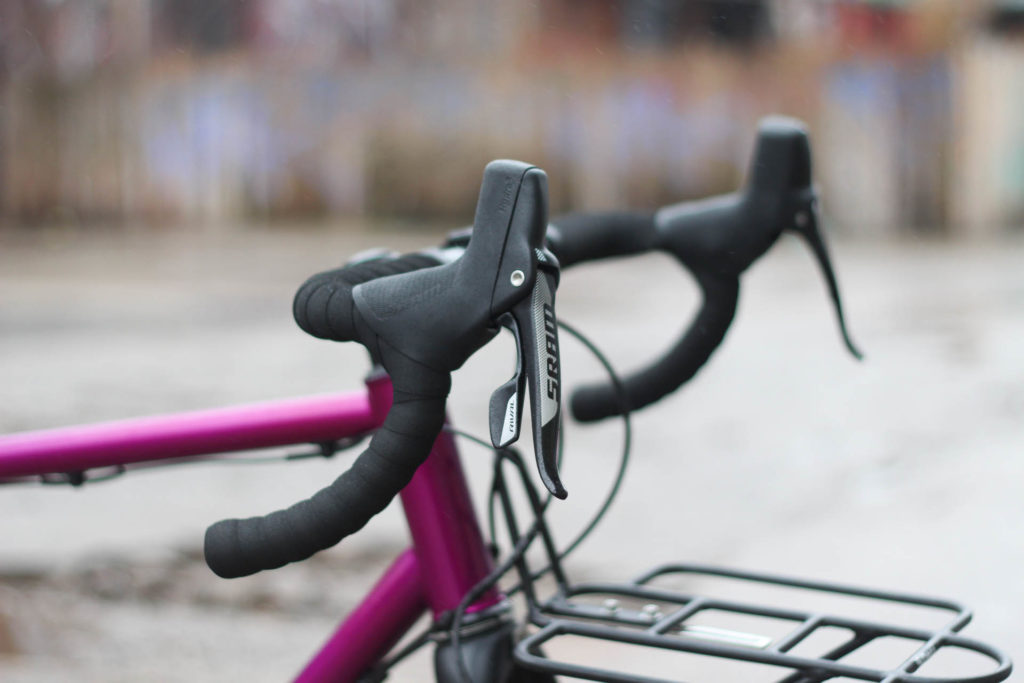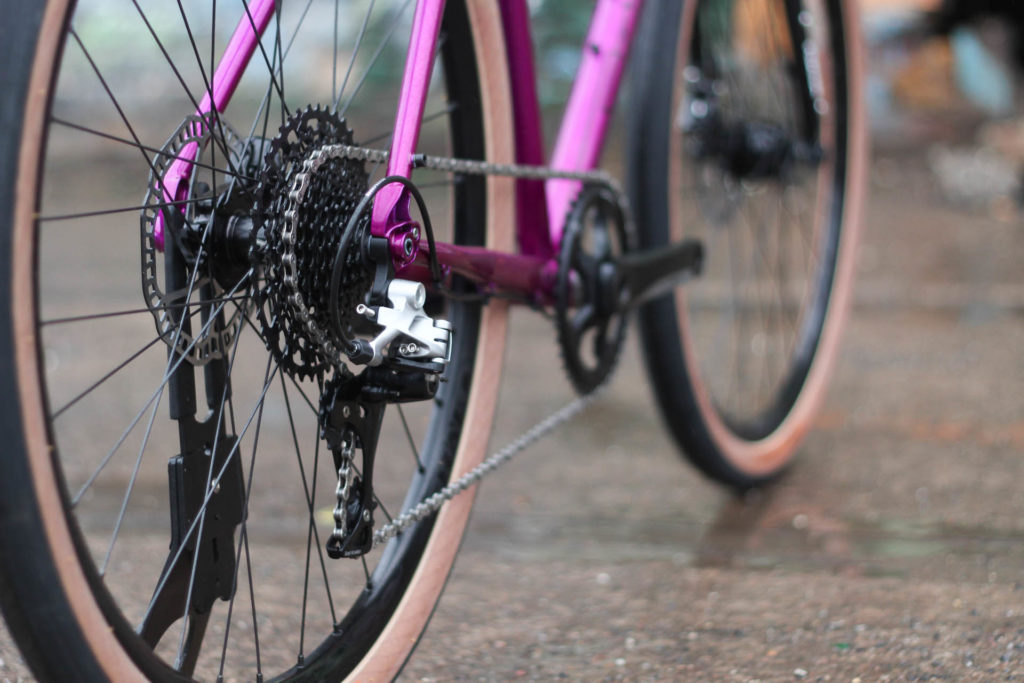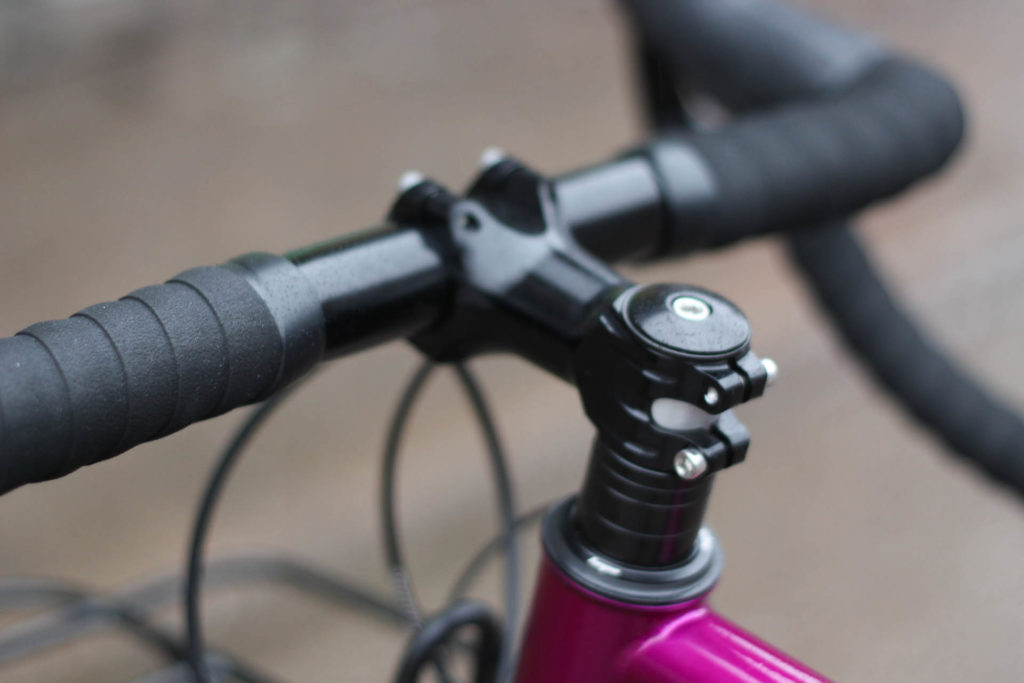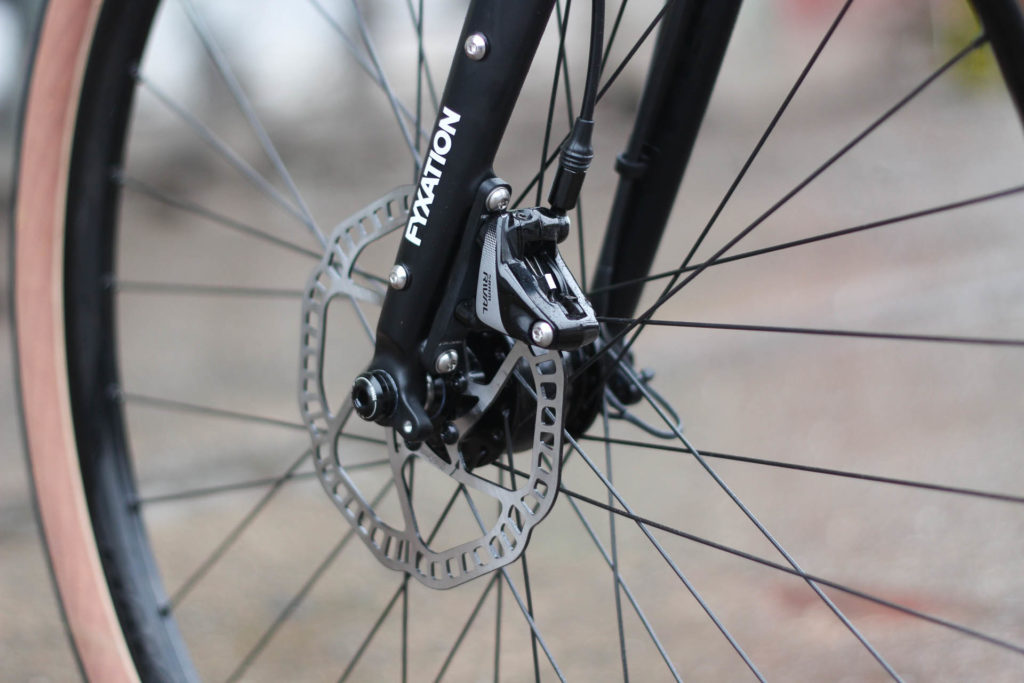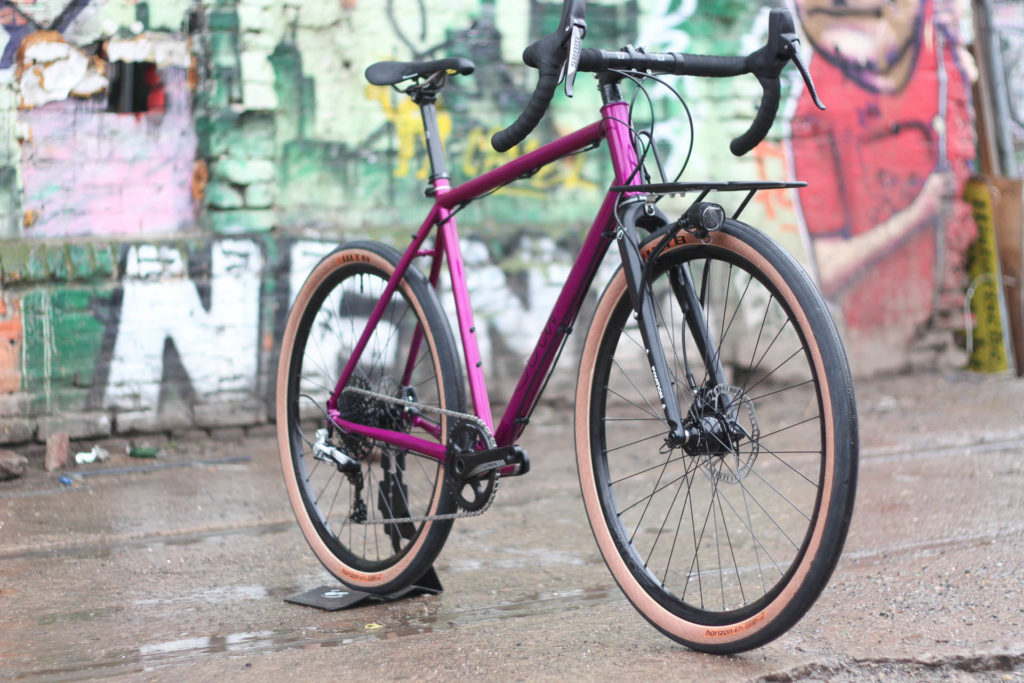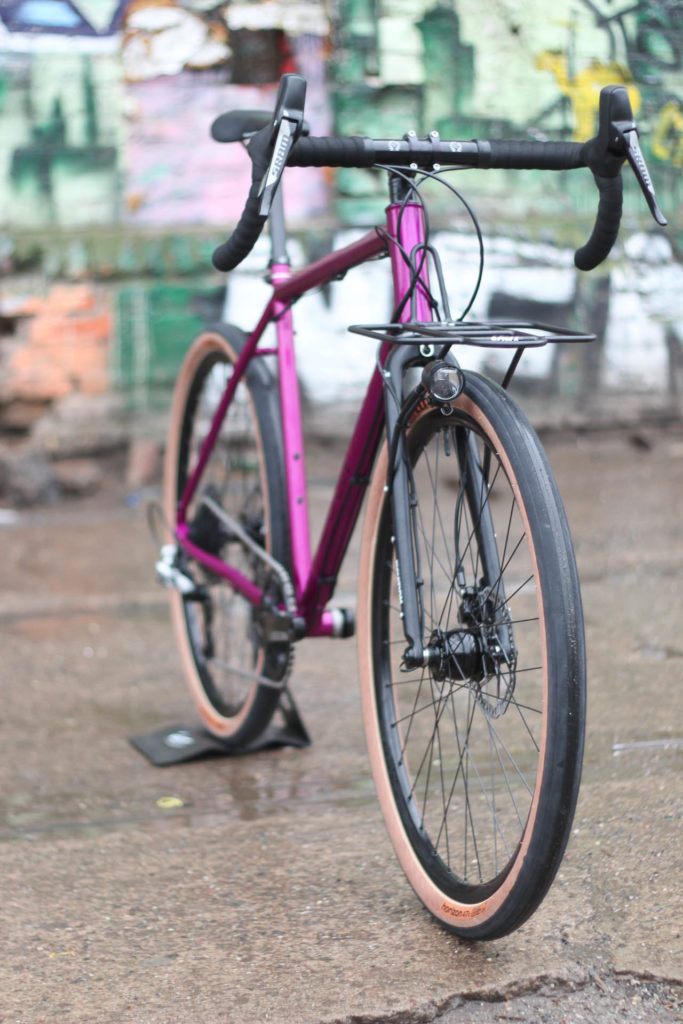 30. October 2019
Surly Midnight Special – Josephine
Thats what a smaller Surly Midnight Special can look like. For Josephine we build this awesome gravel bike with Hope rear hub, SON dynamo front hub laced to Halo Vapour 650b rims with WTB Horizon tyres, SRAM Rival groupset with hydraulic disc brakes and Ritchey Comp EvoMax handlebar.
22. October 2019
Veloci – Jimmy
We already introduced the Veloci Jimmy frameset at another time, here is an example by our freinds at Veloci of what you can do with this highly versatile frameset. gevenalle Shifter with Shimano GRX rear derailleur, White Industries crankset, Dropper seatpost and width 27,5″ tyres for fun offraod. Get in contact if you are thinking about a custom Jimmy!
8. October 2019
CURVE GXR (aka Kevin) – Lucas
Some might heared already: We are official dealer for CURVE Cycling now and can supply you with the full range in the near future. So have a look on this GXR titanium we build for our friend Lucas: Mason x Hunt 650b Adventure dynamo wheelset with SON dynamo hub front and smooth rolling Teravail Rampart tyres, White Industries G30 crank with TSR chainring and matching bottom bracket, SRAM Rival 1×11 combined with hydraulic Hope RX 4 flat mount brakes, Thomson Elite seatpost and stem with a Salsa Cowchipper Carbon handlebar and Brooks Cambium saddle and bar tape. if you are interested drop by and have look at this beauty as long it is on display in the shop!