Author Archives: Alexander Ingendorf
16. April 2019
Surly – Midnight Special
Another sportive and huge Surly Midnight Special we build end of last year. Build with SRAM Rival 1×11 drivetrain and hydraulic disc brakes, DT SWISS FR570 wheelset with WTB ByWay 650bx 47 tyres, Salsa Cowchipper handlebar and Brooks Cambium All Weather saddle.
6. April 2019
Open Cycle Classic U.P. Remake
When Sandro came in for an overhaul for his beloved Open Cycle Classic U.P. we didnt know where the journey may lead us. It was sure that the framn had to get a new paint and Sandro had something special in mind. Together with Robert from Velociao they worked out this beautiful reminiscence to Martini Racing. In the meantime we build a new, lightweight wheelset with Acros XC hubs combined with tubeless ready Goldsprint Ultimate carbon rims with Sapim spokes mix. Smooth rolling Teravail tyres for lots of km. The drivetrain was upgraded with a perfectly matching Praxis Works Zayante Carbon with SRAM compatible direct mount. The SRAM Force brake setup was also upgraded with powerful and beautiful CNC machined Hope Technology RX.4 brake calipers.
26. March 2019
Brother Cycles Kepler Disc – Gunnar
Another custom painted Brother Cycles Kepler we made a while ago for Gunnar. All classy with silver parts. Wheels made with Hope Tech Pro 4 hub rear and Shutter dynamo hub front laced to shiny H+SON Archetype rims. The drivetrain is a SRAM Apex group with hydraulic brakes. Ritchey classic C220 stem and matching seatpot with Brooks Cambium saddle work very well with the classy look. Pelago fenders and stainless rear rack finish the build perfectly while Panaracer Pasela tyres keep the bike rolling wherever Gunnar wants.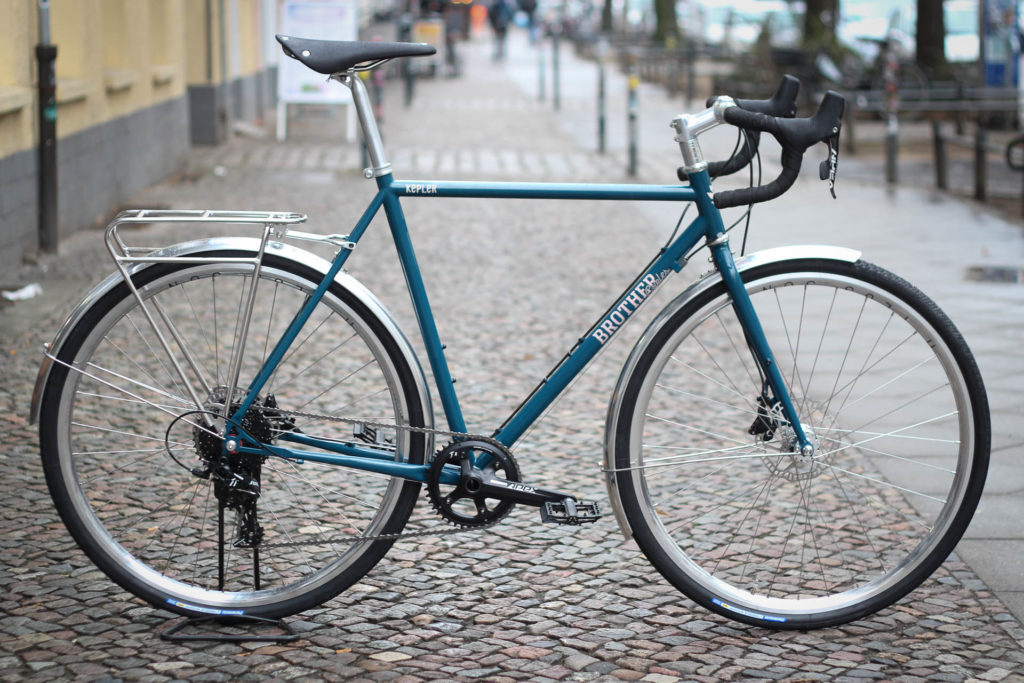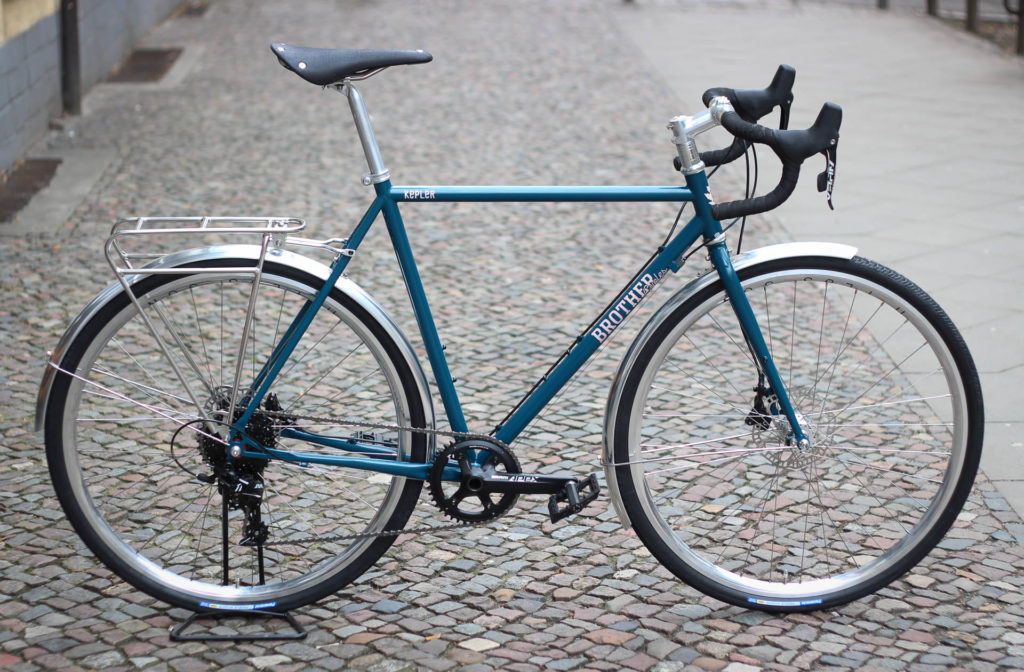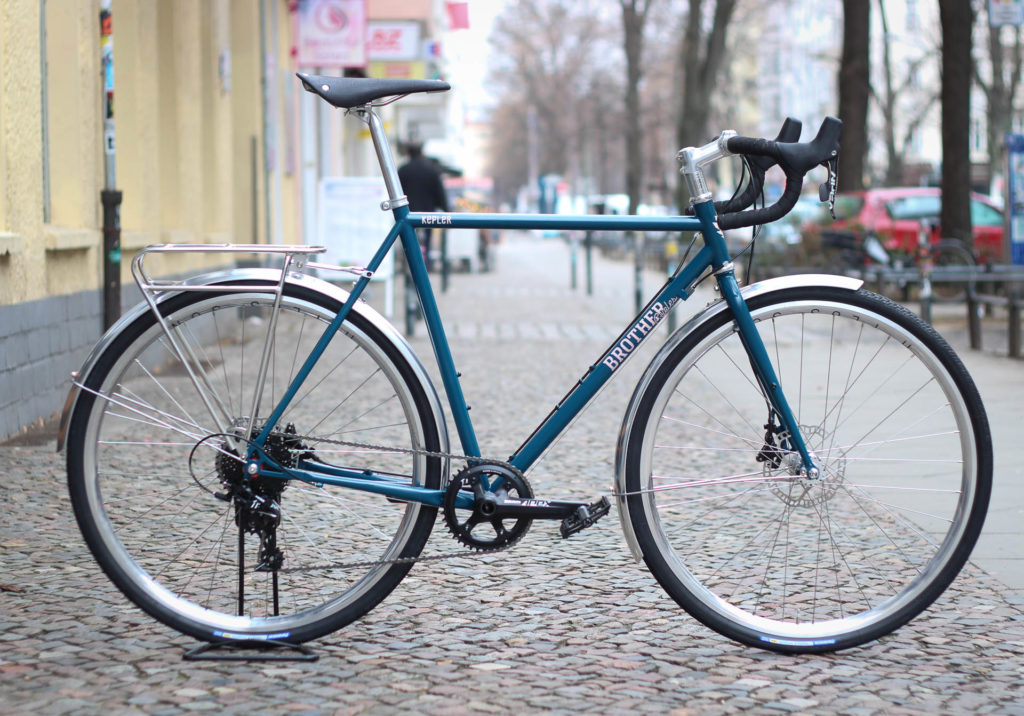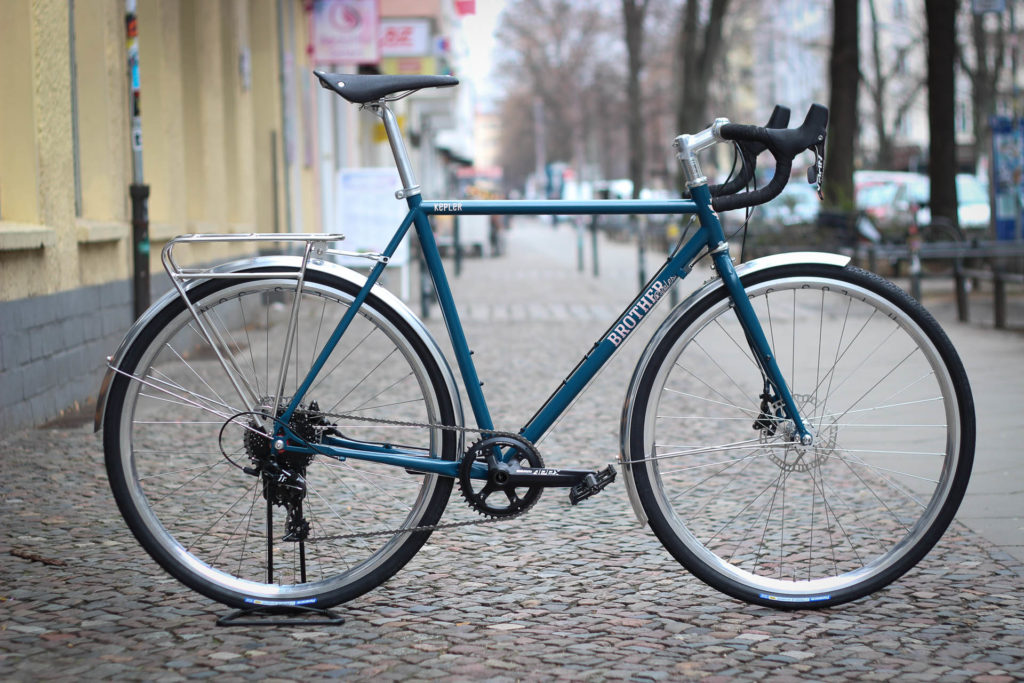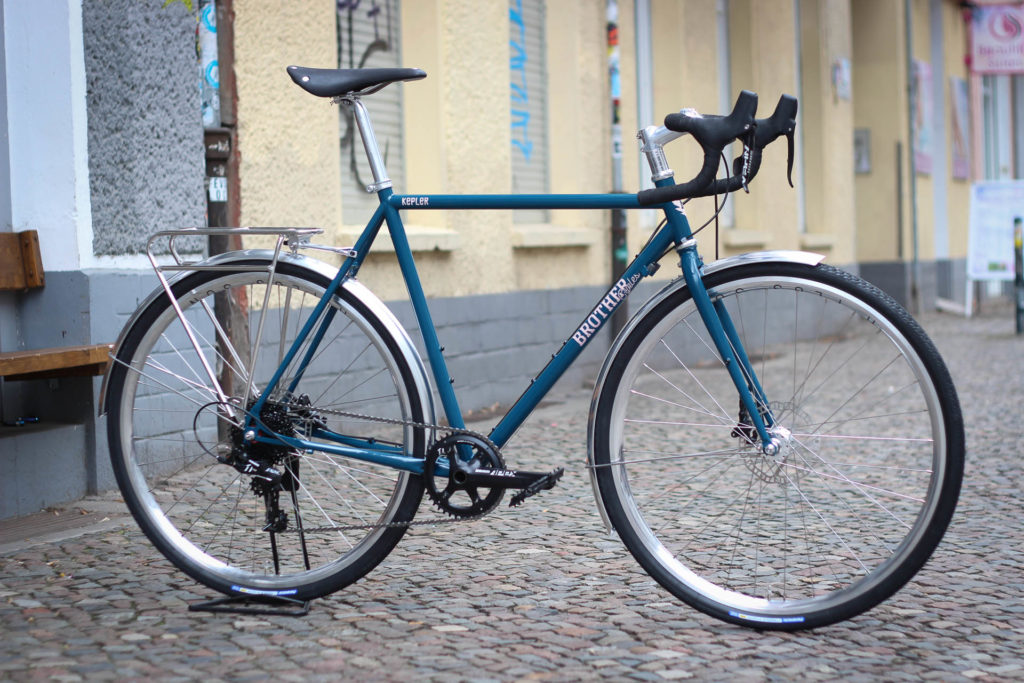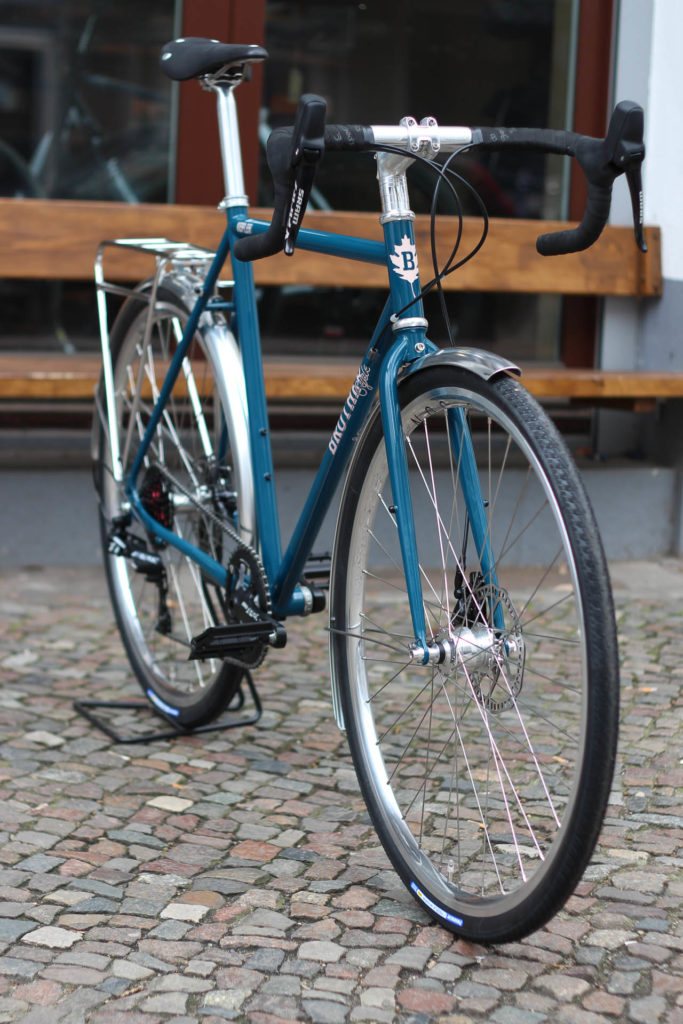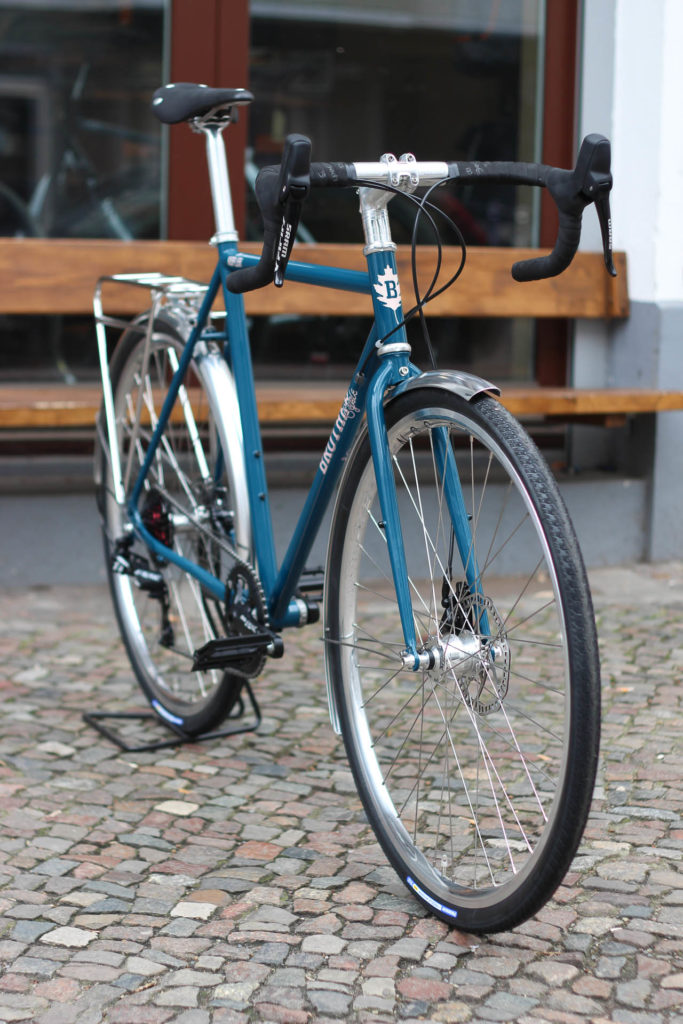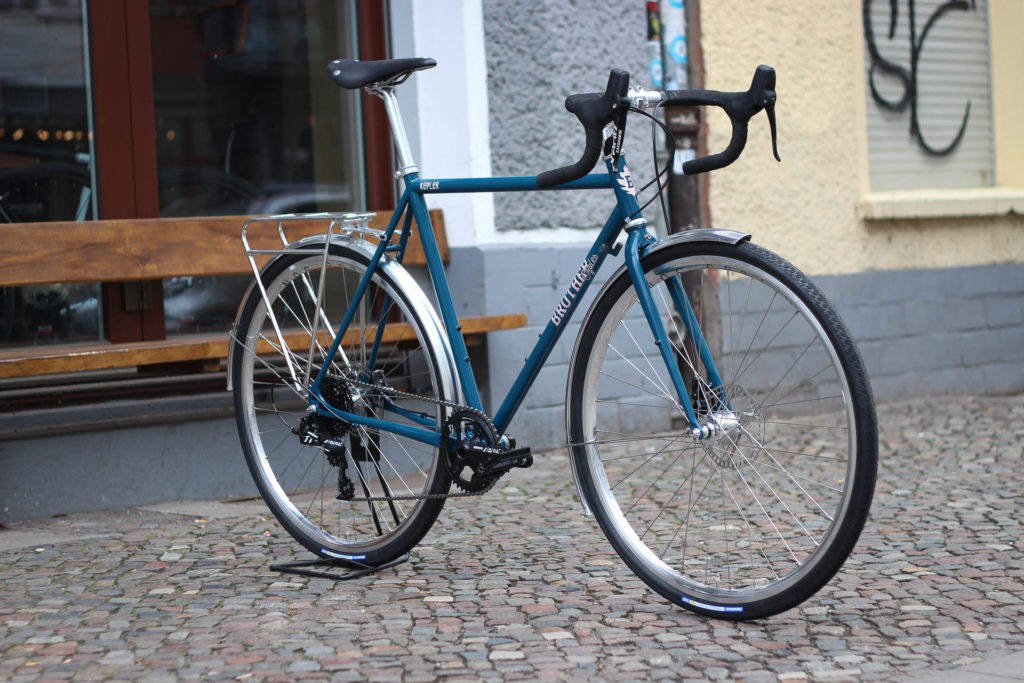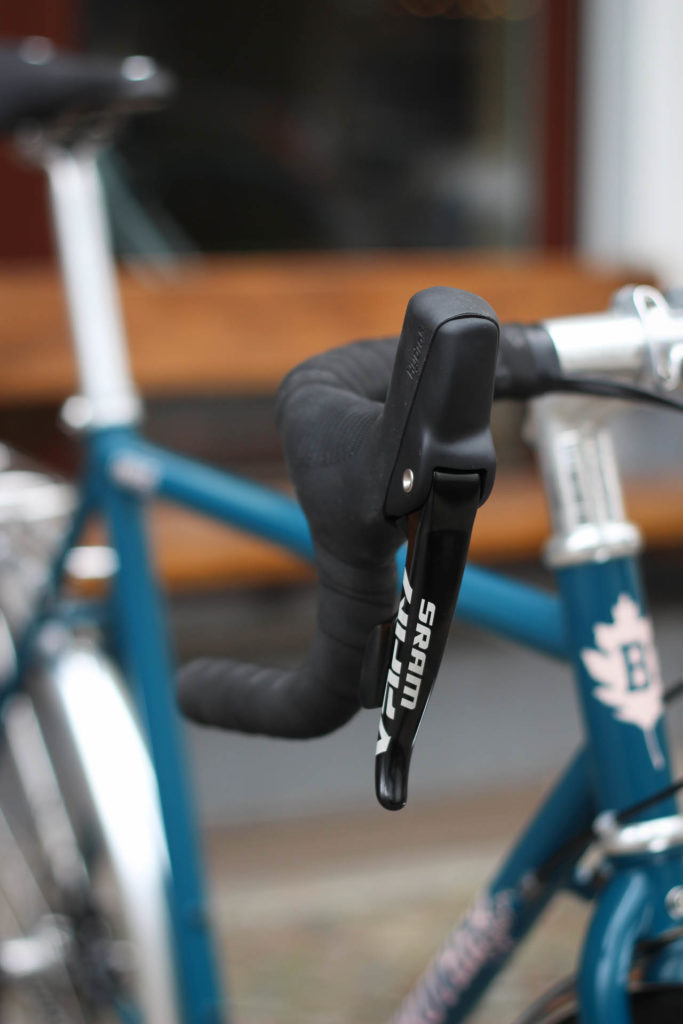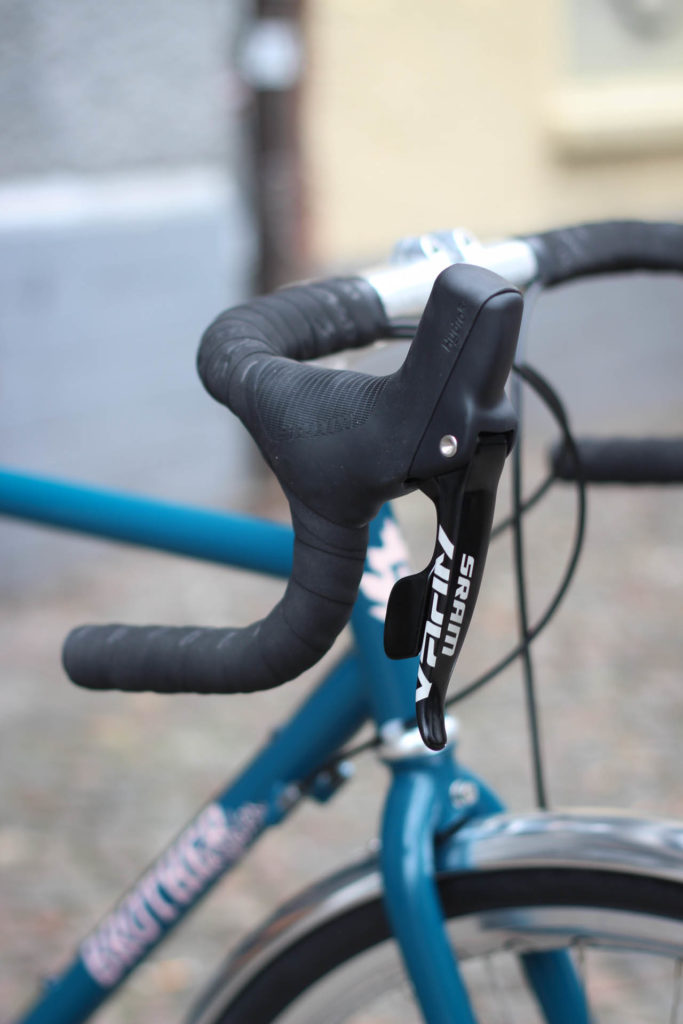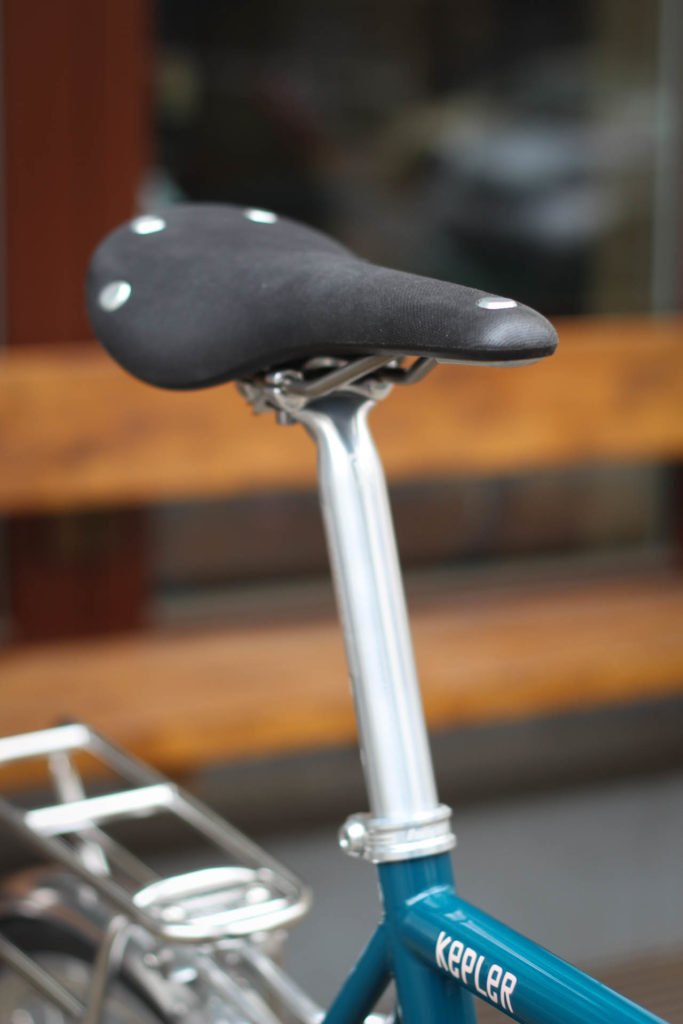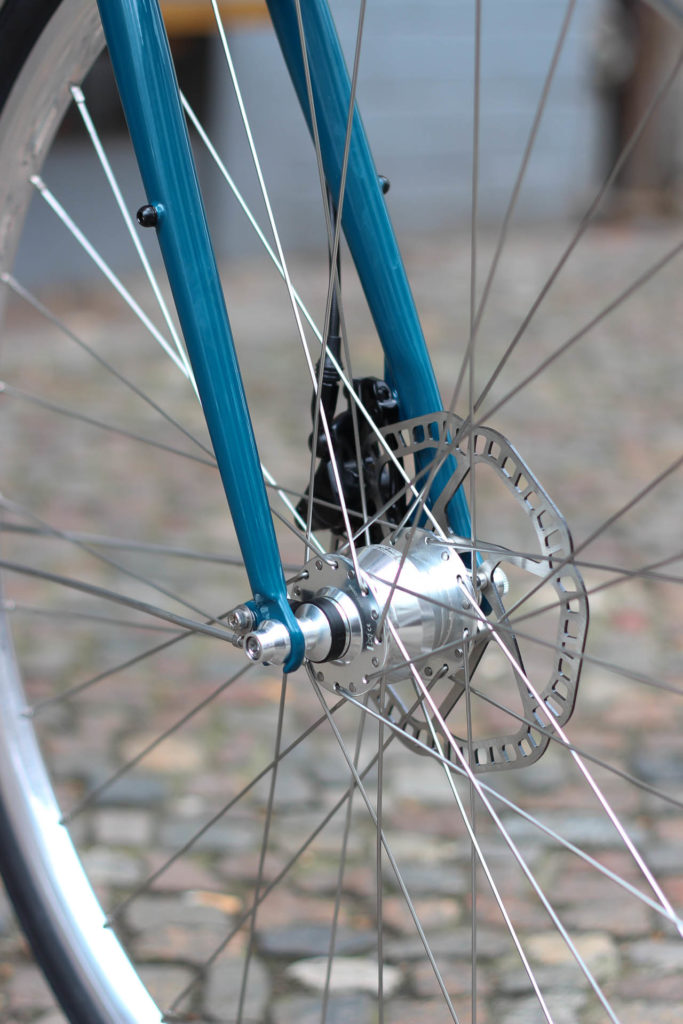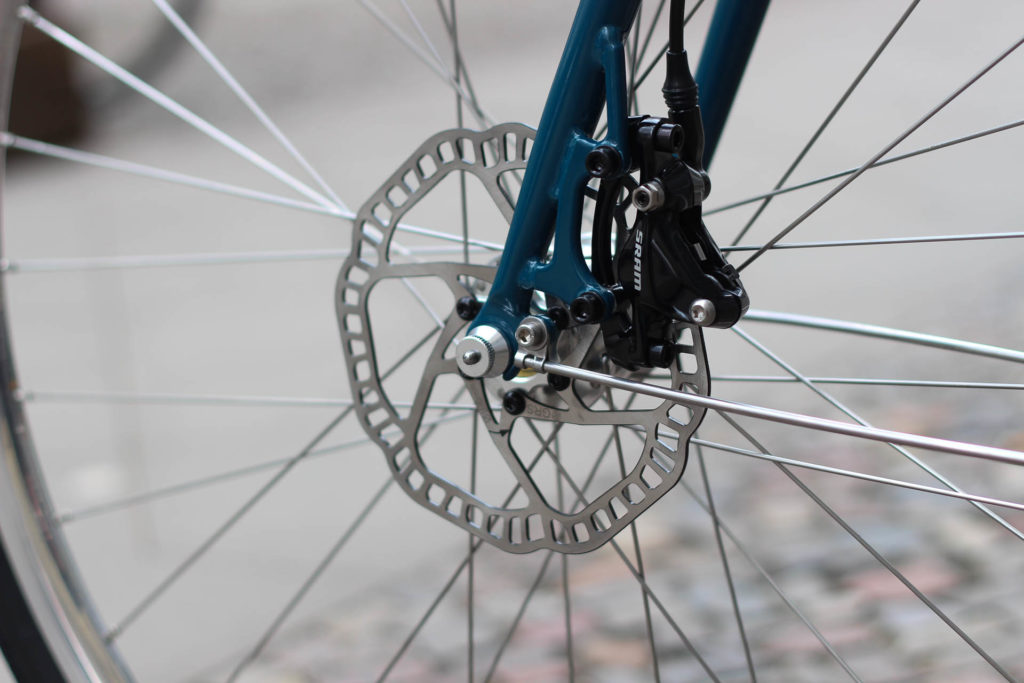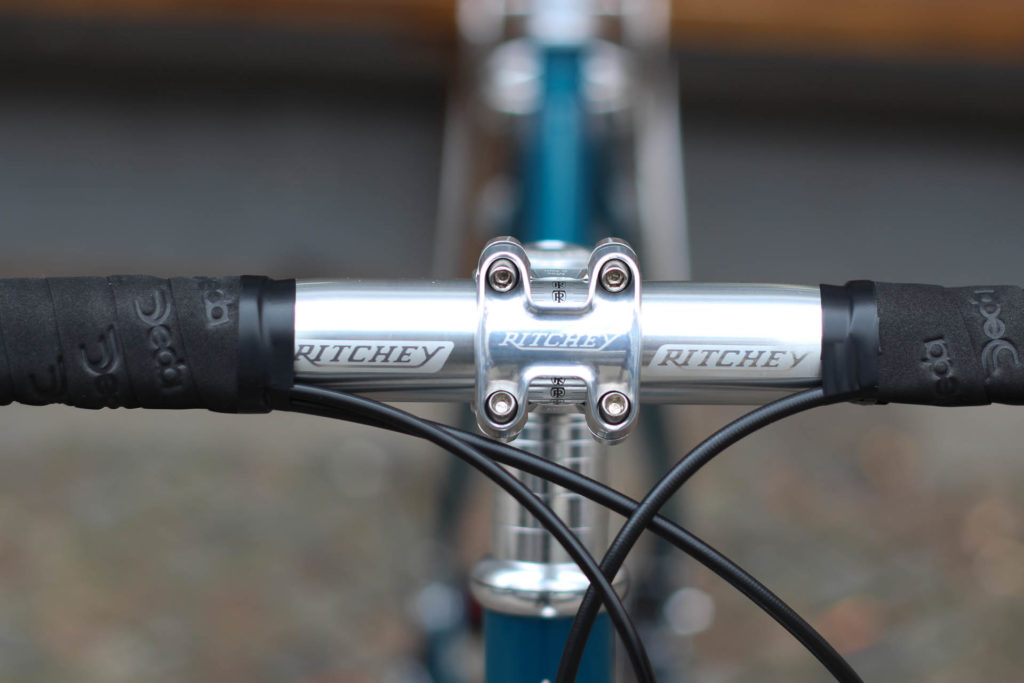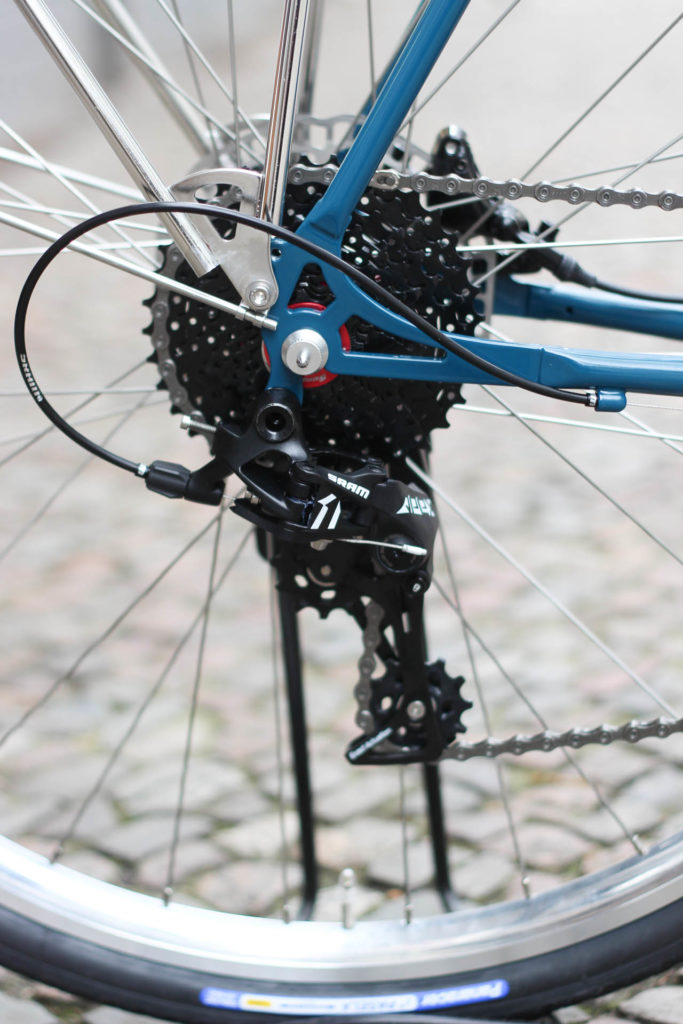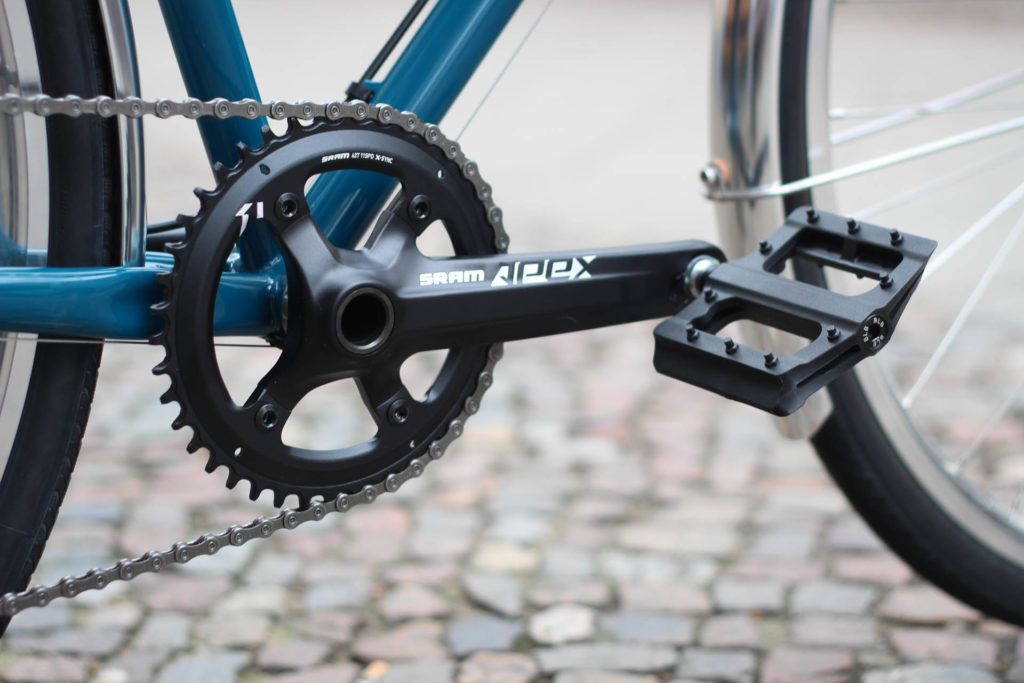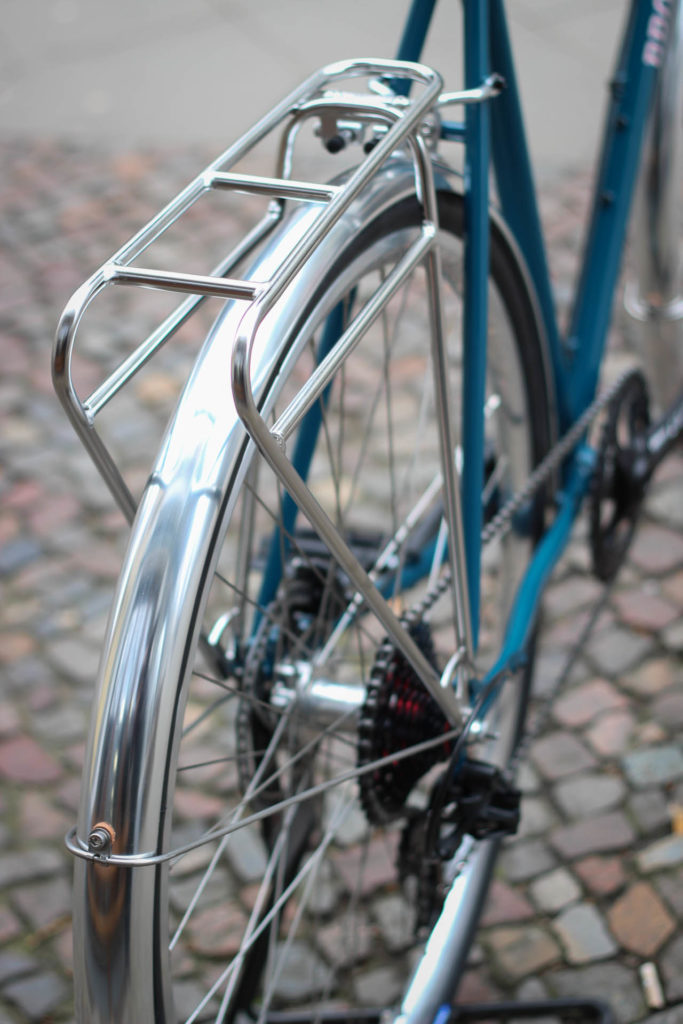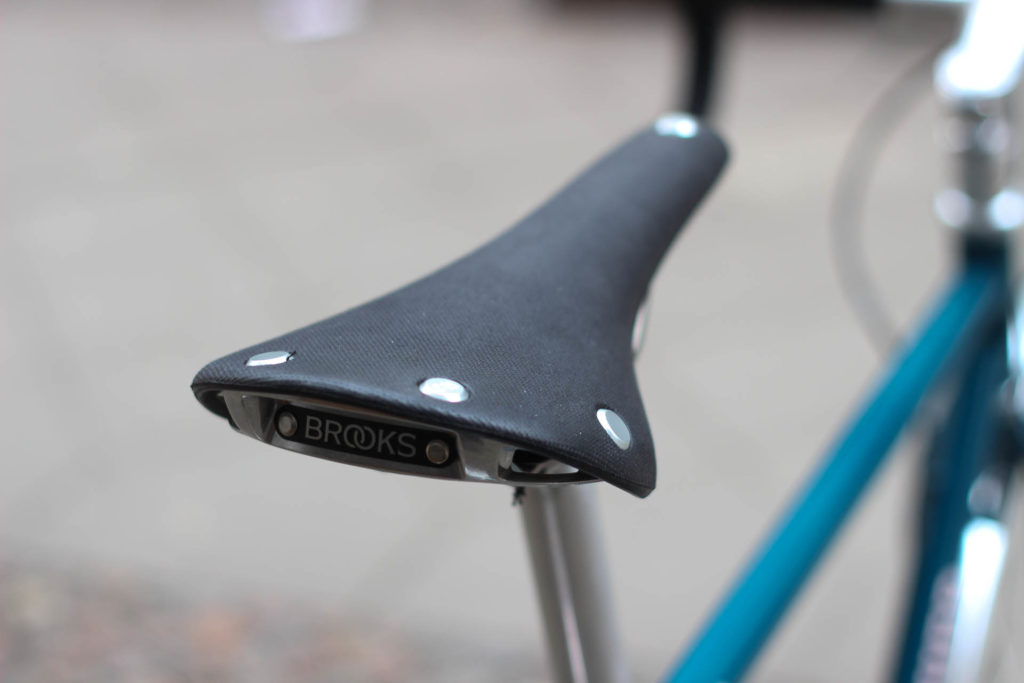 7. March 2019
Surly Disc Trucker – Steve
Travel ready Surly Disc Trucker we made for Steve a while ago. Rolling on H+SON Archetype rims with 45c WTB Riddler tyres. The SRAM GX drivetrain combined with Rival shifters makes sure he gets up everywhere he want even with heavy load. The braking is done by Juin Tech semi hydraulic brakes. Seatpost and cockpit are finest Thomson parts and we choose a Ritchey Venture Max for upright and ergonomic seating position. A Chris King headset looks just nice in the frame. The front Rack is a Surly nice rack for heavy front loads.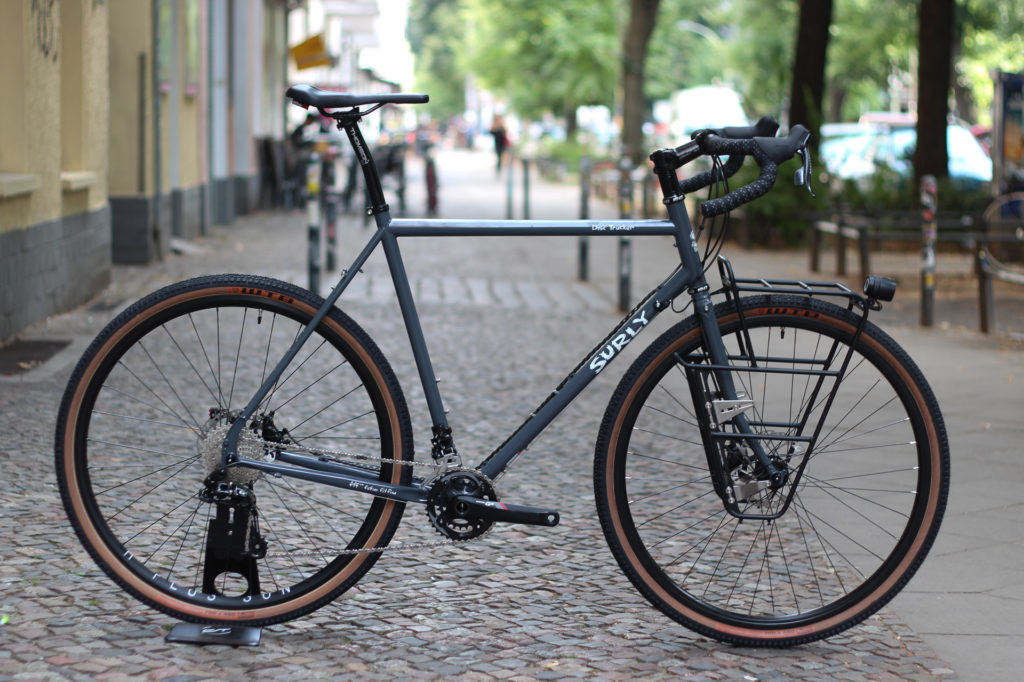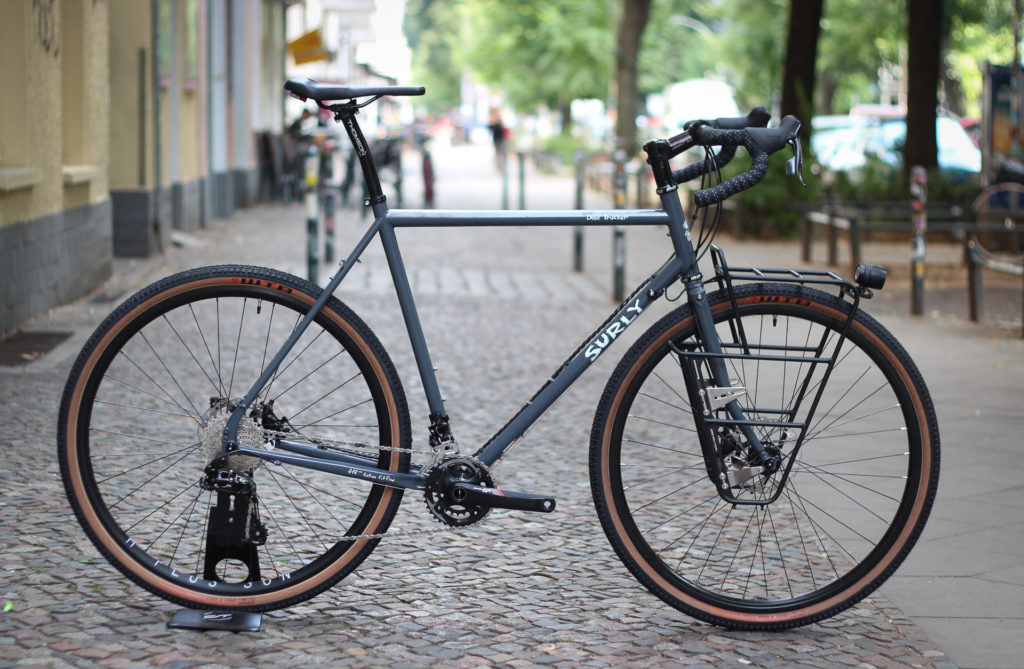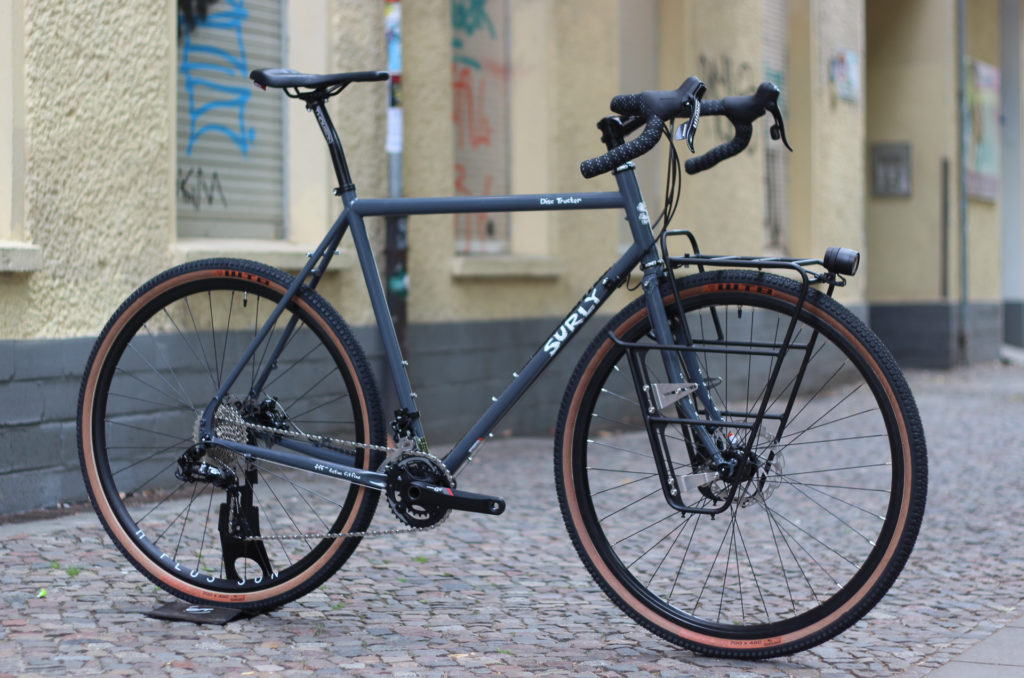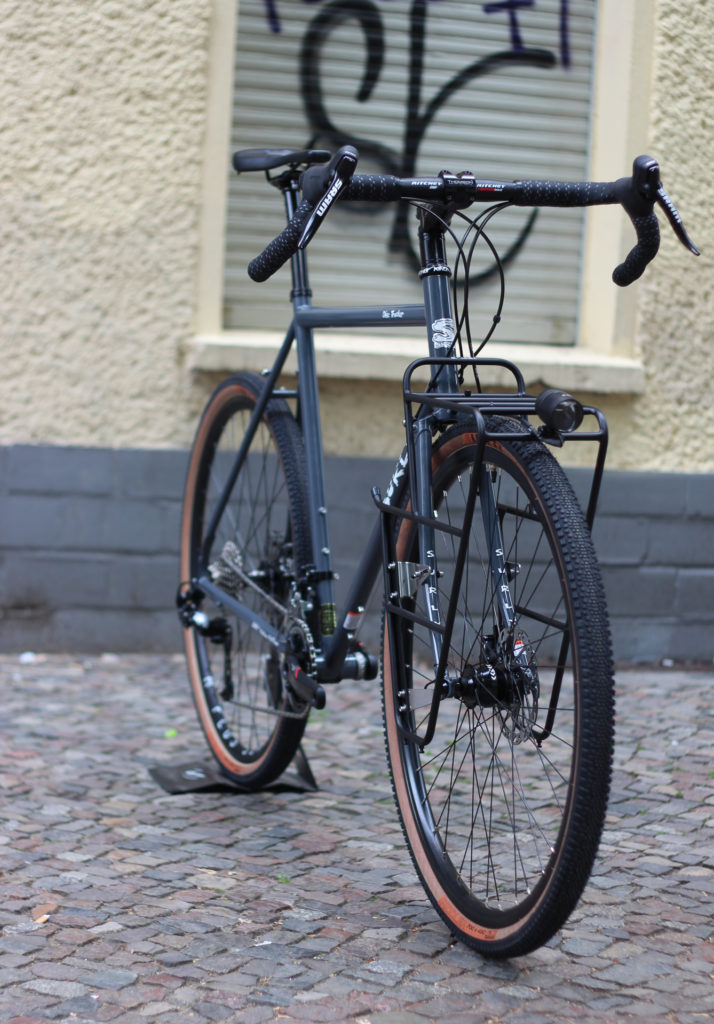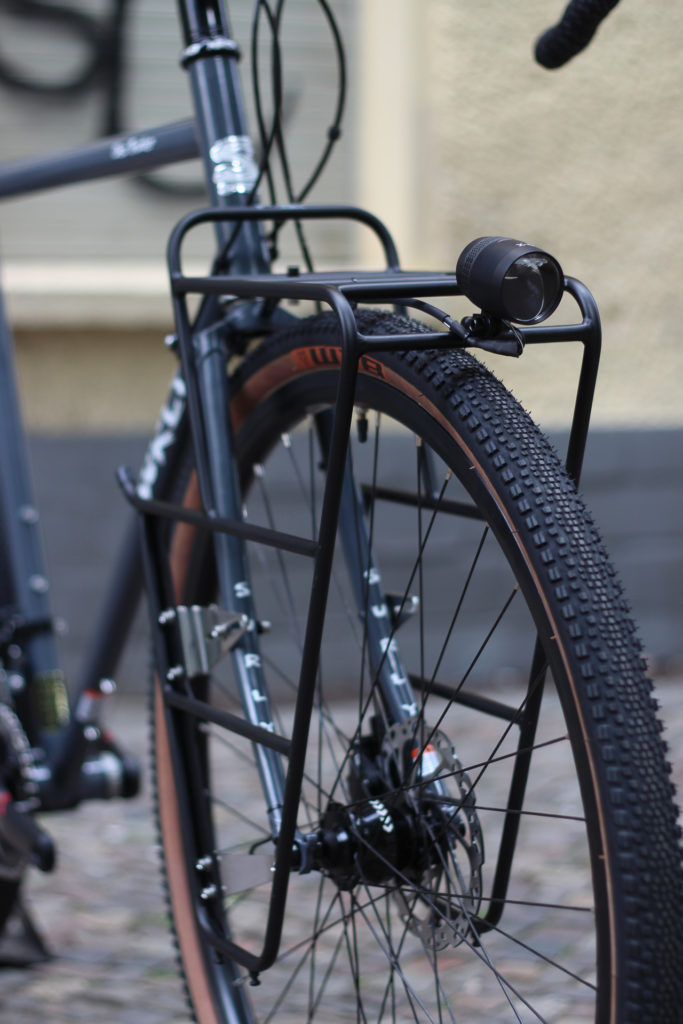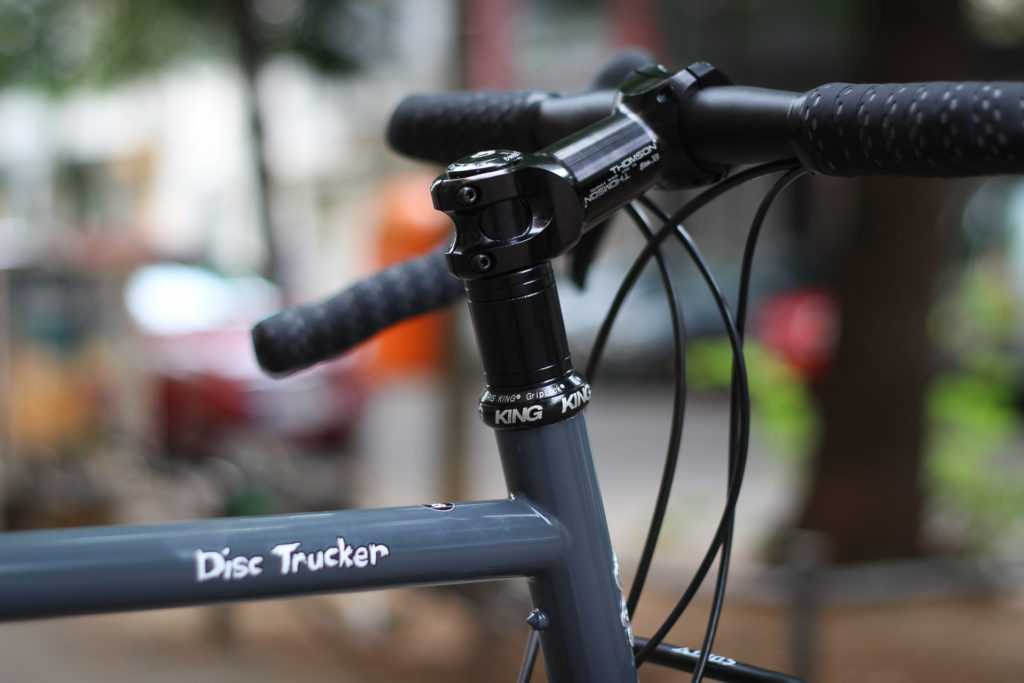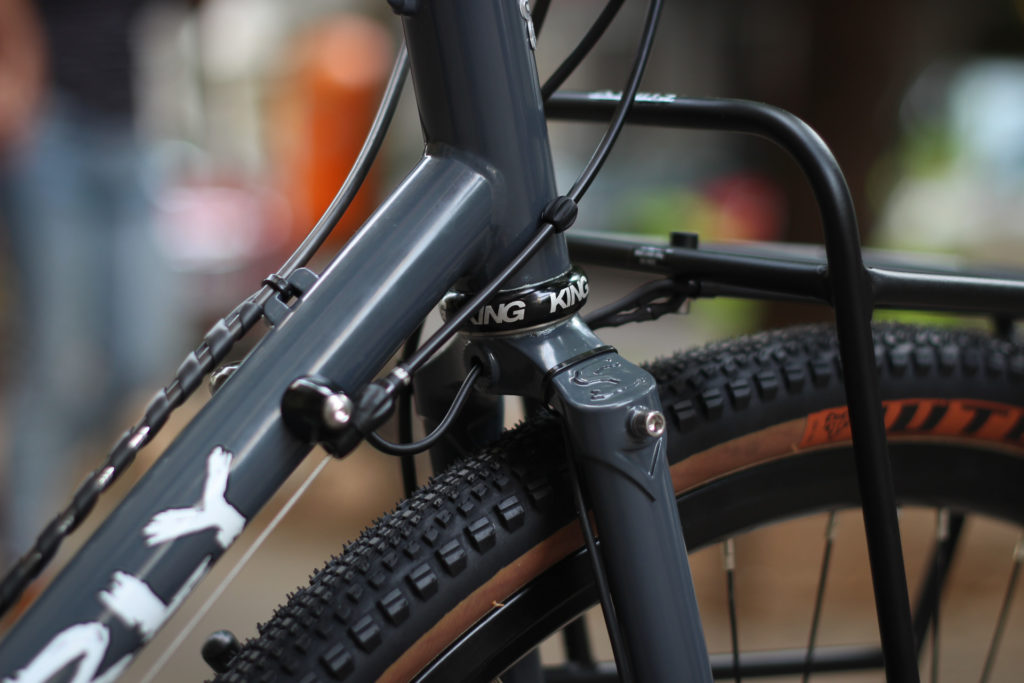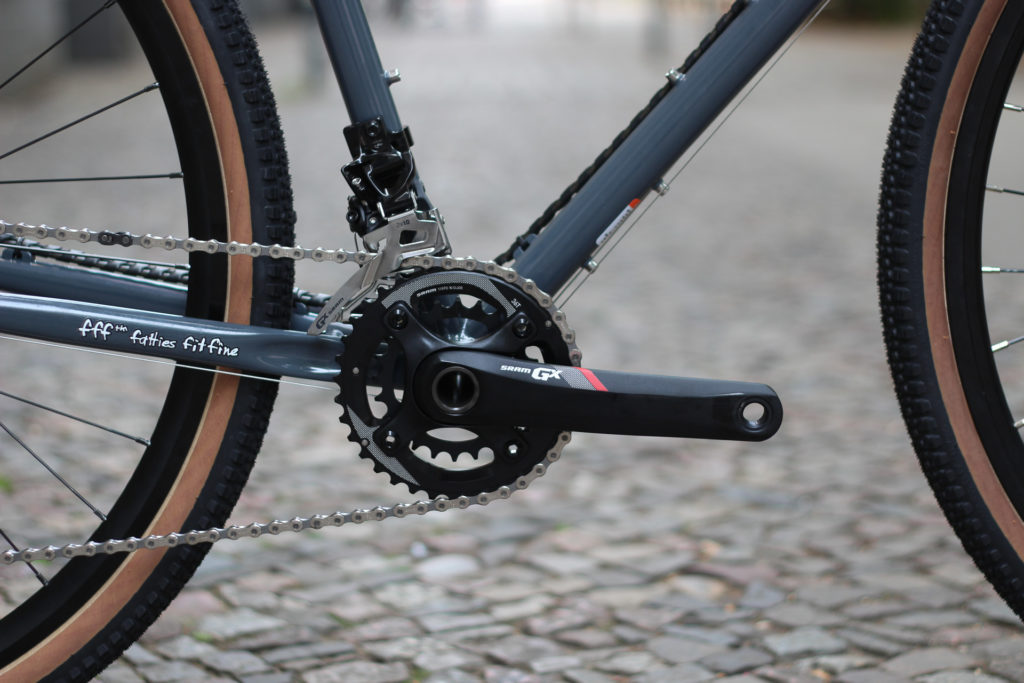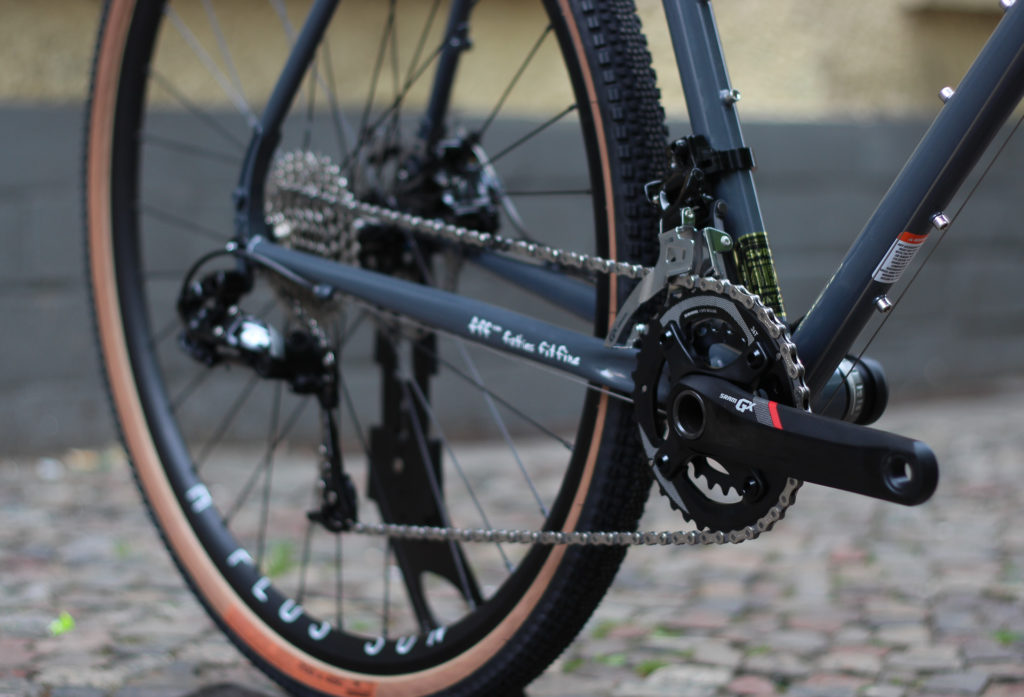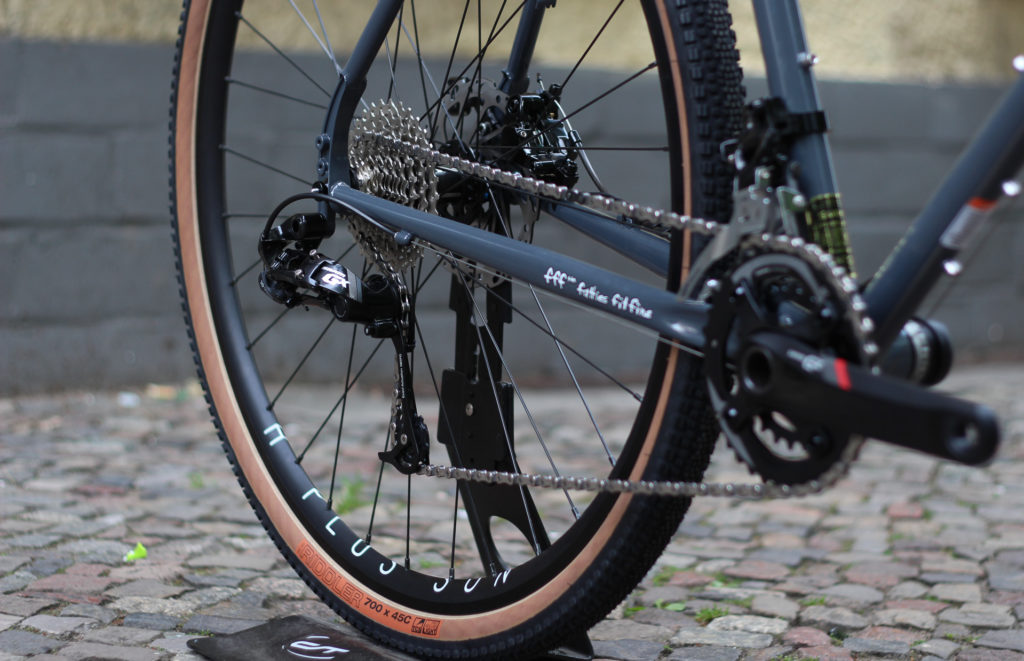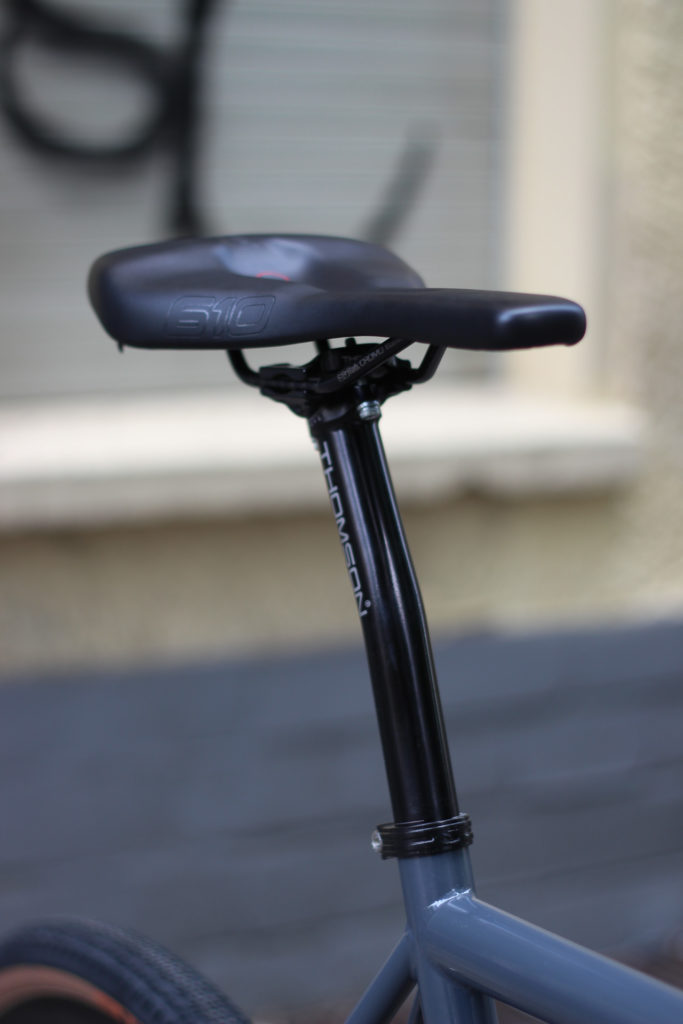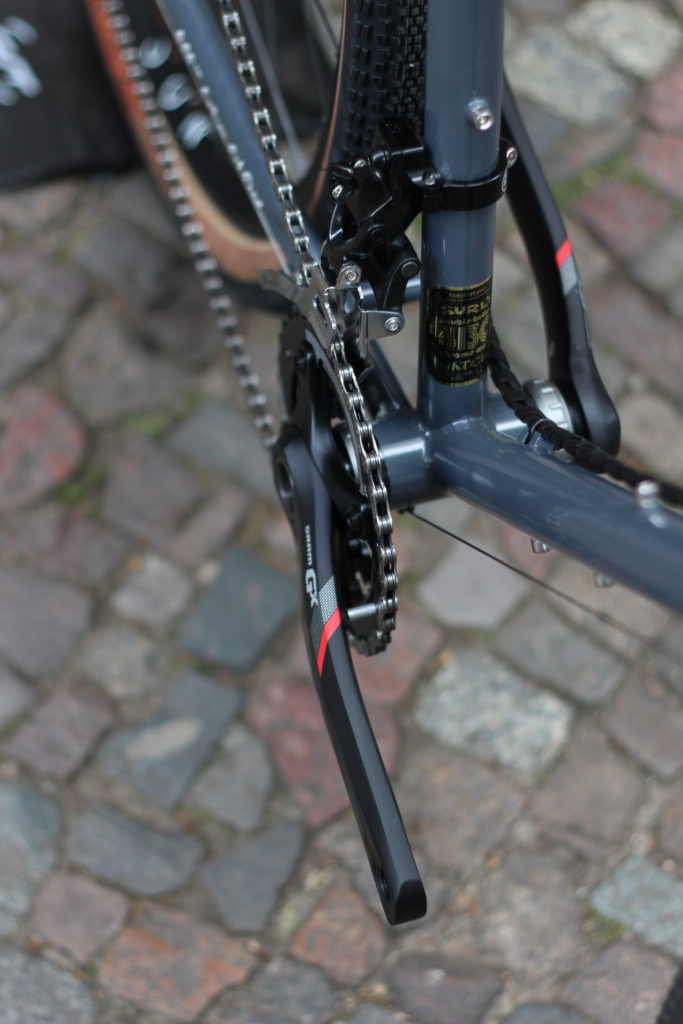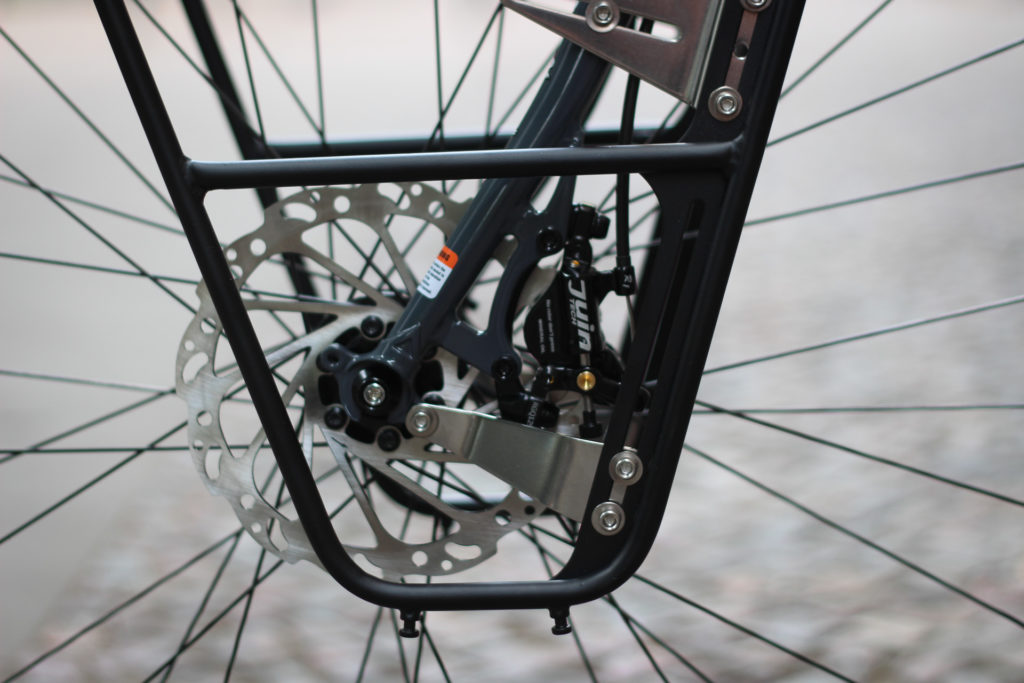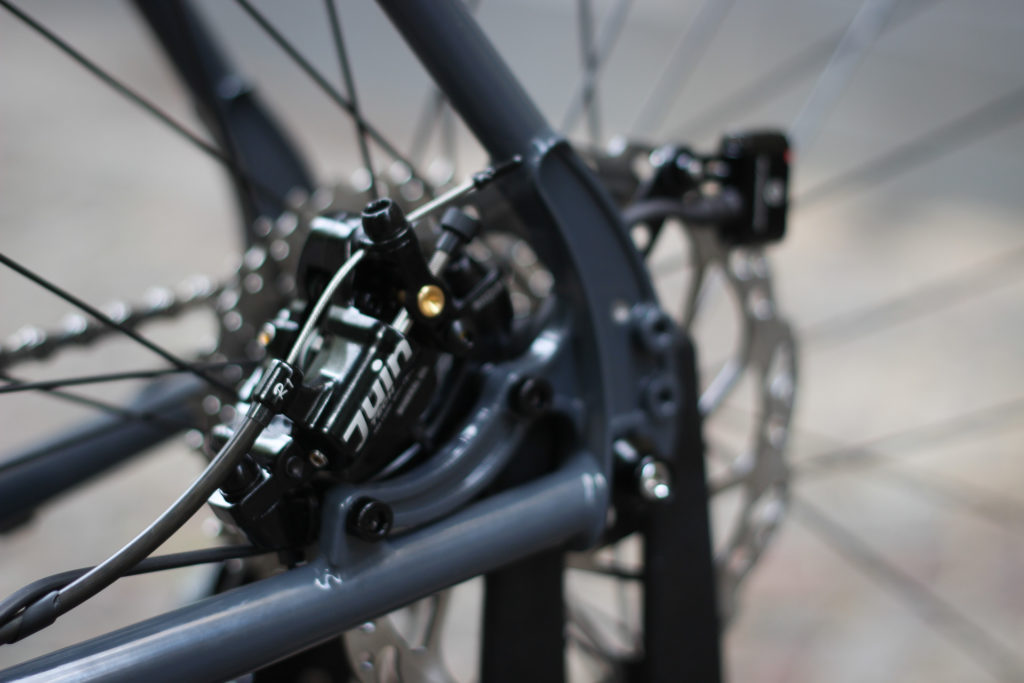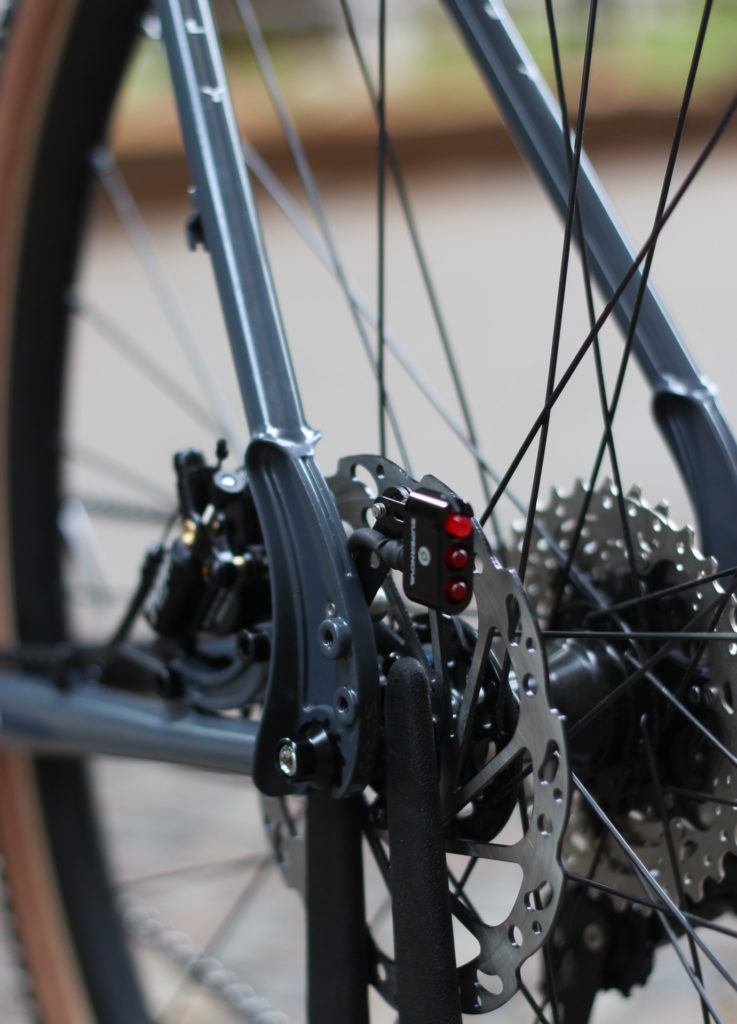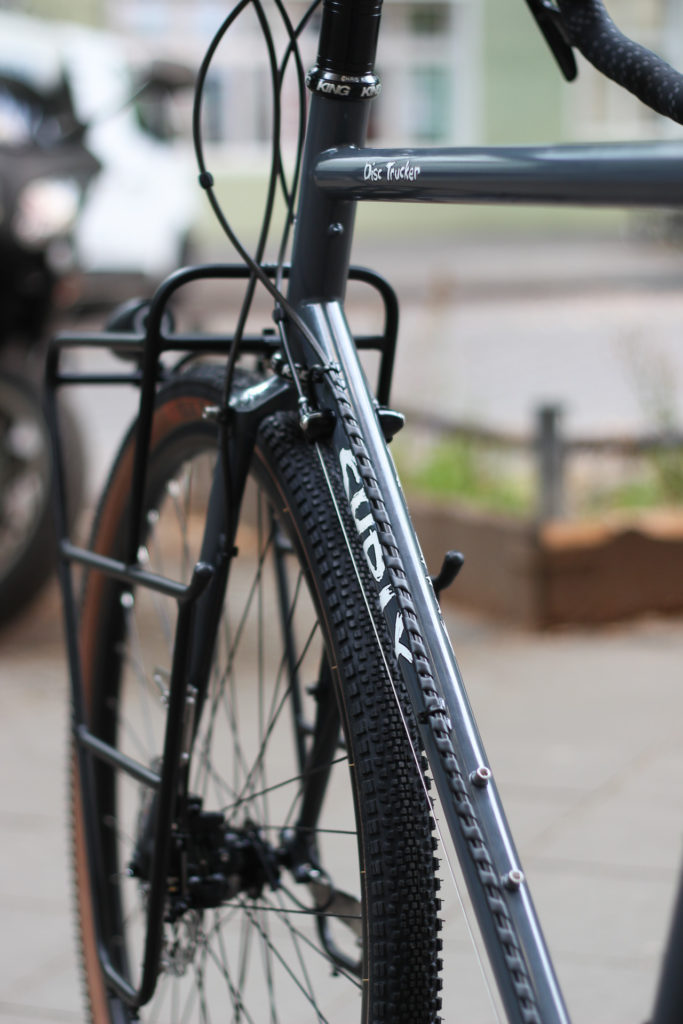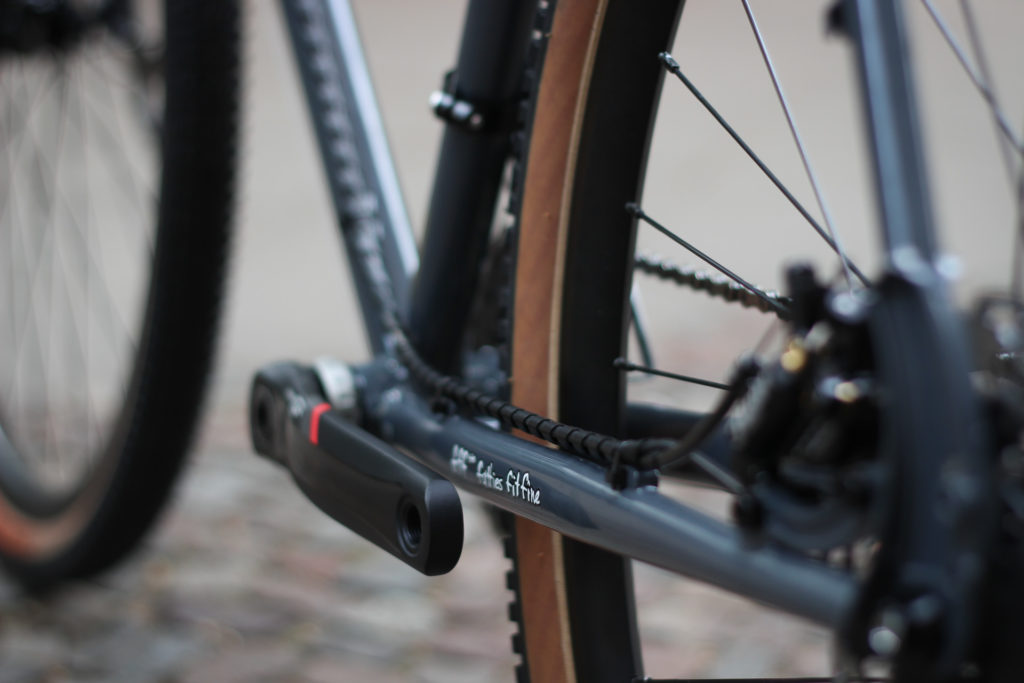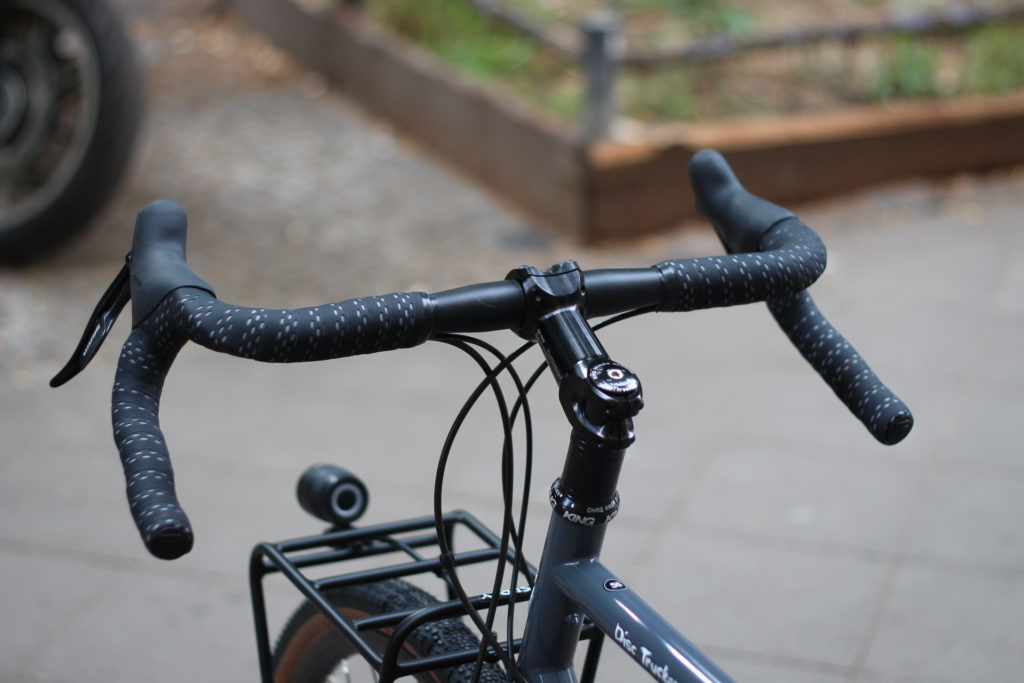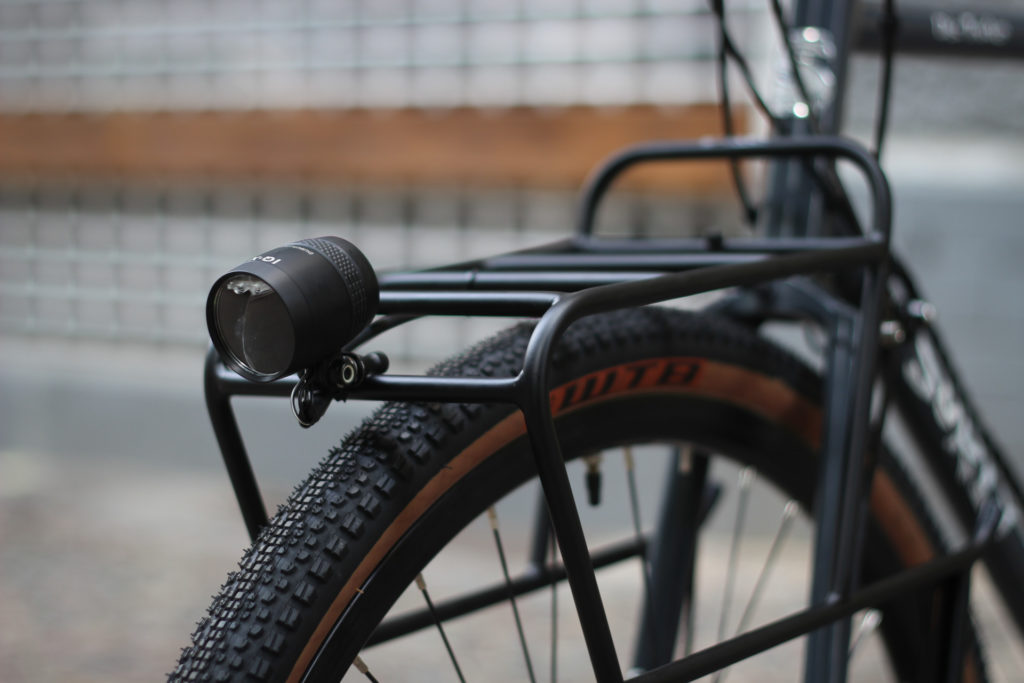 26. February 2019
Soma Wolverine
Awesome Soma Wolverine bike we build for Jörn with Rohloff hub combined with Gates Carbon Drive for a smooth and durable drivetrain. The Rohloff hub was combined with a GEBLA Box to use it with SRAM Rival STIs and hydraulic disc brakes. Build with Fyxation Sparta carbon fork, STANs Crest rims, SON dynamo hub, Thomson seatpost and stem, B+M lights, Velo Orange Zeppelin fenders, Gille Berthoud saddle and Tubus rear rack.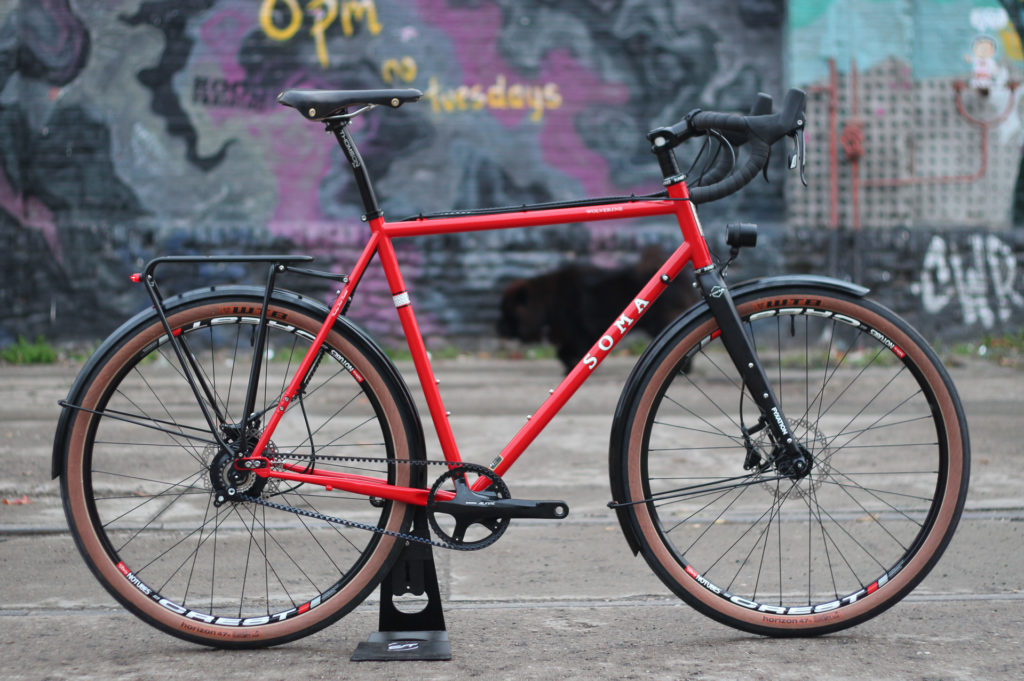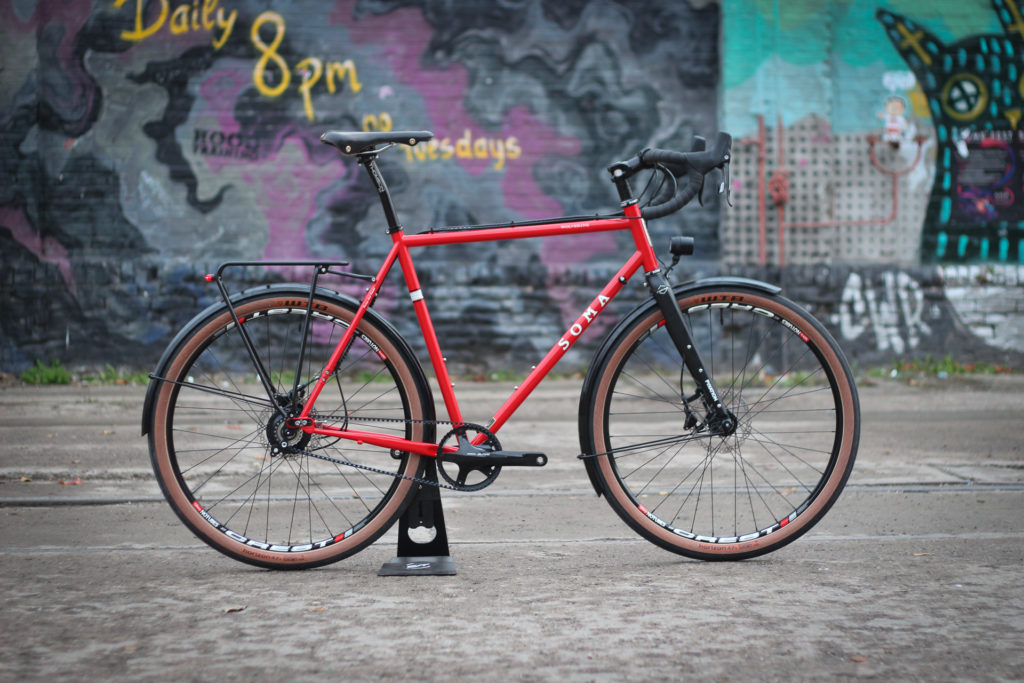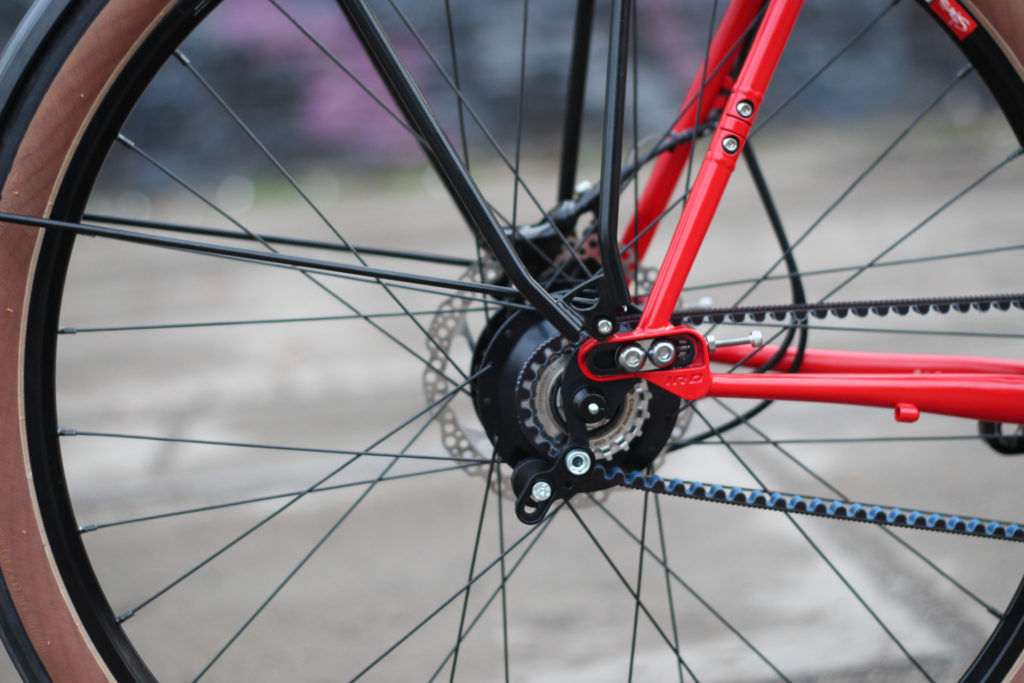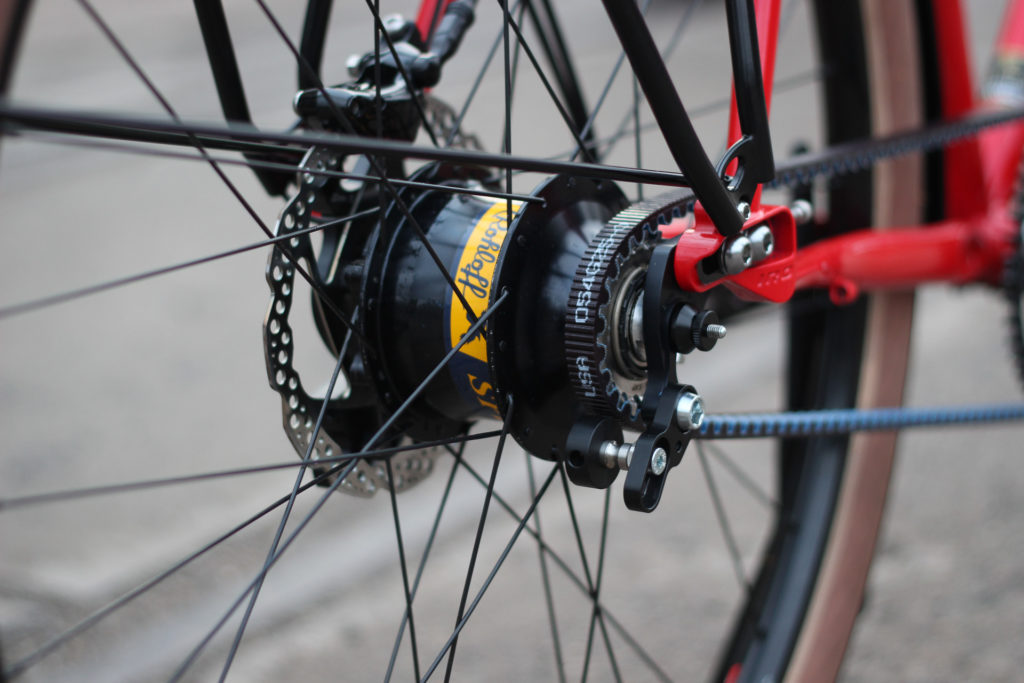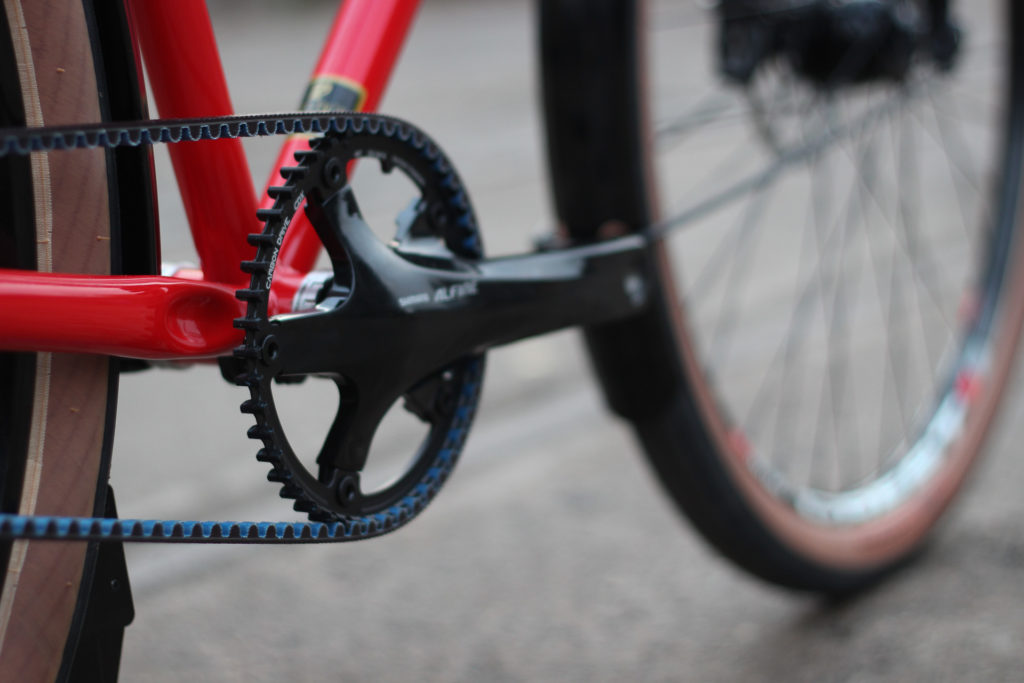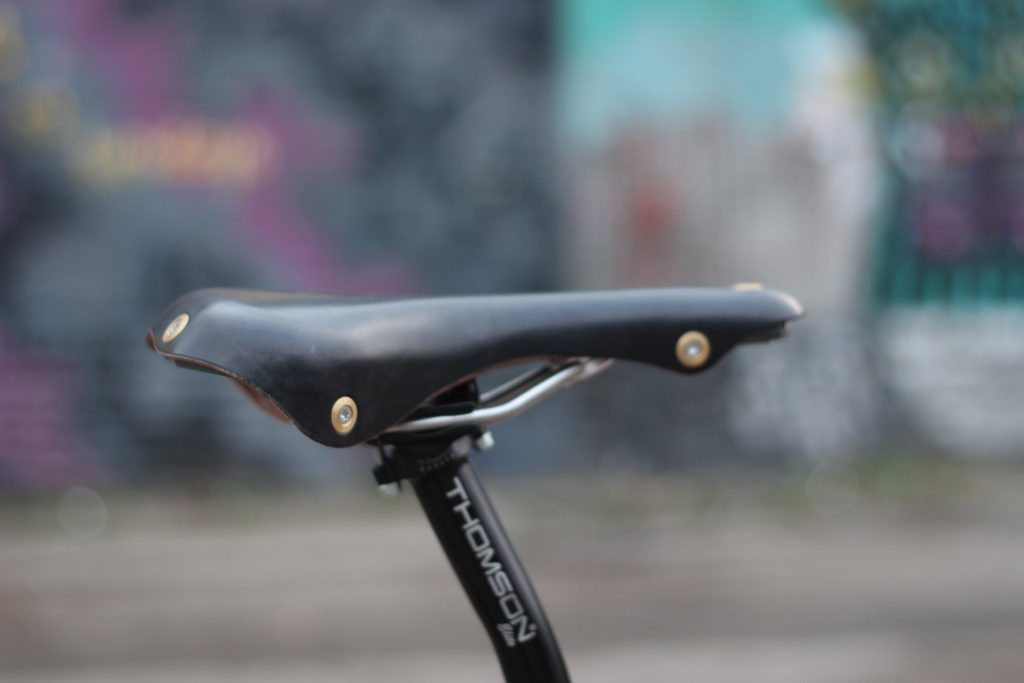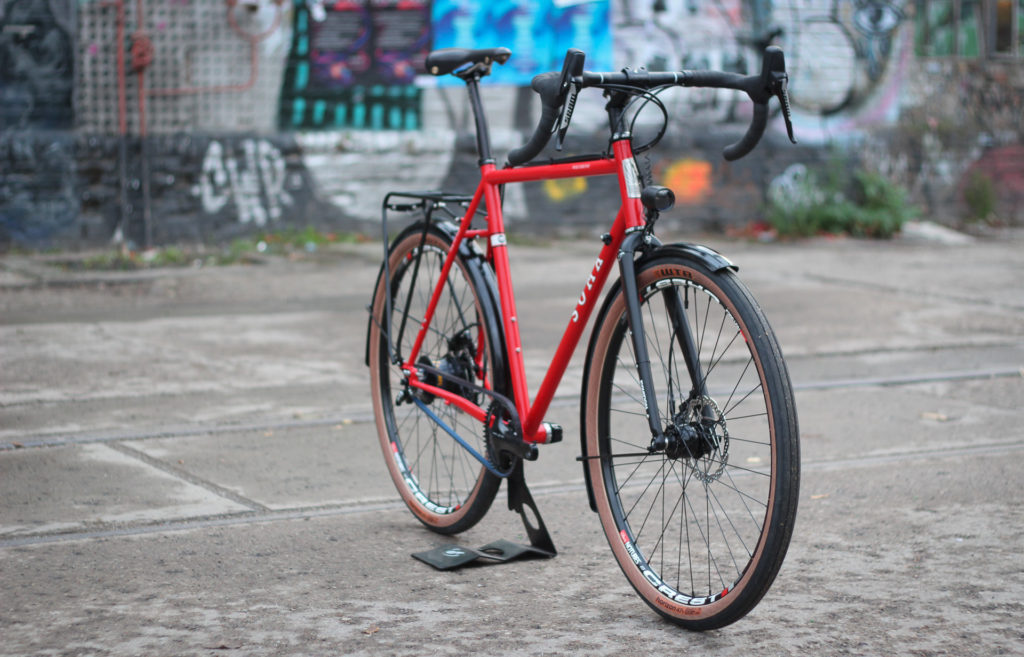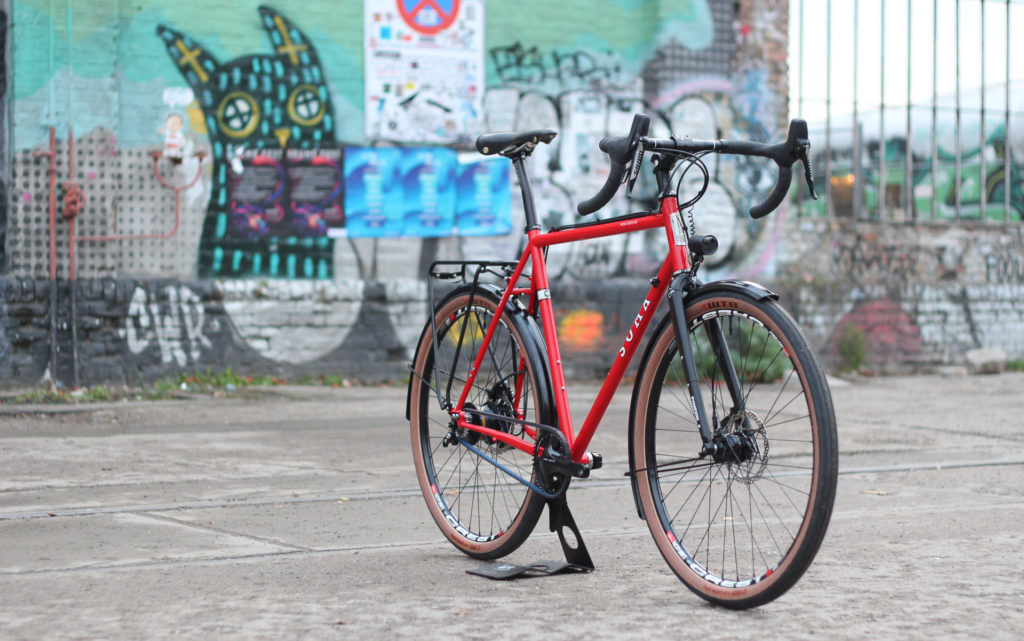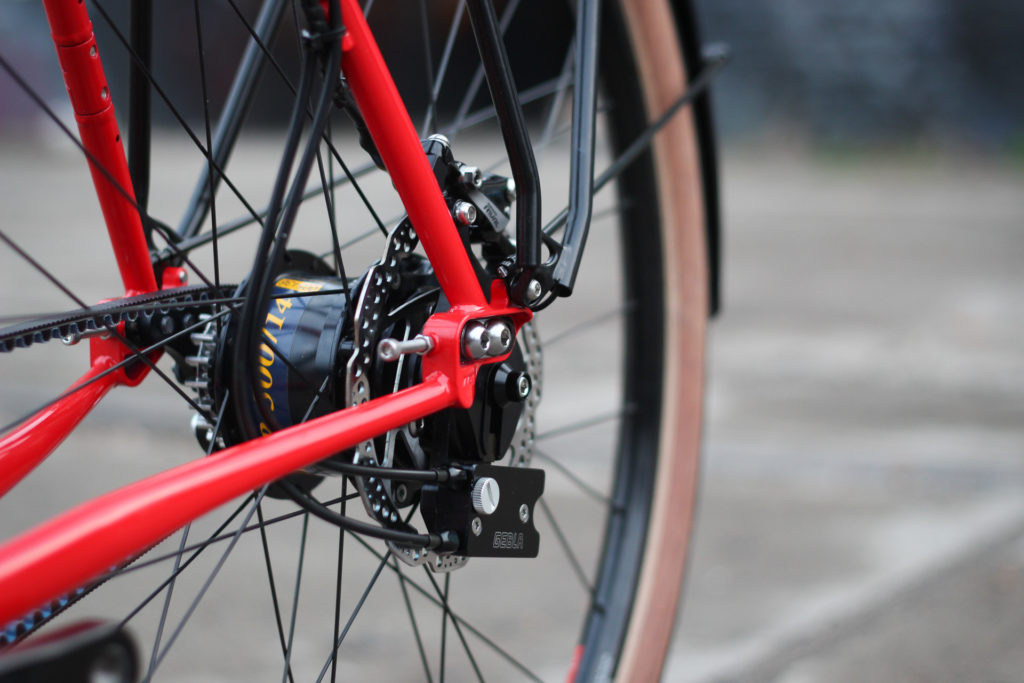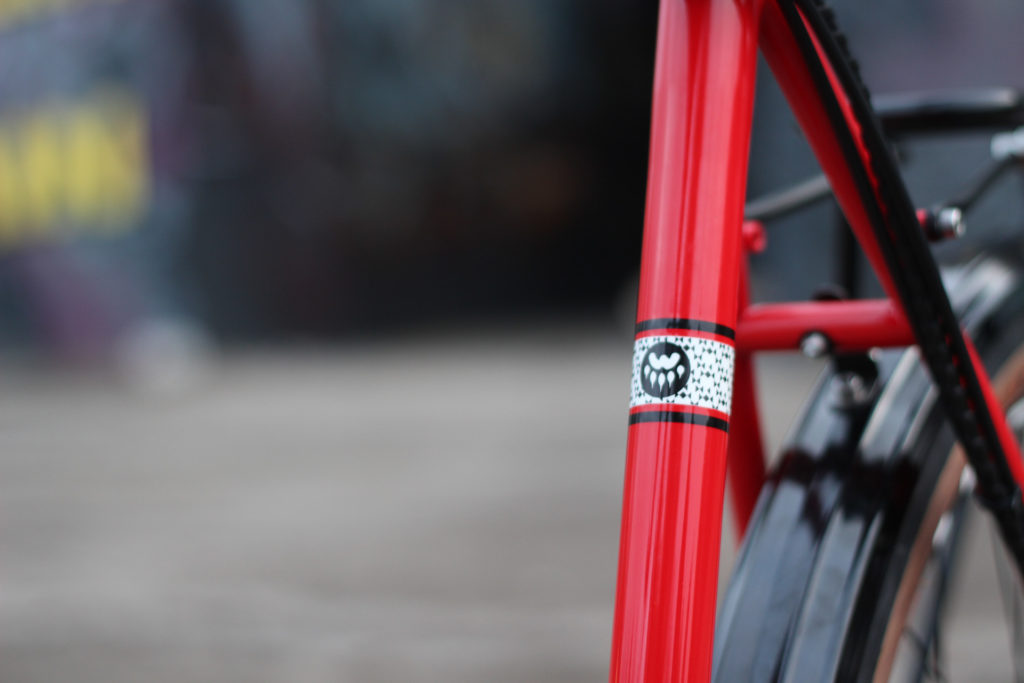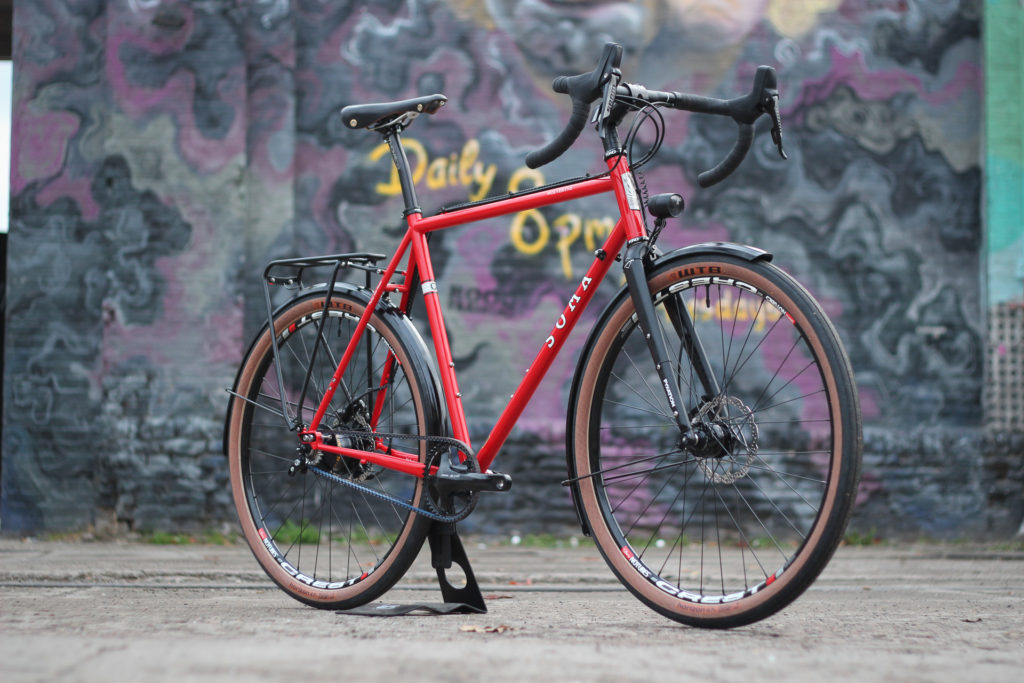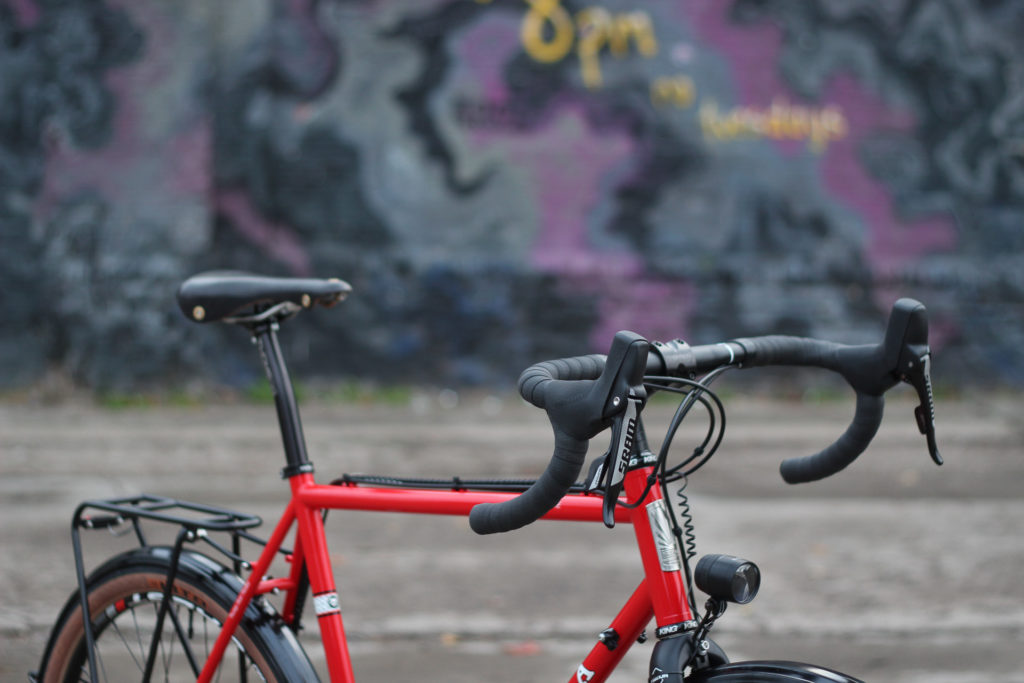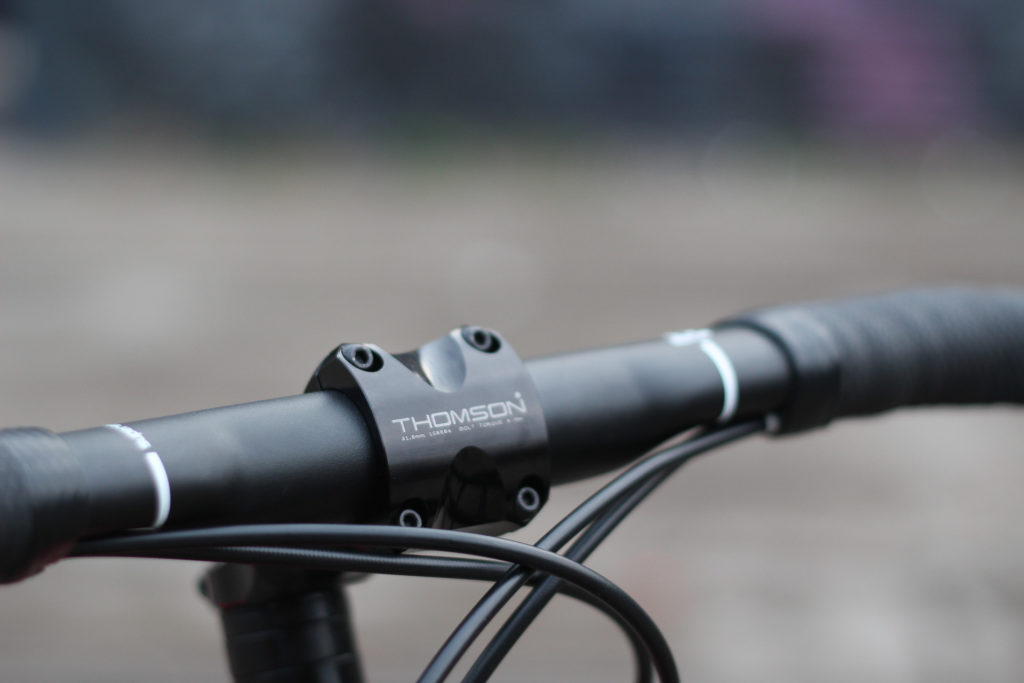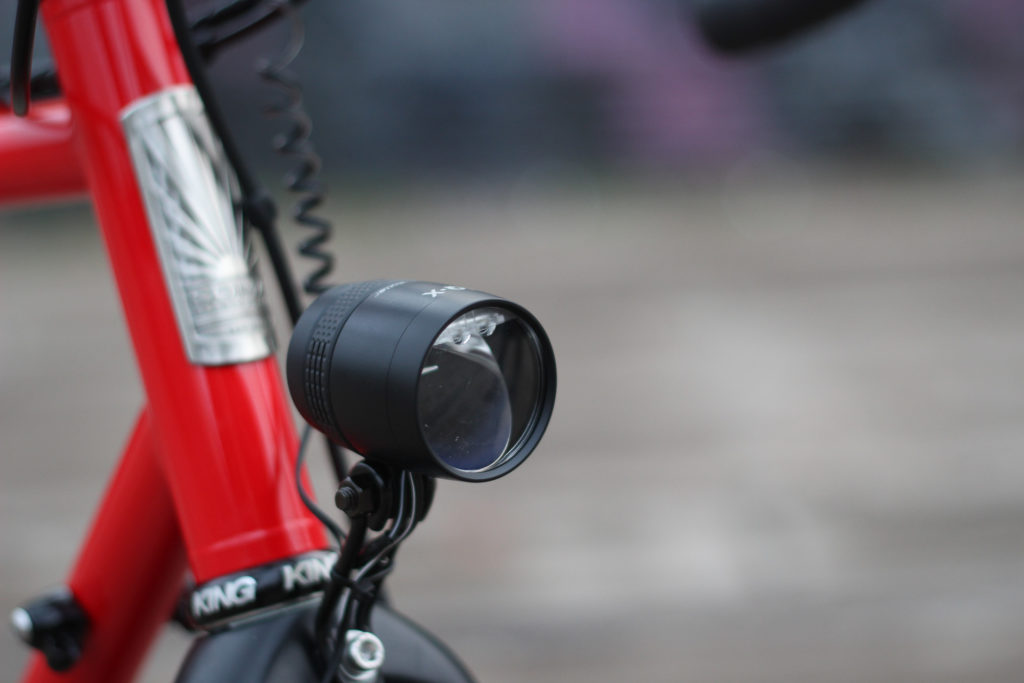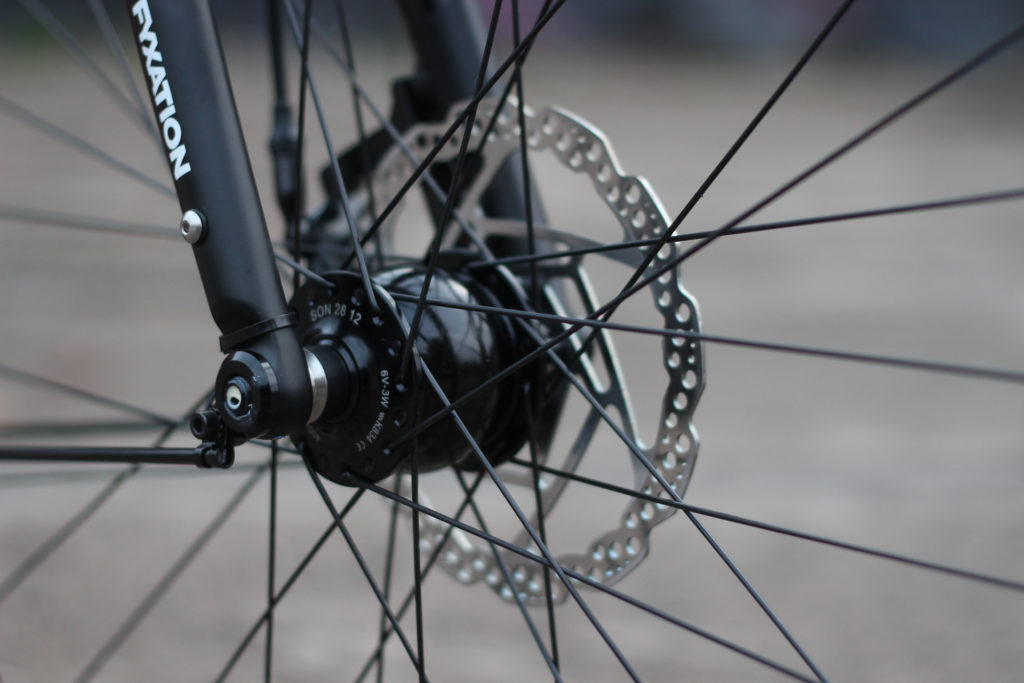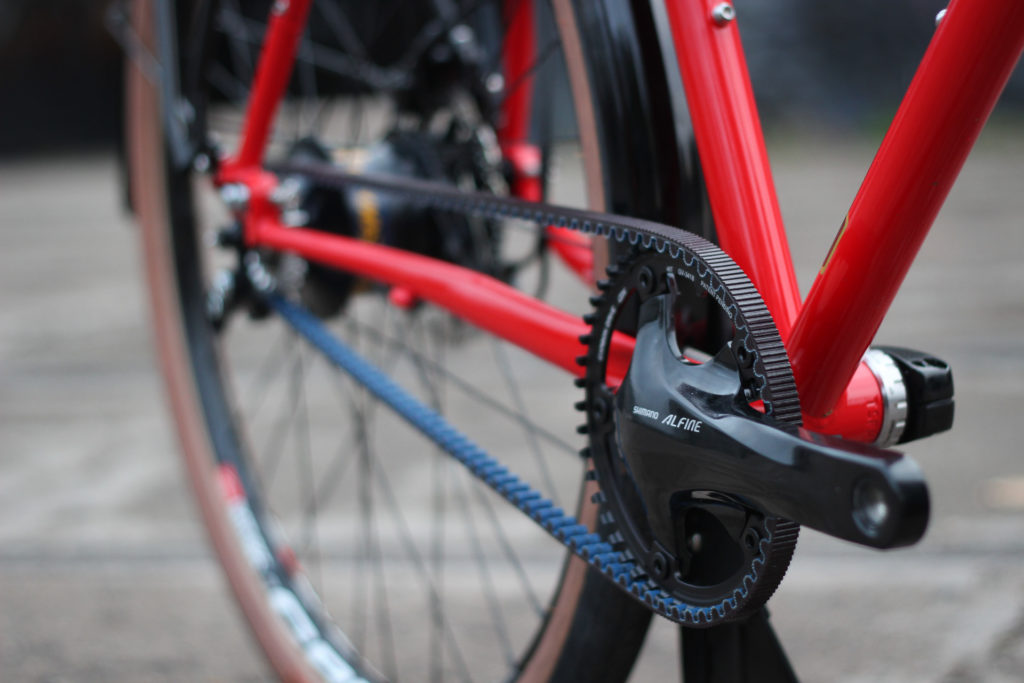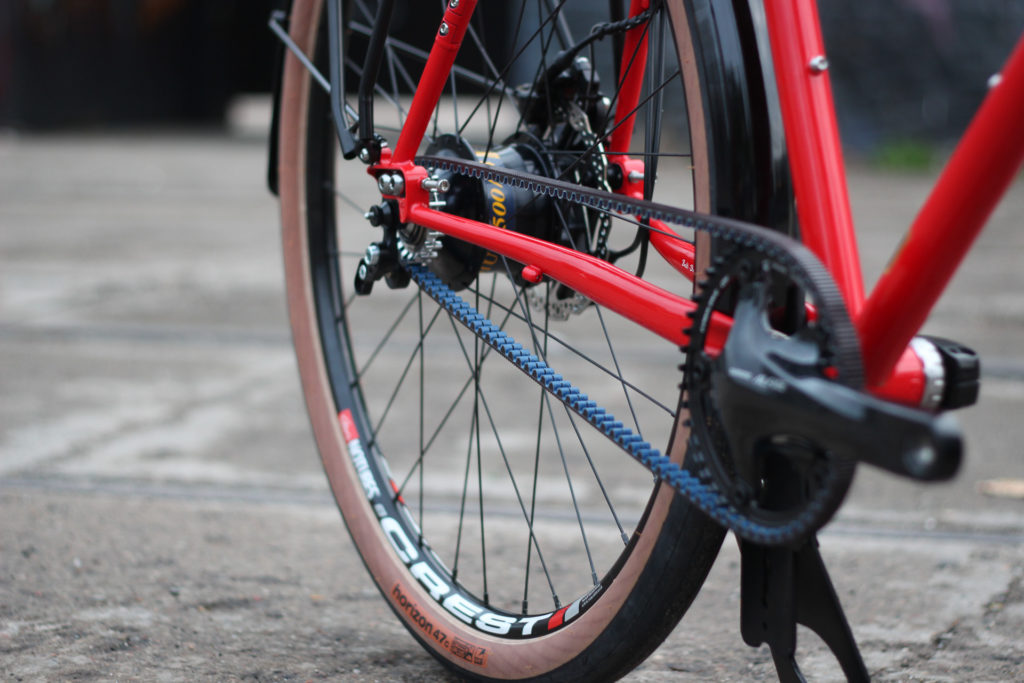 5. February 2019
Velo Orange Polyvalent – Timo
Timos Velo Orange Polyvalent can be called a true modern classic. It has a classic look without missing modern high quality parts. We build the bike with Hope Technology Pro 4 rear hub and Shutter Precision dynamo hub laced to lightweight and strong Halo Vapour rims, a SRAM Rival 1 drivetrain and hydraulic brakes for flawless riding, shifting and braking. The finishing kit consists of Velo Orange Seatpost, classy 31,8 mm VO steel stem combined with an ergonomic Ritchey Classic handlebear. 650b WTB horizons make sure the ride will be comfortable and fast while VO Zeppelin fenders keep Timo dry. A Pelago front rack is installed for transporting needs and the Gille berthoud leather saddle is just the icing on the cake…
25. January 2019
Endpoint x FBM Bikes Hunter Gatherer – Dominik
Dominik got himself a FBM Bikes X Endpoint Hunter Gatherer frameset with a custom paintjob by Velo Ciao We made it an high end do-it-all bike with 650b @StansNoTube Crest rims laced to SON dynamo hub and Hope Tech Pro 4 rear hub. The rims are combined with WTB Horizon tyres with tubeless setup. A @sramroad Rival 22 (with hydraulic brakes) was combined with a Praxis Works Zayante crankset 48/32t. Chris King Headset, Thomson seatpost and stem, Salsa Cycles Cowchipper handlebar and Velo Orange fenders are some of the other highlights!

11. January 2019
Salsa Fargo Ti – Jan
The Sasla Cycles Fargo Ti is a breathtaking beautiful and well made titanium frame that we build into a no nonsense bike for Jan. With that one he will get everywhere, on the road and especially off the beaten paths. Build with SRAM GX groupset, mechanical TRP, disc brakes, Hope Pro 4 rear hub, SON dynamo hub front laced to H+Son Hydra rims, Brooks Cambium saddle and Salsa Woodchipper handlebar for control in every situation.

20. December 2018
Soma Double Cross Disc – Eva
You are very tall or maybe not as tall and have problems finding the right bike? No problem, Soma Fabrications got you covered in any case. Here is an older 42 cm Double Cross Disc we build for Eva with 650b hweels, Shimano-Road 105 groupset. mechanical TRP Spyre brakes, RitcheyLogic Classic parts and Panaracer Pasela tyres.
18. December 2018
TGJ Custom Gravel / All-Road Bike – Ralf
Ralfs sportive Gravel / All-Road bike was built on basis of our TGJ frame and combined with a Fyxation Sparta carbon fork, Shutter Precision Dynamo and Hope Technology Ltd Pro 4 rear hub laced to H+SON Archetype rims, SRAM road RIval 1 groupset with hydraulic disc brakes, Salsa Cycles Cowbell and a Sinewave Reactor USB chraging unit integrated into the steerer